How Meghan Markle and Kate Middleton's Relationship Seemingly Changed Overnight
While, it's hard to tell whether those allegations could be true or not, many fans believe that Markle and Middleton were not exactly the best of friends.
Meghan Markle and Kate Middleton's relationship has not been smooth-sailing. When Markle joined the royal family last year, there were constantly reports about how she had a hard time getting along with Middleton.
While it's hard to tell whether those allegations could be true or not, many fans believe that Markle and Middleton were not exactly the best of friends.
However, almost overnight, the two of them suddenly started looking very friendly with each other. So what has changed and how did their relationship improve so quickly?
Meghan Markle and Kate Middleton were reportedly feuding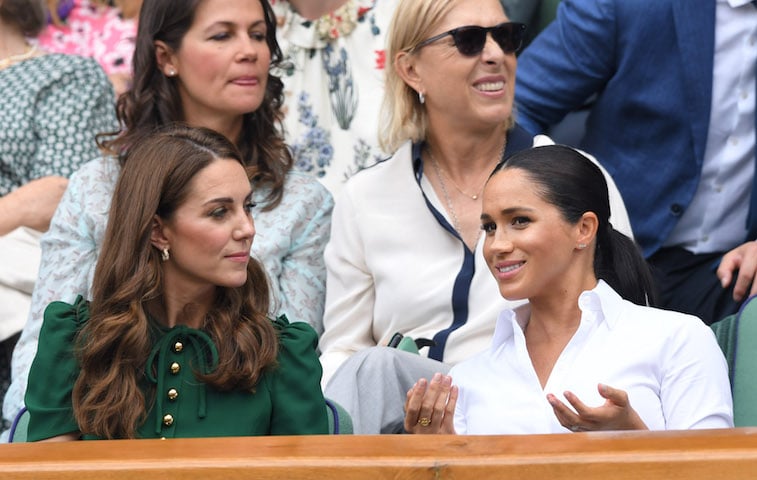 After Markle became the Duchess of Sussex, rumors began appearing of a possible feud between her and Middleton. Reports said that Markle made Middleton cry at a dress fitting for Princess Charlotte before the royal wedding.
Meanwhile, there were also rumors that Markle yelled at Middleton's staff member, and Middleton did not hold back on telling Markle off.
People believe that the two women were simply too different to ever become close. Markle was a bubbly, outgoing Hollywood star from America while Middleton was an introverted, reserved upper-class heiress from England.
Fans believed that they had their own priorities in life and being friends with each other was not that important to either of them.
How Meghan Markle and Kate Middleton's changed overnight
Despite the rumors of a feud, Markle and Middleton has been a lot more friendly towards each other these past several months. Sources shared that their relationship changed dramatically when Markle became a mother for the first time.
"Kate was a great source of support to Meghan in the days leading up to Archie's birth," an insider said. "Despite reports of a rift, they are family and have a really lovely friendship… They talk and text regularly, they have more in common, and Kate has wanted to make sure Meghan has felt welcome into the family."
Motherhood has not been the only thing that helped improve their relationship. Reportedly, after Markle and Prince Harry moved out of Kensington Palace and the Royal Foundation, both of which they used to share with Middleton and Prince William, Markle and Middleton appreciated the distance.
A source told People that being apart has allowed them "more time to be like family" instead of being colleagues like they were before.
After giving birth to Archie, Markle and Middleton went to Wimbledon together as well as a charity polo match where their husbands played. They also seemed to be relaxed when interacting at Trooping the Colour.
A body language expert even confirmed that the women were being genuine with their friendliness and there was no sign of tension between them.
Are Meghan Markle and Kate Middleton still on friendly terms?
While Markle and Middleton seemed to be making a lot of progress, something happened recently that got fans wondering if their relationship could change for the worse.
While on their royal tour of southern Africa, Prince Harry announced that he and Markle are taking on the press for their relentless "bullying" behavior this past year. Reportedly, many people were blindsided by this announcement and other royals do not think that this move is a good idea.
Royal reporter Richard Palmer tweeted: "Nobody in the Royal Family or the Royal Household is supporting Harry and Meghan at the moment. Even the couple's aides seem embarrassed by their actions. William, who dropped his brother like a ton of hot bricks earlier this year, and Charles have distanced themselves."
It's not clear where Markle and Middleton's relationship stands following the announcement of the lawsuit, though if they are supporting their respective husbands like people believe, there is a chance that tension has risen between them. Ultimately, only time will tell whether both duchesses can get back to being on friendly terms.