How Meghan Markle and Kate Middleton's Rivalry Goes Back To Princess Diana
The media hasn't exactly been kind to Meghan Markle. Every day, it seems as though a new story about the Duchess of Sussex is circulated, with tabloids claiming that she is a diva, is too demanding with staff, and that she spends extravagant amounts of money on things like clothes and jewelry.
However, the media's obsession with Markle started long before this summer, when nearly every publication spread stories about a feud between Markle and her sister-in-law, Kate Middleton. Still, the feud rumors are no truer now than they were then, and according to a brand-new open letter from Sarah Ferguson, there is actually a precedent for these types of stories about the royal family. 
When did the feud rumors regarding Meghan Markle and Kate Middleton start?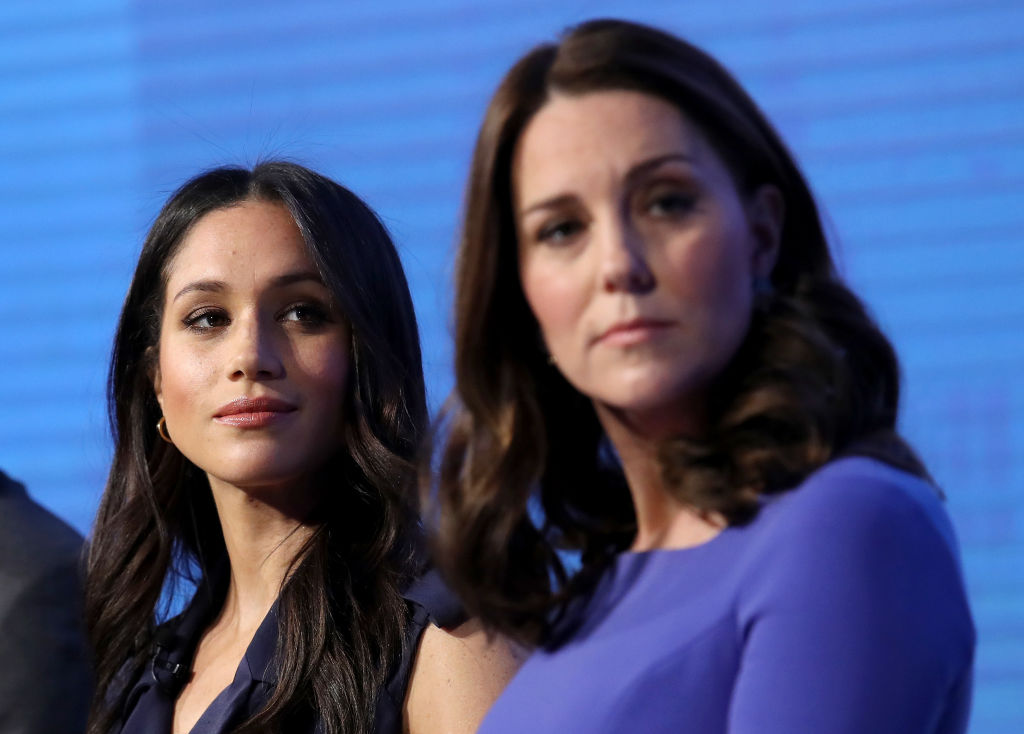 Markle joined the royal family as a "commoner" — that is, she had no title or great wealth to her name. Still, she was an established working woman and had created a thriving career for herself in Hollywood. Therefore, there was a great deal of interest surrounding her in the British media, and not all of that interest was positive.
Many publications seemed determined to prove that Markle couldn't get along with any members of Prince Harry's family, especially Middleton. The feud rumors began around the time of Markle's wedding to Prince Harry, with reports claiming that there was a fight between the two over Princess Charlotte's dress fitting.
Other reports stated that Markle's personality was far too abrasive for Middleton's liking and that the two had little in common, and therefore looked for reasons to stay away from each other. The feud rumors continued for months, until the palace released an unprecedented statement, seemingly shutting down the reports once and for all. 
It seems likely that there was never really a feud
Beyond the palace denying the feud rumors, it does seem highly unlikely that Duchess Meghan and Duchess Kate ever actually had a problem with each other. Some reporters have stated that the entire thing was made up in order to create drama for the headlines and that while Middleton and Markle might not have a lot in common, there's no reason to believe that the two were ever openly hostile with each other.
In fact, in recent months, with all the scrutiny that Markle has received, some reports have revealed that Middleton has actually provided a great deal of support for her sister-in-law, lending her a shoulder to cry on when the tabloids become too much to deal with. They are both mothers now so that no doubt provides an extra layer of understanding and compassion to their relationship.
The tabloids pitted Princess Diana and Sarah Ferguson against each other
Sadly, fake royal feud rumors are nothing new. In an open letter penned in February 2019, Sarah Ferguson — Prince Andrew's ex-wife and one of the more controversial members of the royal family — revealed that the sexist tabloid rumors targeted her relationship with Princess Diana as well.
Ferguson claimed that the media was intent on portraying her and Princess Diana as "rivals" when the truth was exactly the opposite. In fact, Ferguson and the late "People's Princess" were known to have a close friendship.
Ferguson continued her letter by imploring people, as well as the world's media, to be kind when using social media or any other sort of online forum and to thoroughly think through things before posting. She concluded with a simple plea: "If you can't say anything nice, don't say anything at all."