How Meghan Markle Honored Princess Diana at the Launch of Her Fashion Line
Meghan, the Duchess of Sussex, just paid tribute to Princess Diana, her husband's late mother, in the sweetest way. Meghan showed up to the launch of her new fashion line sporting some pieces from her new collection. She also used the opportunity to wear some jewelry of Diana's in a sweet tribute.
The Duchess wore some special accessories to the event
Meghan accessorized her look with some very special pieces. She wore two of Princess Diana's jewelry accessories, including butterfly-shaped earrings and a lovely gold bracelet. They paired nicely with her outfit and also paid a special tribute to the "People's Princess."
Royal fans may remember that Meghan has worn the beautiful jewelry together before. The Duchess wore the ensemble during her first public appearance after the announcement of her pregnancy with baby Archie.
Meghan's new capsule collection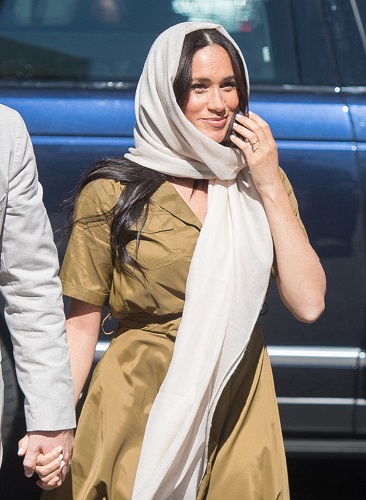 Meghan's new capsule collection with the British charity Smart Works has a special meaning behind it. The collection includes five essential workwear pieces for women bringing together four different brands. The new collection, called Smart Set, benefits women in need. For every single piece in the collection that is purchased, one item will be donated to Smart Works.
Meghan is the Royal Patron of Smart Works. It offers both coaching and style sessions for women who are unemployed and trying to assimilate back into the workforce. It can be hard for women who are struggling to afford new office attire that is appropriate for both work and job interviews.
The good work Smart Works does for women in need
Smart Works offers women a unique two-hour session that includes dressing them in professional attire and coaching services to prepare for upcoming interviews. These women are unemployed and have confirmed job interviews. They each have their own personalized styling session with two volunteer stylists. They receive an outfit complete with accessories for the big day. The women also receive interview preparation and coaching for their upcoming interviews. Members are asked to come back for a second session in which they receive additional clothing to dress for success.
Meghan Markle posts an image to Instagram about the launch
The Duchess posted an image to Instagram highlighting the new product launch. "Since moving to the U.K., it has been deeply important to me to meet with communities and organizations on the ground doing meaningful work and to try to do whatever I can to help them amplify their impact," Markle wrote in the post.
This isn't the first time Meghan Markle has worn Princess Diana's jewelry
Meghan was given a trilogy engagement ring when she was engaged to Prince Harry. The beautiful ring features a very sentimental meaning behind it. It includes stones that belonged to Princess Diana that are from her jewelry collection, including a large center stone from Botswana and two diamonds on either side of it.
Meghan went straight home to baby Archie after the clothing launch
Meghan gave a speech at the launch and as she was speaking with the press, she said she had to leave and return to sweet baby Archie. "I've got to get back to the baby… feed time," she explained while laughing. Chris Ship, a royal reporter, posted the video via Twitter of the conversation.
Meghan, the Duchess of Sussex, continues to follow in Diana's royal footsteps through her advocacy and charitable good works.