How Meghan Markle is Helping Prince Harry Get Comfortable in Los Angeles
Prince Harry and Meghan, Duchess of Sussex moved from Vancouver Island in Canada to Los Angeles last month following their final engagements as senior royals in the U.K.
The duke and duchess have been living in a secluded compound in Meghan's hometown but because of the coronavirus pandemic, she can't really show Harry around too much and familiarize him with the city. This has led to reports that the prince is feeling isolated and having difficultly adjusting to America, so Meghan has decided to do something to make her husband more comfortable in their new home. Read on to find out how the duchess is helping the prince settle in and introducing him to LA.
Is Harry feeling alone and isolated since leaving the U.K.?
Even before the couple made the move to Tinseltown, there were reports that Harry was homesick and really missing his friends in England.
"Harry misses his friends of course — anyone would," a source told The Sun. "But he has been in a WhatsApp Group with his mates for years and he uses that more than ever now to keep in touch and send pictures."
The Guardian noted that after the Sussexes got to LA, the duke's good friend, Jane Goodall, opined that things weren't easy for Harry adjusting in the non-royal world.
"I don't know how his career is going to map out, but yes, I've been in touch, though I think he's finding life a bit challenging now," Goodall said.
The prince has also video chatted with his grandmother, Queen Elizabeth II, for her birthday on April 21.
But with California's stay-at-home orders Harry hasn't been able to socialize in person with his new neighbors or people he knows in LA.
"[The Sussexes] spend their evenings at home as a family. They haven't had any visitors," a source told People.
The duchess is helping Harry feel more comfortable in LA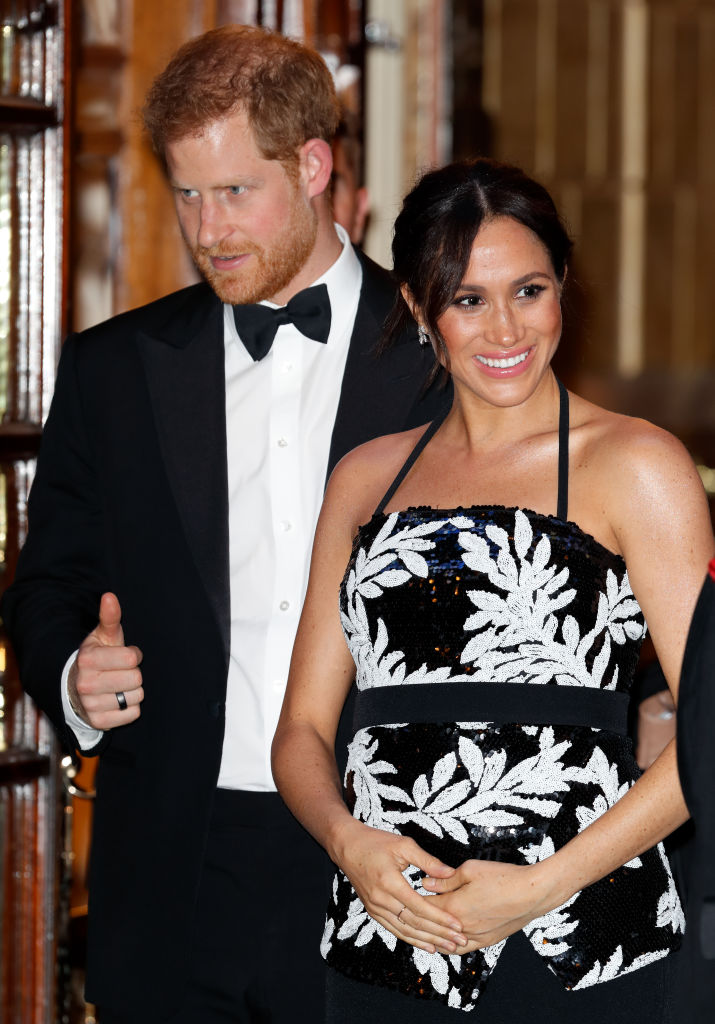 Something that is very important to both Meghan and Harry is their charitable work and the duchess has decided that's just what her husband needs to do and get out and see the place she hails from. Philanthropy is not only something Harry is passionate about but also a way for him to engage with people in the community.
"Meghan said is she wanted to show Harry Los Angeles through the eyes of philanthropy. It's beautiful," said Project Angel Food's executive director Richard Ayoub. "There's obviously a great deal of love and selflessness between them. They both are individuals who want to know about others. "
The pair volunteered for the non-profit on April 11 and April 15 and helped distribute meals to people with critical illnesses.
Ayoub recalled, "Meghan and Harry took about six deliveries [Easter] Sunday and then they said, 'We want to do it again and we want more,' so they took 14 deliveries on Wednesday."
The director added, "They were extremely down to earth and genuinely interested in every single person they met. They engaged with our chefs, they engaged with clients — they just wanted to make sure that people felt the love and appreciation. Their goal was really to just honor our chefs and staffs and volunteers by being of service."
The Duke and Duchess of Sussex are expected to officially rollout their new foundation, Archewell, in the coming months.
Read more: Prince Harry and Meghan Left Royal Life Because of 'Jealousies,' Royal Expert Suggests