How Much Did Kanye West Reportedly Spend on a Condo for Kim Kardashian?
It's no secret that the Kardashian and Jenner family go all out for Christmas. They almost always release a Christmas card and they get some extravagant gifts. This year reportedly wasn't any different. This is the pricey gift Kanye West reportedly gave to Kim Kardashian and more.
Kanye West reportedly bought a $14 million Miami condo for Kim Kardashian for Christmas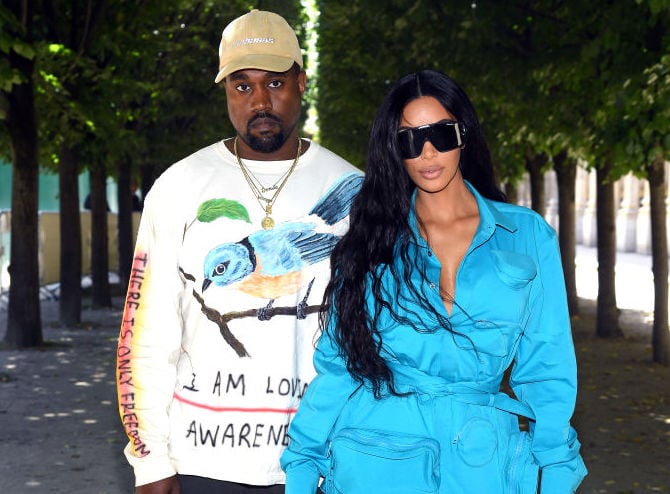 The rapper reportedly got a condo in a building nicknamed the "Billionaire Beach Bunker" according to TMZ. Kanye West reportedly secretly made an offer on the place this month then surprised Kim Kardashian on Christmas day. The unit includes 4 bedrooms, 5 1/2 baths, and a terrace. The building also has amenities like a spa, pool, and gym.
"Kim and Kanye have been spotted viewing the property in the last month," a source told Page Six "and they are now in contract to buy it for $14 million. The sale is expected to close in January." So why Miami? Well, West reportedly goes to the location for Art Basel Miami Beach regularly.
The couple reportedly threw a $1.3 million Christmas party
The couple didn't just exchange costly gifts this Christmas. They also threw a party by turning their $60 million compound into a winter wonderland. People reports that an expert believes the party would have amounted to $1.3 million.
That estimate includes covering their property in chopped ice that looks like snow. "It's unclear how much of Kim and Kanye's three-acre property was coated in the snow," Ashley Greer owner of Atelier Ashley Flowers said. "But based on their online pricing of bags of snow, I would estimate that if they covered just one acre including installation and removal — yes, someone does have to pick that up — you are looking at a price tag of $350,000." Members of the family can be seen sledding in it on social media.
Other Kardashian family members were there including celebrities like Paris Hilton, Alex Rodriguez, Jennifer Lopez, Sia and more were in attendance. There were decorated tents with dancefloors.
John Legend also performed some songs from his new album, A Legendary Christmas. Greer believes Legend was probably paid for his time. "Naturally it depends on how long he sings for, but let the party begin at $500,000," said Greer.
The family certainly look like they had fun at the party. They also released a Christmas card this year although not all of the family members were on it.  Kris Jenner, sister, Kendall Jenner, and brother Rob Kardashian weren't on the card this year.
Kim Kardashian explained why on Instagram with "This year we waited until the last minute to do a card. Schedules we're changing, my husband was in and out of town. But the day of this card last minute realized we were all together, so we had all of our kids come meet us. Kendall and my mom rushed to a meeting after this shoot so this is what we have!"
Read more: Divorce Rumors Surrounding Kim Kardashian and Kanye West Resurface: Could This Be The End For KimYe?
Check out The Cheat Sheet on Facebook!