How Much Did Paul Reubens Make From 'Pee-Wee's Playhouse?'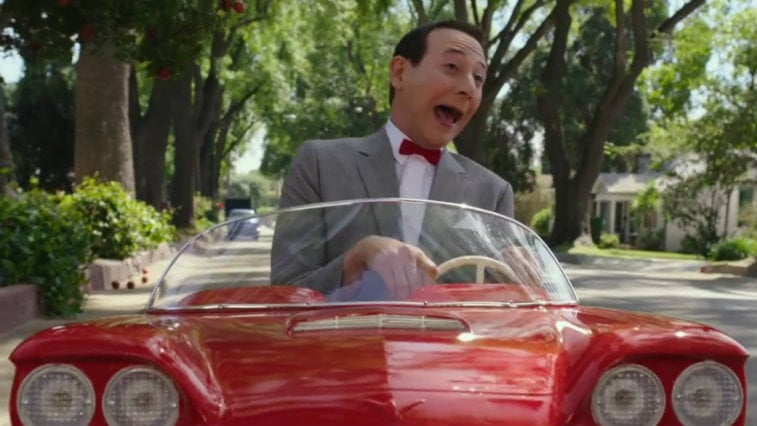 If Thanksgiving Day weren't awesome enough, Pee-Wee Herman just made it a thousand times better. For the first time, IFC is running 24 hours of the iconic children's show, Pee-Wee's Playhouse. The show is a nice offset to awkward family conversations. Plus laughing at the silly show gives the abs a nice workout after a full meal and pumpkin pie.
Pee-Wee's Playhouse rolled out in 1986, featuring actor Paul Reubens as Pee-Wee Herman. The show ran for four years, with breakout films like Big Top Pee-Wee and Pee-Wee's Big Adventure. Reubens has also had an expansive career, making appearances in shows like Murphy Brown and Everybody Loves Raymond.
And while Reubens has continued to act, write and direct long after the Pee-Wee franchise faded into the television hall of fame, his main connection for new and old viewers is the loveable character. He is currently worth about $5 million, but what was his rise to fame like and what is he doing now?
Before fame
Reubens was born in on August 27, 1952, in Peekskill, New York, according to Biography. But he was raised in Sarasota, Florida. Which is home to the Ringling Brothers and Barnum and Bailey Circus. Being raised in an unconventional environment may have lent creativity toward the development of the Pee-Wee character.
After attending college for a short time, Reubens headed west with the glow of the Hollywood lights in his eyes. Upon arriving in Hollywood, he studied acting at California Institute of the Arts. And was even part of the seminal comedy improv group The Groundlings.
While part of The Groundlings, Reubens developed a character who wore a small grey suit with a red bow tie. He used wacky dance moves and quirky gestures to form and shape the character.
Reubens gets noticed
In 1981, HBO ran one of Reuben's live shows and it caught like wildfire. An up and coming director took note of the odd, but alluring character and collaborated with Reubens to launch a film. Pee-Wee's Big Adventure came out in wide release in 1985. The film, directed by Tim Burton was a critical and box office hit.
On the heels of the film, Saturday morning series Pee-Wee's Playhouse was born. The show provided teachable moments with humor and relatable characters. It also acted as a launching pad for actors like Laurence Fishburne and Phil Hartman.
But things fall apart
Reubens was arrested in Sarasota, Florida after the Pee-Wee's Playhouse series wrapped. The comedian was charged with indecent exposure at an adult movie theater. But then again, he was arrested for possession of child pornography. Reuben's attorney cited that a tape from another case was used in error against his client. The child pornography charge was dropped and Reubens pleaded guilty to an obscenity charge instead.
The two hits ripped Reuben's career apart, as a former Saturday morning children's host. NBC's Stone Phillips later interviewed Reuben about the instance and asked what he was thinking. "Well, obviously I wasn't thinking," he said. "You Know? I certainly wasn't thinking to myself you're a children's show host. Your show is still on television. I wasn't making those lists. I felt like they were insinuating like, well, I was sitting in you know, a darkened movie theater, in my Pee-Wee suit." Reubens also maintains the indecent exposure part of it never happened too.
Pee-Wee returns
Reubens (and Pee-Wee) returned after several years out of the spotlight. He continued to act in films and televisions series. Also, Pee-Wee began to re-emerge. First, in a 2010 short, Pee-Wee Gets an iPad. Then, other short films and a stint on Broadway in 2011.
His Thanksgiving marathon return, beginning at 6 am on IFC promises to be capped off with new Pee-Wee material. Christmas at Pee-wee's Playhouse debuts on Thanksgiving Day. Plus IFC will regularly air Pee-Wee's Playhouse every Saturday morning, starting on November 24.
Follow The Cheat Sheet on Facebook!