How Much Is Jennifer Aniston and Reese Witherspoon's New Show Costing Apple?
This November, Apple will be launching its new streaming service, and they'll have a bunch of original content for us to watch.
One of the most anticipated shows to be a part of the new service is The Morning Show, and Apple is spending a fortune to make sure it's a success. But is it going to be worth it? We have all the details on what you can expect from Apple+ and exactly how much they're spending on The Morning Show.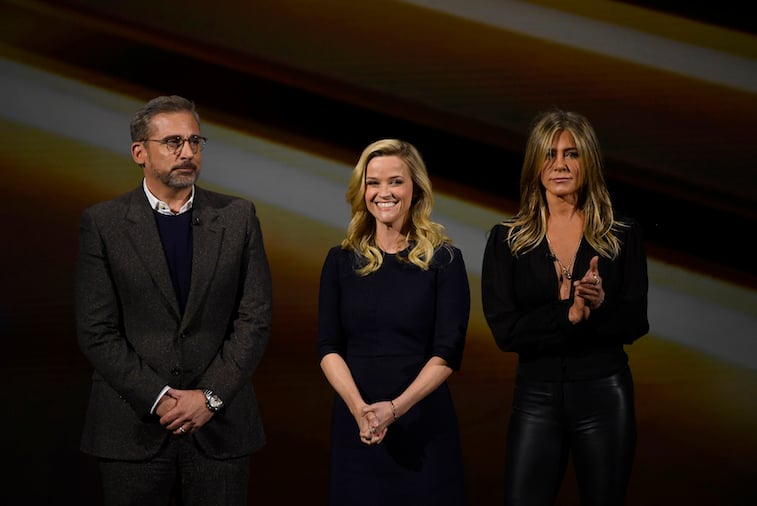 'The Morning Show' is highly anticipated
The second trailer for Apple's new show, The Morning Show, has just been released and viewers can't wait for its premiere. The drama-comedy goes behind the scenes in the world of morning news and examines the life of the people who greet you on the TV screen every morning.
It has a great cast lineup, with Jennifer Aniston, Reese Witherspoon, and Steve Carell, all actors who've been a part of comedy cult-favorites in the past.
During a special Apple event to launch the show, the stars gathered to discuss what viewers can expect from the new show. Aniston gave an interesting take of concept.
"Through the prism of those under-slept, over-adrenalized people in front of and behind the camera," she said, "we take an honest look at the complex relationships between women and men in the workplace, and we engage in the conversation people are a little too afraid to have unless they're behind closed doors."
According to The Hollywood Reporter, both Aniston and Witherspoon are making $1.25 million per episode.
'The Morning Show' is a big expense for Apple
Apple must have really big hopes for The Morning Show. According to Bloomberg, they're spending $150 million for each ten-episode season on the show. And they've already signed on for two seasons, which means they've committed to spending $300 million for The Morning Show. Each episode will cost the network an average of $15 million.
Those kinds of numbers make The Morning Show one of the most expensive TV shows ever created. For comparison, Netflix spent $8 million an episode for the last season of Stranger Things, and Amazon spent $8 million per episode on Jack Ryan.
Previously, the most expensive show was Netflix's The Crown, which cost $130 million for each ten-episode season. The Morning Show has them beat by $20 million.
Apple has big hopes for its new streaming service
Part of the reason Apple is so willing to fork out such a large amount on The Morning Show, it that they need some headlining shows to bring attention to their new streaming service. Set to launch in November, Apple+ will be a subscription streaming service, comparable to Amazon, Hulu, and Netflix.
They plan to sell subscriptions for $9.99 per month and hope to have 50 billion subscribers by 2020. If they're able to accomplish this, they'll be major competition for Netflix and the other leading streaming services.
As well as The Morning Show, Apple is working on a whole collection of new shows. They reportedly have a budget of over a billion dollars for original content, so we can expect some interesting new shows. So far, we know they are filming Steven Spielberg's Amazing Stories, See with Jason Momoa, Truth Be Told with Octavia Spencer, and Home, a documentary about luxury houses.
With all the effort Apple is putting into their new service, it appears that it's going to be a viewer favorite. However, money doesn't always equal success. Some of the best shows ever made had a small budget. At this point, we'll have to wait until November to find out if it's going to be worth it.