How Much Is the 'Stranger Things' Cast Getting Paid for Season 3?
The Stranger Things cast is wrapping up filming for Season 3, and some fans are worried the show might be ending for good. Millie Bobby Brown, who stars as Eleven on the popular Netflix drama, posted on Instagram that she was "going to cry all day" on the last day of shooting. "I can't say good-bye," she wrote in a message to co-star Sadie Sink. Could those posts mean Eleven and the rest of the Stranger Things gang won't be back for a Season 4?
While we can't be sure about the fate of Brown's character, Netflix has assured panicked fans that Stranger Things isn't coming to an end with Season 3, and that show creators the Duffer Brothers will still be around for future seasons.
That's good news for the Stranger Things cast, who are now earning six-figure salaries for their work on the 1980s-set show. Here's how much the key Stranger Things cast members are paid, according to Variety.
Stranger Things cast salaries

These days, the Stranger Things cast earn six-figure salaries per episode. But they didn't start out getting paid so much. For Seasons 1 and 2, the show's child actors earned $30,000 per episode, or $240,000 for Season 1 and $270,000 for Season 2. They also received a six-figure bonus once it became clear the show was a big hit.
The cast renegotiated their salaries for Seasons 3 and 4, and all received a significant pay bump. Here's how much they're earning per episode:
Winona Ryder (Joyce Byers): $350,000
David Harbour (Jim Hopper): $350,000
Millie Bobby Brown (Eleven): $350,000
Finn Wolfhard (Mike Wheeler): $250,000
Gaten Matarazzo (Dustin Henderson): $250,000
Caleb McLaughlin (Lucas Sinclair): $250,000
Natalia Dyer (Nancy Wheeler): $250,000
Charlie Heaton (Jonathan Byers): $250,00
Noah Schnapp (Will Byers): $250,000
Sadie Sink (Max Mayfield): $150,000
Dacre Montgomery (Billy Hargrove): $150,000
With eight episodes in Season 3, that means the main Stranger Things cast members are earning between $2.8 million and $1.2 million per season. Brown, the show's breakout star, is earning even more. According to Variety, she's getting additional fees on top of her per-episode salary.
Variety didn't reveal the salary for fan favorite Steve Harrington, played by Joe Keery. Nor do we know how much Maya Hawke (the daughter of Ethan Hawke and Uma Thurman) is earning. Hawke is joining the cast as Robin, Steve's co-worker at the ice cream shop Scoops Ahoy in Hawkins' new Starcourt Mall, where much of Season 3's action will take place. Priah Ferguson, who plays Lucas's younger sister Erica, has also been promoted to series regular for Season 3, which presumably came with a pay increase.
How do their salaries compare to other TV stars?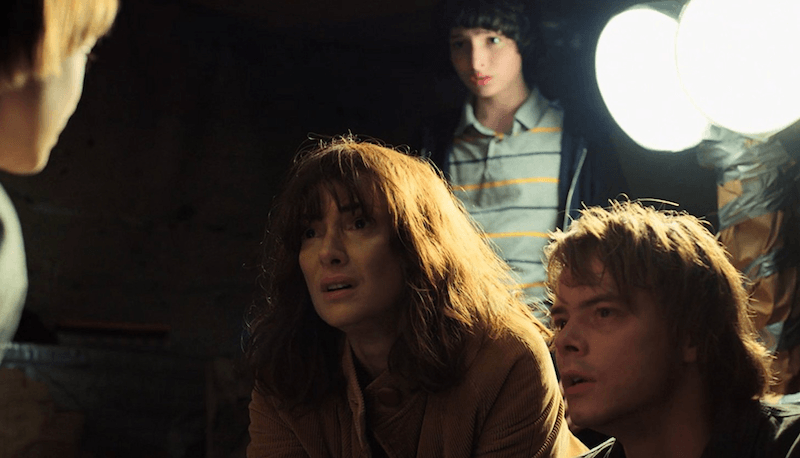 The Stranger Things cast members are making good money, especially since many of them are barely out of middle school. But they're far from the highest-paid TV stars of 2018, according to Variety's ranking.
Among actors on dramas, a handful earn $1 million an episode or more. TV's top earners include Norman Reedus for his role as Darryl on The Walking Dead, Javier Bardem for an as-yet-untitled new show on Amazon, and Reese Witherspoon and Jennifer Aniston for an upcoming untitled show for Apple TV.
Elisabeth Moss gets $1 million per episode for Hulu's The Handmaid's Tale, and Oscar-winner Julia Roberts received $600,000 per-episode for her new Amazon show Homecoming. Henry Cavill earns $400,000 for every episode of Netflix's upcoming show The Witcher.