How Much It Will Cost You To Watch Kanye West's 'Jesus Is King' in Theaters
Will fans flock to Kanye West's 'Jesus is King' film and album?
Kanye West's latest musical project (and political leanings) is exciting and alienating his throngs of fans. Due to drop on Friday, Oct. 25, Jesus is King is a departure from the hip-hop/rock star sounds we're used to hearing from West. Instead, he's decided to go the gospel route, and is releasing an IMAX film to go along with the album. But people want to know if his efforts will be worth it.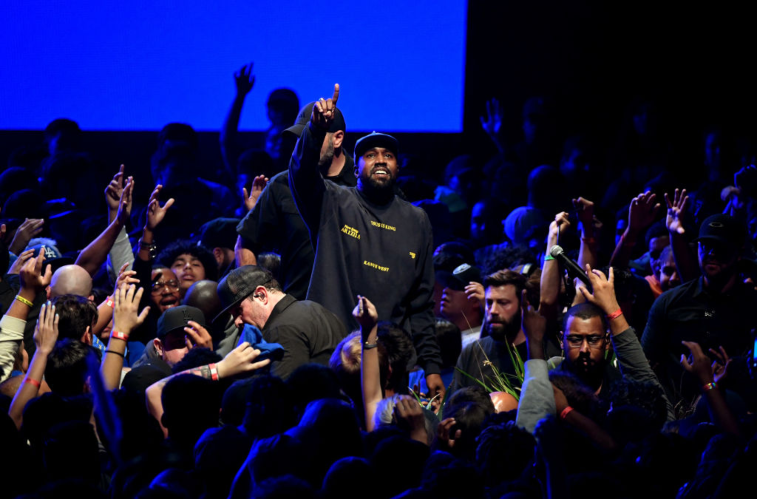 Is the film worth the price of admission?
So, Indiewire did a breakdown of the ticket cost versus return on investment for West's IMAX film and it might give some you pause. According to the site, the Jesus is King movie is only 35 minutes long, is on a limited release, and costs from $10 to $20 per ticket. The question is whether fans be willing to pay to watch footage of his Sunday Service interspersed with music from the album?
Currently, Imax is selling advance tickets for showings that begin today and run through Halloween, depending on where you live. If you're looking to justify the ticket price for such a short film, here's a synopsis and trailer for it:
"Filmed in the summer of 2019, 'JESUS IS KING' brings Kanye West's famed Sunday Service to life in the Roden Crater, visionary artist James Turrell's never-before-seen installation in Arizona's Painted Desert. This one-of-a-kind experience features songs arranged by West in the gospel tradition along with new music from his forthcoming album 'JESUS IS KING' — all presented in the immersive sound and stunning clarity of The IMAX Experience®."
What early reviews are saying about 'Jesus is King'
Yesterday, West held an early screening for the film in Los Angeles, and reviews are mixed. There was heckling and cries for the "old Kanye" to return. According to USA Today, some called it "too religious," and yet others find his new path to be "refreshing."
The outlet interviewed one fan who stated that the film and its music feel less dark than his other work. She enjoyed the movie, saying, "I just feel like I love how he puts out his true feelings. I feel like he's saying, 'You know what, I found God.' He's saying, 'Jesus is getting me through this."
Apparently, the preview event inspired a mosh pit where excited attendees danced to songs from the upcoming album. Elsewhere online, fans are conflicted about supporting Jesus is King at all, saying they don't want to go along with West's transition to religious rap even if they've liked everything else he's put out.
What's going on with the album
After being postponed a few times, the time has finally come. Jesus is King is available for pre-order on West's website, where fans can purchase the digital download alone for $10 or the vinyl + download for $25. Both the film and album will officially be available tomorrow, Oct. 25.
West's listening party during the film event on Wednesday gave attendees a sneak peek at what's on the album. Rolling Stone wrote that some of the songs sound incomplete, wondering if the track list will be fully assembled by Friday. What was clear at this particular event is that some fans will like it and some definitely, definitely won't.