How Much Money Do You Get for Winning An Oscar?
The red carpet has disappeared from Hollywood streets, we've looked at all the slideshows of who was best dressed, and Leonardo DiCaprio is probably finding a shelf for his newly minted Oscar after overcoming his long-running losing streak. But the glamour doesn't always disappear when Los Angeles goes back to normal. For some of the lucky winners, those little golden statues truly have the Midas touch – in the form of big payouts now and in the future.
But just how big can that payout be? Does putting "Academy Award Winner" on an actor's or studio's resume equal larger paychecks down the road, or is it the equivalent of including that honors fraternity from college on your own resume, without much return? As it turns out, the "Oscars bump" can indeed mean much higher paychecks – especially for male actors.
According to one Colgate graduate student's economic thesis, actors can receive as much as an 81% boost in salary after bringing home a golden statue. According to the analysis, for most actors that can mean a jump of $2.3 to $3.9 million more per movie (assuming they're relatively unknown before the win). That jump is much smaller for women, with a boost of about $500,000 per production after an Oscar win. Another analysis from Money Nation suggests actors can see a jump in salary ranging from $10 million to an astronomical $120 million. Lear Capital calculated the long term boost an Oscar win can have, and discovered taking home a statue can net a winner an extra $13.9 million over the course of their lifetime.
For both sexes, however, winning at a younger age seems to have a higher payout over time. Actress Anna Paquin is the poster child for this, after being the second youngest Oscar winner ever in 1993 for her role in The Piano. Paquin now has an estimated net worth of $12 million, and reportedly earned $75,000 per episode for the production of True Blood. "Everybody gets more money; the question is how much," film critic Emmanuel Levy, author of All About Oscar: The History and Politics of the Academy Awards, told Bankrate. "A lot depends on who they were before they got the Oscar."
It will be interesting to see if this phenomenon holds true for DiCaprio, who is already among the top-paid actors in Hollywood. The actor was paid $25 million for The Wolf of Wall Street, which made him the top earner among all his big-name counterparts last year. The Revenant reportedly earned him another $20 million, which is on par with his paychecks from Blood Diamond, The Departed, and The Great Gatsby, among others. If the Oscars magic works with the same formula for DiCaprio, he has the potential to make another $12 to $16 million per film.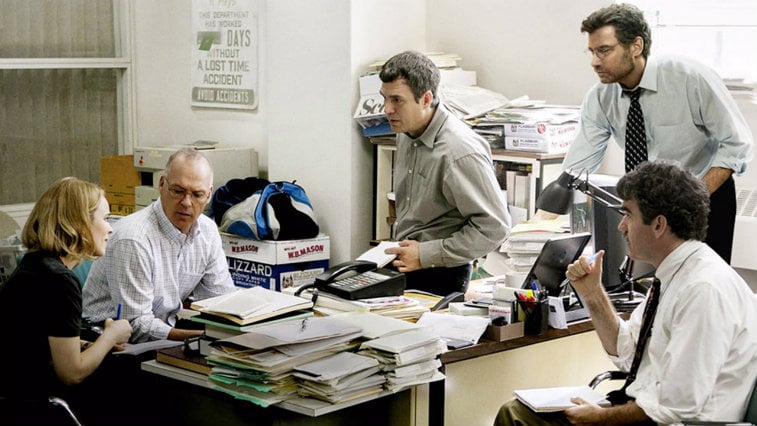 Hollywood stars aren't the only ones receiving huge windfalls after the awards season; the studios are raking in the love, too. One analysis from WalletHub suggests that studios who produce the Best Picture of the year (in this case, Spotlight's Open Road Films) receive non-monetary boosts worth around $7 million. Morningstar explained those bragging rights and boost in brand image are worth quite a lot, and can lead to future signing preferences when actors and filmmakers are deciding where to take their next films.
Plus, everybody's happy when a win leads to additional movie ticket sales. The eight nominees for Best Picture this year brought in an additional $175.9 million in gross ticket sales in the month and a half between the nominations and the Academy Awards. In 2013, the nine nominees saw an additional 26% of total gross revenue come in after the nominations and the awards ceremony – representing an extra $168 million across all nine films. (2014's data is significantly skewed because of the post-nomination release of American Sniper.)
In some cases, smaller films see a much larger jump than traditional Hollywood favorites. This year's Room, for example, originally had about $5.2 million in ticket sales following its October 2015 release. After the nomination for Best Picture, the number of theaters showing the film increased four times, Inquisitr reports, and the film has earned an additional $8.2 million so far.
Of course, the Oscar itself is worth a pretty penny, with the gold plating making each statue worth around $400. Of course, resales have netted $500,000 to $1.5 million on the high end, showing the secondary market is good for some things. Unfortunately for actors today, selling their Oscar is illegal – a rule in 1950 made the Oscar statues perpetual property of the Academy, so actors can't rely on selling their awards if their post-Oscar career isn't quite as glamorous as imagined.
Follow Nikelle on Twitter and Facebook
More from Money & Career Cheat Sheet: