How Much Money Does Kylie Jenner Make Off One Instagram Post?
The world of social media "influencers" is a bit mysterious and confusing to many people, but there is no one who better exemplifies just how fame and marketing collide than the Kardashian-Jenner family. This family has turned being famous for being famous into an entire lifestyle. Their carefully curated public image makes it nearly impossible to tell where reality ends and the marketing begins—and that's just the way the brands that work with these influencers want it.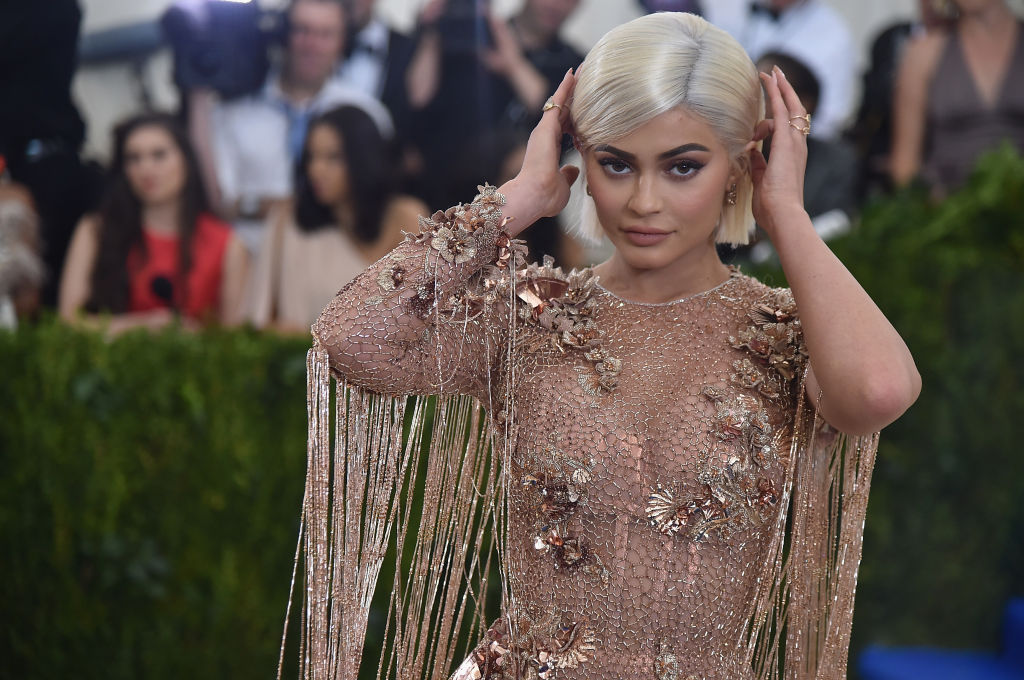 By this point, most people understand that the Kardashians and Jenners are never really done selling their brand. Kendall Jenner, for instance, set the whole internet into a whirl by buying a single can of Coke that matched her dress. Was she simply out for a stroll? Carefully placing a product in a prominent view as part of a paid promotion? Every move this family makes is up for scrutiny. 
But just how much money are they making for this influence? A close examination of Kylie Jenner's net worth and Instagram marketing can provide some answers.
The world of Instagram influence can be very lucrative
Before we look more closely at Kylie Jenner's specific Instagram marketing, let's take a look at how the influencer industry works. People with lots of followers can charge brands a premium rate to post about them. In general, influencers can charge about $1000 for every 100,000 followers they have, meaning that many accounts are getting thousands of dollars for a single brand-sponsored post.
Reality stars, in particular, are able to draw top dollar for their Instagram influence. Because people have gotten an intimate and ostensibly "real" look into their lives, they feel connected to them and able to trust their opinion. This makes them more likely to buy the products they promote, and that makes brands pay attention.
Kylie Jenner is at the top of the Instagram game
While many celebrities are pulling in top dollar for their posts, none of them beats out Jenner. She is currently the highest-paid Instagram influencer, which means that she beat out celebrities like Taylor Swift, Beyonce, and even her own famous sister Kim Kardashian. 
Just how much does a post from Jenner cost a brand? An average of $1.27 million per sponsored post. Jenner's ability to pull in such a tremendous amount is not solely about how many people follow her, either. While the reality star does have an impressive 140 million followers, she is topped by Ariana Grande and Cristiano Ronaldo, who have 159 million and 173 million followers, respectively.
What allows Jenner to make more than them per post is the level of engagement and the demographic that follows her. She is in touch with people who are particularly likely to interact with the brands she promotes, making her the gold standard for Instagram influencers.
Influencer earnings add to Kylie Jenner's net worth
Her Instagram influence earnings are only a part of her overall income. Jenner has been an active and outgoing celebrity since she was a teenager, and she has used that fanbase to promote everything from clothing lines to cosmetics. She has also acted in films and, of course, the television series Keeping Up with the Kardashians. In addition, she is able to leverage her impressive social media influence and fanbase to promote her own products, giving her an extra boost in the entrepreneur scene.
Forbes declared her the youngest self-made billionaire in March of 2019, but her actual net worth is a source of some dispute. Other sources suggest that she has an overall net worth of around $300 million. Of course, if she is making over a million dollars for every sponsored Instagram post she shares, we can expect to see that worth grow exponentially over time—especially if her followers and their brand engagement continue to climb.