How Much Time Do Nick Jonas and Priyanka Chopra Spend Together?
Nick Jonas and Priyanka Chopra became an "it" couple it 2018 when they surprised everyone with their fast-moving relationship. The two only officially started dating in May 2018, and by December 2018, they were married. But right now, both of them have thriving careers and busy schedules. How much time do they actually get to spend together?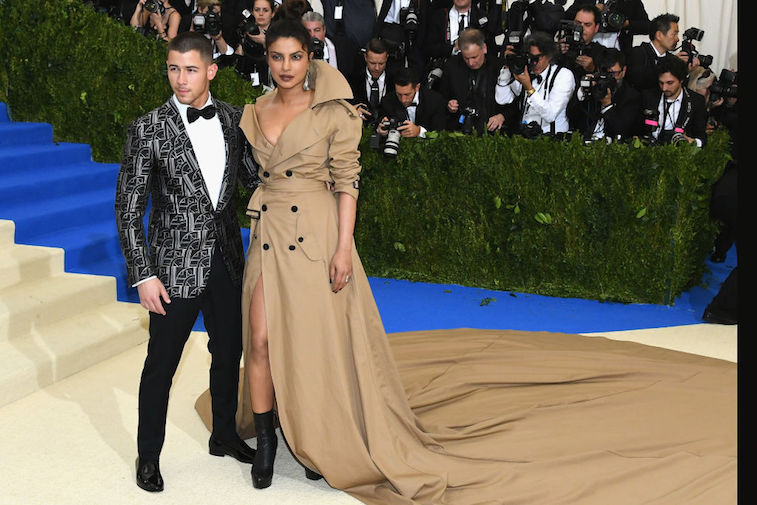 Chopra and Jonas have been loving married life
Ever since the two tied the knot in an elaborate ceremony in India, they've seemed happier than ever. Chopra has appeared on various talk shows, including The View, where she has answered questions about her marriage to Jonas — and she always seems thrilled to speak about him. The two have already been through plenty of adventures together, including the Jonas Brothers officially reuniting, spending time in Europe for Joe Jonas' wedding, and meeting Prince Harry and Meghan Markle's baby (Meghan Markle and Chopra are good friends). But between all of that adventure are two very busy careers.
Jonas is currently on tour, and Chopra tries to be there whenever she can
Jonas and his brothers officially kicked off their Happiness Begins tour at the end of August, and they've been moving from city to city to throw a massive reunion concert for thousands of fans almost every night. Though the brothers seem incredibly happy to all be back together, it does mean they have to focus a lot on their music and put other things on the back burner. However, Chopra has done her best to attend Jonas' concerts. She, Sophie Turner, and Danielle Jonas, have all been cheering for their husbands since the tour kicked off.
She spent part of this year filming her new movie 'The Sky is Pink'
Chopra's newest Bollywood film, "The Sky is Pink," was recently released, and she spent part of this year finishing up filming. Though it's been great for her career, it has also meant that she and Jonas have had to spend some time apart. Chopra was just in India for a while promoting the film; she posted various photos to Instagram between September 21 and October 6, suggesting she was out of the country and away from her husband for more than two weeks. However, Jonas and Chopra are each other's biggest cheerleaders, and they were probably supporting one another from thousands of miles away.
The couple spends most of their time together but understands they both have career obligations
Chopra and Jonas do their best to be together. Though Jonas is essentially at the mercy of his tour schedule right now, Chopra has been to as any shows as she can. They both understand that they have thriving careers, and it makes sense that they'll spend several weeks apart here and there for various career obligations. But overall, it appears they're with each other the majority of the year. Should Chopra have another movie opportunity in India (which is likely), she will probably have to spend a large chunk of time away from her husband. But for now, they're enjoying married life together in the best way they can.