How NBC's 'Meet the Press' Lost Whatever Credibility It Had Left
If you've watched NBC's Meet the Press with Chuck Todd hosting, you've probably noticed some strange features on the show. Maybe the oddest is Todd's tendency to leave the final moments of a segment to the unedited, unchallenged whims of his guests.
No matter what a guest might say, you'll hear Todd remark with a grin, "We're going to leave it there." For a show that features guests who gave up on telling the truth years ago (including Kellyanne Conway and Rudy Giuliani), that's a terrible approach to take.
In the Trump era, Todd has proven on a weekly basis that he's incapable of challenging lies in real time, thus rendering his show useless as a news program. However, it has been effective as a propaganda tool for anyone who wants to come on and speak.
During Todd's interview with Trump (the first of his presidency) that aired on June 23, the host of Meet the Press had one of his worst moments to date. If the show had any credibility left, Todd's performance — and that of the MTP social media team — certainly shredded it.
Chuck Todd forgot which president he was interviewing.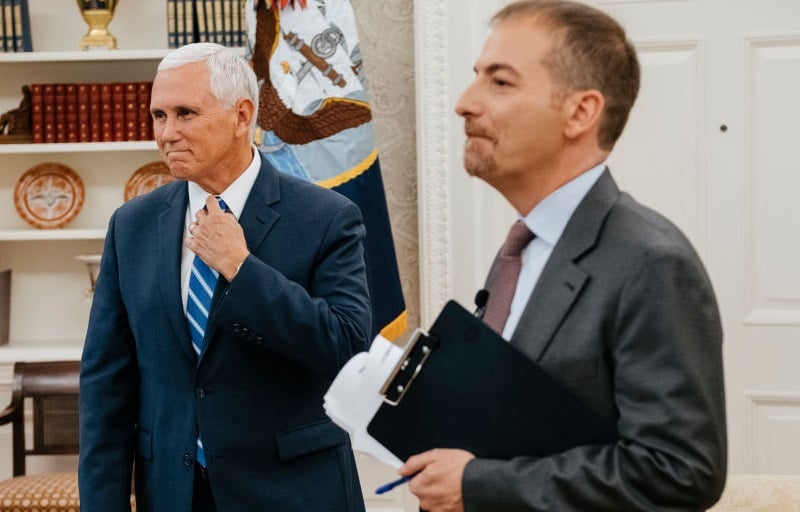 When conducting an interview with a head of state, it's generally a good idea to understand how that president (or prime minister, etc.) evades questions he or she doesn't want to answer. Another good move is understanding how and when someone might tell a lie.
In the case of Trump, it's not rocket science. The man has told thousands of lies in his 29 months as president, and journalists like Daniel Dale have recorded exactly when Trump has lied — as well as how he's lied and fudged over facts, along with breakdowns of his regular lying patterns.
Even Trump's supporters and GOP backers in Congress acknowledge he lies almost as frequently as he breathes. (They don't care, you see, because Trump's "telling it like it is" or isn't meant to be taken "literally.")
Yet somehow Todd went into his exclusive Meet the Press interview without preparing for the usual round of lies in any meaningful way. As a piece in Vox noted, Todd sat by idly while Trump lied about U.S. voter fraud, his inhumane child-separation policies, Obamacare, and several other issues.
It was almost like he didn't prepare to interview Trump. Obviously, that rendered most of the show useless for anyone hoping for accountability from the moderator of Meet the Press — a show once known as the place for accountability.
'Meet the Press' spread Trump's lies on Twitter in hope of boosting social engagement.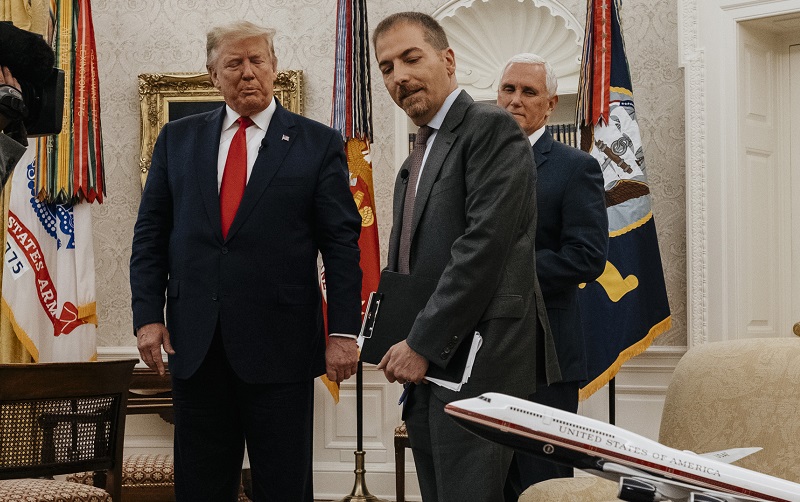 Well, it's not like the social media accounts of Meet the Press joined in on the fact-free barrage, right? Wrong. In what is the latest/worst example of mainstream news organizations repeating clear lies from the mouth of Trump, MTP was at it again on Twitter as the show aired.
After getting lambasted by journalists and others on Twitter for the better part of two hours, the audience got a weak concession from the network. "As NBC News previously reported, this claim [on child separation at the border] is false."
Clearly, that didn't stop NBC and its signature program from tweeting it first without any note attached. You could argue the network is going for the clickbait approach, I suppose, but it's an utter failure if the news organization's intent is to inform readers about realities in 2019.
NBC and Meet the Press aren't alone, of course. Since Trump arrived at the White House, we've seen a complete failure from the American press corps. From the New York Times' fear of calling a lie "a lie" to the comically terrible approach at CNN, these companies have failed their readers and viewers.
As for Meet the Press, it's basically in about the same state as the U.S. presidency. Eventually, maybe it can recover its reputation, but at this point the show has next to nothing to offer a news audience.
Also see: Why Does CNN Seem to Want Donald Trump Re-Elected?