How Nick Viall Really Feels About Vanessa Grimaldi's Recent Comments About Not Wanting To Get Engaged To Him On 'The Bachelor'
Nick Viall ended his Bachelor season engaged Vanessa Grimaldi, but the couple split five months after the finale aired.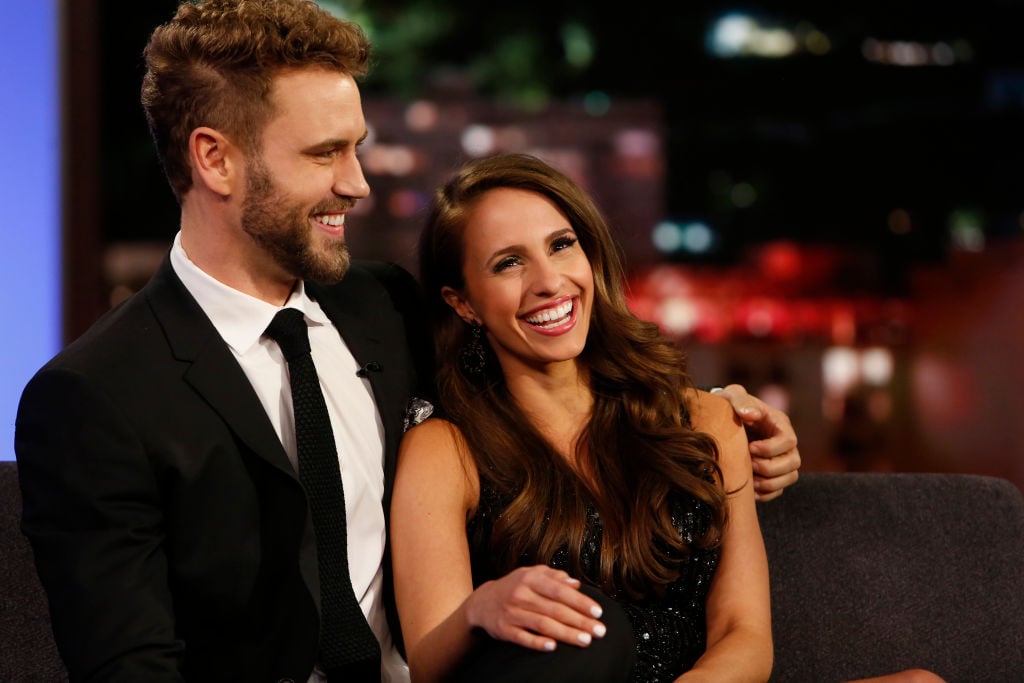 About a month ago, Grimaldi went on her friend Taylor Nolan's podcast, Let's Talk About It, and said she didn't want to get engaged at the end of Viall's season of The Bachelor.
Vanessa Grimaldi didn't want to get engaged to Nick Viall at the end of his 'Bachelor' season
As she was watching the season back, Grimaldi found it interesting that the show didn't air what she believed to be an important conversation between them–a conversation about whether to get engaged or just continue to date.
"I didn't want to get engaged. They didn't air this," she said on the podcast. "I had a conversation with him, and I said, 'Listen, wouldn't it be better if we just date outside of the show and then get engaged? Because that'd be more meaningful. We'd get to know each other.'"
"He said, 'I know to you it could be just a piece of jewelry, but there's so much meaning towards us leaving engaged because there's going to be so much attention,'" Grimaldi continued. "There's going to be so much backlash on us once we're done with the show. At least this is going to hold us so much more. It's going to hold us together. It's going to hold us together more than it's true. 'Cause you have, like, something you're working towards, right?'"
The season winner did say that she "wouldn't have said yes if I didn't picture him as someone that I could've potentially grown with."
But, ultimately, Grimaldi feels if she and Viall weren't engaged they "would've broken up sooner."
Nick Viall and Kaitlyn Bristowe play 'Truth or Drink'
Viall was recently a guest on former bachelorette Kaitlyn Bristowe's podcast, Off the Vine. Bachelor Nation probably remembers that Viall was the runner-up on Bristowe's season of The Bachelorette. Though the two didn't speak for a few years following their split on the show, it seems they're now trying to be friends.
"We're going to play a nice little game of 'Truth or Drink,'" Bristowe told the podcast audience at a live-taping. "And I'm going to start it off by asking Nick a hard-hitting question about Vanessa."
Before proceeding, Viall made sure he was allowed to drink instead of answer the question. Bristowe told him he was.
"Vanessa has spoken out – pretty recently – about not wanting to get engaged on the show. How did you feel about her talking about this publicly? Tell us the truth, or drink," she instructed him.
How Nick Viall feels about Vanessa Grimaldi's comments
The audience seemed to want Viall to opt out of the question and take a swig, but Viall carried on.
"So, the question is, what do I think about it? Or not, whether it was true?" he asked.
"Yeah, what do you think about it?" said Bristowe.
"Uh, I mean, it was fine. Right? I mean, like, was I irritated?" said Viall.
Bristowe told him that his reaction to everything is always "it was fine."
"Well, you try to be level-headed," he said.
Read more: 'DWTS': Hannah Brown Says James Van Der Beek's Recent Tragedy Put Things In Perspective For Her