How Old Is Bella Hadid and What Does She Do Everyday to Avoid Going Crazy?
There isn't a more alluring model in recent years than Bella Hadid, despite being an unbelievably young age. Becoming a supermodel before you're even 18 is already a major risk. Yet, Hadid has managed to stay (mostly) out of trouble, perhaps in part from being close to her former model mom, Yolanda.
Despite suffering from Lyme Disease (something afflicting the entire Hadid clan), she's managed to keep her sanity to avoid the fate of so many other superstars. While she's worth $12 million, she chooses to live a healthy lifestyle by doing a few specific things.
Like other stars who intentionally deflect from the dangers of fame, Hadid is a good role model in avoiding craziness.
A meteoric modeling rise in only five years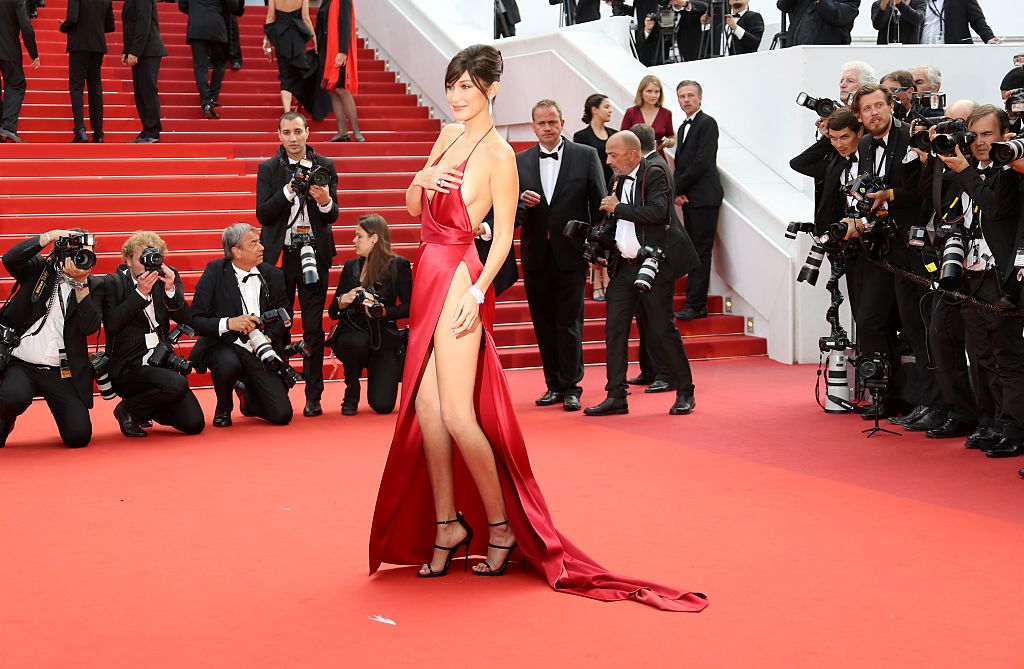 It's amazing that Hadid only began her career a short seven years ago in 2012. At the time, she was only 16, but had initial aspirations to become an Olympic-caliber equestrian champion. Due to her Lyme disease diagnosis, she couldn't participate in the Olympics.
The pivot to becoming a supermodel made for a more financially rewarding career anyway. Due to having no fear in her photoshoots, she ended up becoming a well-known name within a couple of years.
Some of her fashion shoots have raised eyebrows, sometimes involving provocative poses or nudity. Her sister (Gigi) has been occasionally featured with Bella.
Even with success in her first two years, Hadid studied photography in New York for a time. According to Vogue, she thought Gigi would be the successful model. Bella Hadid feels more comfortable behind the camera, but she has yet to finish her photography degree.
Her still young age
Born October 9, 1996, Hadid just turned 22. All of the fashion work she's done since 2012 has become more than a little overwhelming. Perhaps it led to one slip-up: Being arrested and charged with a DUI in 2014 just before signing with IMG Models for more professional modeling work.
While she had her driver's license taken away for a year and received six months probation, it didn't affect her being signed to IMG. From that point on, she appeared on about every magazine cover you can name.
Hadid also started making appearances on Real Housewives of Beverly Hills with her mom, Yolanda Hadid (formerly Foster). You could also find Bella on Keeping Up with the Kardashians through one memorable appearance.
After these crazy career moments, no doubt it scared her enough to find some normalcy.
Maintaining a healthy diet
One thing Hadid does to keep herself sane is maintaining a sensible diet involving eating more normally than most models do. She noted recently she eats often during the day to keep her blood sugar up. Plus, she never skips breakfast, one of the smartest things anyone can do.
In Harper's Bazaar, she mentions she always has lunch, including not worrying if it involves pasta. Consuming protein is another secret to keeping her healthy and maintaining energy throughout the day.
We all know a good diet helps keep you mentally and physically healthy, yet it's the same with what you drink. Drinking green juices and espressos are always on her menu.
Maintaining her mental health
Watching all of the videos from today meeting you amazing humans in KL& I can't stop catching myself smiling soo big lol ?❤️❤️

— Bella Hadid (@bellahadid) November 26, 2018
https://www.instagram.com/p/Bsov8IDgcH0/
https://www.instagram.com/p/BswNBP9gvCx/
Hadid is always active on social media and posts things that connect with her fans, including her latest photoshoots. At the same time, she always stays away from her phone when first waking up to avoid being overwhelmed with the day's news.
A routine like this should become a standard with everyone in the times we live in. Some might say maybe Hadid didn't do quite as well with her relationships (i.e. dating The Weeknd). Still, it's doesn't mean she isn't one of the sanest pop culture figures out there.
Because Bella Hadid tries hard to stay a normal person is enough to put her several notches ahead of most of her contemporaries.