There's no one more beloved in Hollywood than Betty White. The veteran actress has a way of making people laugh and saying whatever's on her mind (no matter how inappropriate it may be).
It seems like Betty White has been around forever. So just how old is Betty White?
The comedian just celebrated a birthday
Betty White was born January 17, 1922. It's hard to believe that she just celebrated her 97th birthday this year. White chose to keep things low key this year. She reportedly stayed home and played poker with close friends to celebrate.
This year's birthday may pale in comparison to her 90th in 2012, but we think that it's just the way the star like it. Vanity Fair quips, when the star turned 96 she attributed to her long life to cold hot dogs and vodka.
No one compares to Betty White
When it comes to successful Hollywood careers, Betty White jumps right to the top of the list. In fact, White actually holds the Guinness World Record for the longest TV career for an entertainer (female). The actress first got her start in acting in 1939, dancing on an experimental TV show, in a role that she admits she can't even remember.
White got her first role as a series regular in 1952, starring in the television show Life with Elizabeth. The actress played the title character for three years. Since then, White has been acting virtually non-stop.
Her breakout roles
Everyone has that one role that they will always see Betty White in. For some, it will be as Sue Ann Nivens on The Mary Tyler Moore Show. For others, it's the charming, if not a little daft, Rose Nylund on The Golden Girls. Or for the younger generation, it may be Elka Ostrovsky in Hot in Cleveland or Grandma Annie in the Sandra Bullock film, The Proposal. But to many, she is simply Betty White.
While White had been in show business for years before The Mary Tyler Moore show premiered in 1973, many consider White's role as Sue Ann Nivens to be the one that really made her a star. Sue Ann worked at WJM with Mary and the rest of her crew. She hosted her own show, "The Happy Homemaker."
White starred on The Mary Tyler Moore Show until 1977, when the show ended. After the show's finale, the comedian went straight into another show, this time as the lead, in The Betty White Show. The series only lasted one season, but White was resilient. She went on to appear in several television movies and shows before landing her next big role less than 10 years later.
In 1985, White began filming on The Golden Girls. White played the role of Rose Nylund, a simple woman who had a tendency to come off a bit ditsy. Rose was always being made fun of by her fellow housemates for her naivety and her constant ramblings about her past. White played the character for seven seasons on The Golden Girls and one season in the spin-off series The Golden Palace.
Present Day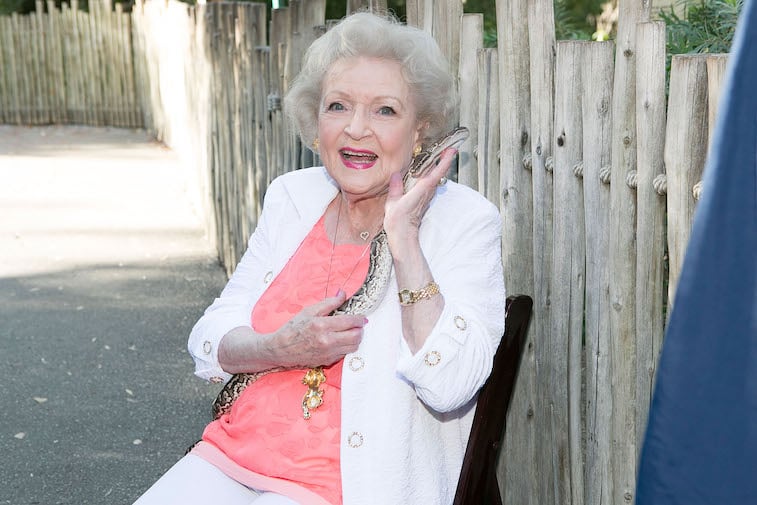 Betty White has become a cultural phenomenon. Her appearances on late night shows are always entertaining and it seems like she always says something that ends up the next day's meme. In 2010, fans petitioned to have the 88-year-old host Saturday Night Live. The campaign was successful, and White became the oldest person to host the show. That year she also appeared in a Snickers Super Bowl Commercial where a football player was told to eat a Snickers because he was "acting like Betty White."
Though White has been the victim of many death hoaxes, the star seems to be invincible. So much so, that Jeopardy host Alex Trebek joked that once his time on the show is done, he thinks White should take his place. We can't help but agree that Betty White would be a smash on the show!