How Old Is Ivanka Trump and What Does She Do?
Ivanka Trump grew up the apple of her daddy's eye and an important part of his wallet and the family business.
Her birth name is Ivana Marie, nicknamed Ivanka to avoid confusion being named after her mother. She was born Oct. 30, 1981, making her 37 years old. She is the middle child of Donald J. and Ivana Trump. Brother Donald Jr. is four years her senior and Eric is not quite three years younger than his sister. Their parents divorced in 1992.
Ivanka has been married to Jared Kushner since 2009. They have three children.
Early years in business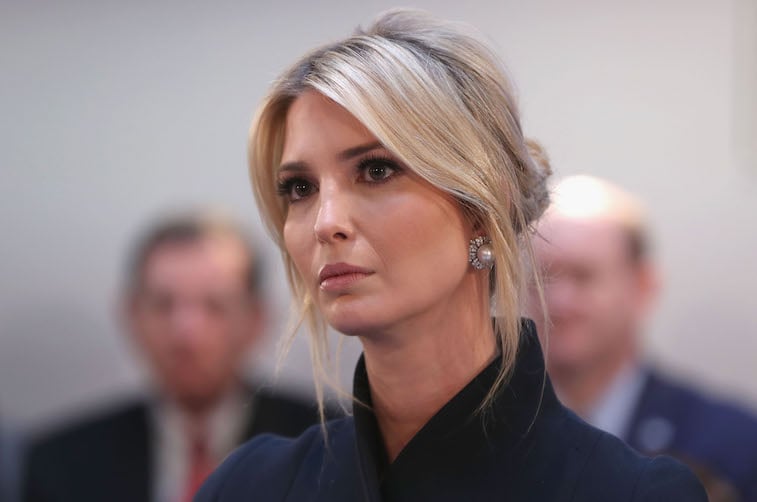 Following her graduation cum laude from the Wharton School at the University of Pennsylvania with a degree in Economics, Ivanka Trump worked briefly for a business firm outside of the family, Forest City Realty Trust, a real estate investment company. But in 2005, she went to work for her father as Executive Vice President of Development & Acquisitions of the Trump Organization.
Developing the Ivanka brand
Two years later and wanting to get a foothold in the fashion industry Ivanka partnered with Dynamic Diamond Corp. to develop her own line of jewelry. She opened her first retail store on Madison Ave. in Manhattan to sell her line. It was later moved to a larger location in the Soho district until 2015 when it closed. Her next retail store opened in Trump Tower in 2016.
But her jewelry wasn't limited to the one shop. It was being sold in various jewelry stores throughout the U.S. and Canada as well as the Middle East including Kuwait, Bahrain, Qatar, Saudi Arabia, and the United Arab Emirates. Her brand expanded to include clothing, shoes, and handbags sold through high-end department stores. Although, that was short lived with stores dropping the lines in early 2017, claiming poor sales performance.
It should be noted that Ivanka's interest in fashion probably came from her mother who was a model in Czechoslovakia, as well as a businesswoman. Ivanka also modeled during weekends and holidays during her high school years.
Getting to the White House
In 2016 Ivanka took on the role as being a spokeswoman for her father's campaign for president all the while subtly or not so subtly promoting her fashion brands.
The morning following her introduction of her father during the 2016 Republican National Convention, a post was made to her official Twitter account, "Shop Ivanka's look from her #RNC speech," with a link to Macy's which sold the dress she had been wearing.
On a 60 Minutes interview with the family following her father's election, she wore a bracelet which was then marketed through an e-mail blast.
She's not the only Trump to promote the Trump brand during and following the election.
A presidential advisor
Upon her father's election to the presidency, Ivanka along with her husband, Jared, followed her father to the White House to work, albeit without pay, as a Senior Advisor, although she has differing views with some of his agenda. She has said she doesn't consider herself a Republican or Democrat and at the time of the New York primary in 2016, she was registered as an Independent.
In Jan. 2017, Ivanka resigned from her work with the Trump Organization. In July 2018, she stated she was closing the doors of her fashion company wanting to turn her focus on public policy.
It is unclear to most of us just what Ivanka's role is in the West Wing. She has a controversial high-level security clearance and appears in many meetings with her father. But, is it wanting prestige and power for her husband that she's really after? A January article in The Atlantic points in that direction.
"Oddly, given her insistence on being a thoroughly modern woman, she wants greater power for her husband, who is Trump's very opposite: personally disciplined, loath to speak in public, willowy, deeply committed to making his one marriage last," Caitlin Flanagan wrote.
What's Ivanka doing now?
In Feb. of this year, Ivanka took on the portion of Assemblywoman Alexandria Ocasio-Cortez' Green New Deal regarding American jobs during an interview on The Next Revolution with Steve Hilton.
"I don't think most Americans, in their heart, want to be given something," she said. "People want to work for what they get. So, I think this idea of a guaranteed minimum is not something most people want."
One thing is sure, we can expect more controversial remarks and actions from the country's first daughter.