How Old is Jimmy Kimmel, and How Long Has He Hosted Jimmy Kimmel Live?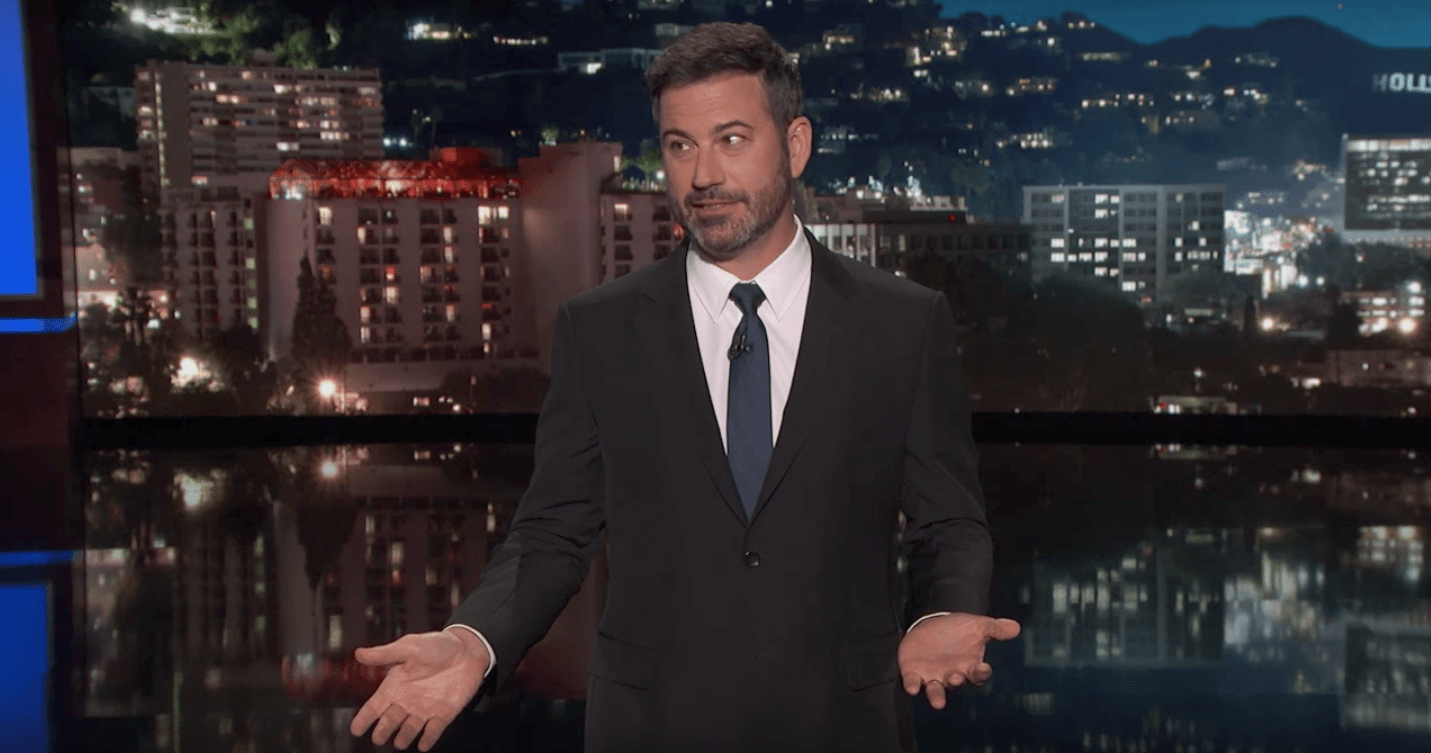 James Christian "Jimmy" Kimmel was born in Brooklyn, New York, on November 13, 1967 to Joan and Jim Kimmel. He was the eldest of three siblings. According to the family's affinity for "J" names, his younger siblings were named Jill and Jonathan. The family moved to Las Vegas when Kimmel was young. It was there that he would discover his love of talk shows, thanks to his idol, David Letterman.
He started his media career out in radio, where he hosted several college talk shows before he landed a job as 'Jimmy the Sport's Guy' at Los Angeles' KROQ. It was there he would stay until landing his first television role, which would lead to future successes and an infamy for strong political views.
Jimmy Kimmel's television breakout role
It was on Win Ben Stein's Money that Kimmel landed his first television role in 1997. He served as host and comedic counterpoint to Ben Stein's more monotonous personality. The show and comedic pairing was a hit. Kimmel and Stein won a Daytime Emmy in 1999 and received another nomination in 2001.
Jackhole Industry's successes
Jackhole Industries is a production company founded by Jimmy Kimmel and his two close friends, Adam Corolla and Daniel Kellison. The company was a hit with a very specific crowd, as they primarily (but not exclusively) produced raunchy, rowdy comedies. Examples include The Man Show, Crank Yankers, The Andy Milonakis Show, and Sports Show with Norm MacDonald.
Among these, The Man Show and Crank Yankers proved to be the most successful. The Man Show is accurately described by it's name. It featured beer chugging, woman bouncing braless, and sports, among other "manly" topics. Crank Yankers was a show in which famous comedians prank called people. The calls were then hosted on the air, using puppets to portray the actors.
Jimmy Kimmel's hit talk show
Kimmel is best known as the host of late night talk show Jimmy Kimmel, Live! It is the longest-running ABC talk show to date, with over a decade of seasons behind it. Kimmel began hosting the late night talk show in 2003, and has since hosted numerous notable celebrities.
Among the most notable were Oprah Winfrey, Barack and Michelle Obama, Donald Trump, Meryl Streep, Hillary Clinton, Harrison Ford, Jennifer Aniston, Charlize Theron, Steve Carell, and Ben Affleck – just to name a scant few.
Throughout the show there are several skits which play, between Kimmel's interviews and monologues. Fan favorites include Celebrities Read Mean Tweets (About Themselves), Lie Witness News, and Unnecessary Censorship. Their YouTube Video Halloween Candy YouTube Challenge was also a big success, as was their hilariously raunchy music video I (Wanna) Channing All Over Your Tatum.
How his well-known politics tie into his family life
Kimmel has been known for his strict stance on certain political issues, which he has shared via Jimmy Kimmel, Live! One of the reasons he is adamant about universal healthcare reform is that his son, Billy, was born with a congenital heart defect. Kimmel states that if a better healthcare bill is not passed, then his son will never be able to afford insurance because he has a pre-existing condition.
Billy and healthcare reform were talked about in a heartbreaking monologue shortly after the little boy was born. Thankfully, Billy is doing much better after several surgeries – including one just three hours after he was born.
Family always comes first
Kimmel is a big proponent of family first. When his son had his surgery, Kimmel took a week off work. Various celebrities hosted his talk show in his absence. According to some interviews, Kimmel also spends a mandatory five hours a day with his children – no matter what. Kimmel's wife, Nancy McNearney, also works on the show and is big on family.