How Prince Harry and Meghan Markle Have Been Enjoying Life Away From the Royal Family
Now that everyone has had a chance to absorb the news that Prince Harry and Meghan, Duchess of Sussex are no longer senior royals, fans are wondering what they've been doing and how things are going for them in Canada.
The pair announced in a statement via Instagram on Jan. 8, 2020, that they were going to "step back as senior royals." Meghan and Harry also stated that they would be spending time in North America. Now, they are reports about just how the Sussexes are enjoying life more than 4,000 miles away from the royal family. Here's more on that, plus the one thing Harry is doing to cope with missing his friends back home.
Where the Sussexes are staying and where they're house hunting
After their bombshell announcement was made, Meghan returned to Canada and was reunited with the pair's son, Archie. Harry meanwhile stayed behind in the U.K. for a few days to iron things out with his family and attend a meeting with the queen, Prince Charles, and Prince William.
Since then, the couple and Archie have been staying at a $14 million mansion off the Pacific coast of Vancouver Island and have been house hunting for another lavish property in the area.
According to The Sun, the Duke and Duchess of Sussex are looking at waterfront properties in Kitsilano. One home they are said to be interested in boasts 6,900 square feet of living space spread out over four levels with panoramic views of the Pacific Ocean. It also features six bedrooms, five bathrooms, 20-foot beach-side walls, and tall hedges for privacy. The asking price is $35 million.
The duke and duchess are enjoying a 'quiet' life this way
So now that the dust has settled a bit and the prince and retired actress have been out of the royal family limelight, many are wondering just what they've been up to lately.
An insider told People that they traded royal life for yoga and nature walks.
"They are enjoying living a quiet life," the insider said, adding, "They go for long walks, they do yoga, and Meghan cooks. They are real homebodies who love to chill out with Archie and the dogs. They both love to be outside and have been loving it there." 
Harry is messaging friends back home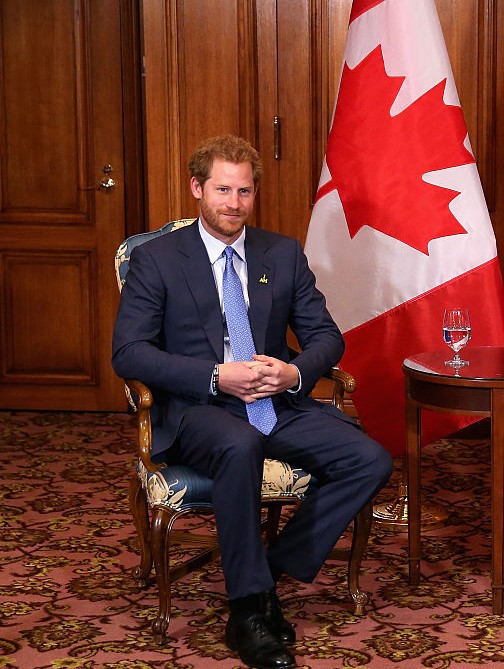 While Harry's adjusting to life in a country he's never lived in before, he has been keeping up with his buddies back in England through a popular messaging app.
"Harry misses his friends of course — anyone would. But he has been in a WhatsApp Group with his mates for years and he uses that more than ever now to keep in touch and send pictures," a source told The Sun. "The group are always sharing funny video clips they find as well."
Although he's living on the other side of the pond at the moment, the duke doesn't believe it will hurt his friendship with his longtime pals.
The source revealed that "Harry doesn't think being on the other side of the world means that he will lose touch with the people he has been mates with all his life."
Read more: Meghan Markle Pulled Out of Her First Post-Megxit Event With Prince Harry