How Princess Beatrice's Wedding Will Differ From Other Royal Weddings
Princess Beatrice is officially engaged, and though she hasn't released many details about her wedding, she will reportedly tie the knot in 2020. She's marrying Italian developer Edoardo Mapelli Mozzi, and the two seemed so in love their engagement photos (which were taken by her sister, Princess Eugenie). However, rumor has it that Beatrice's dream wedding will be far different from the weddings other royals have had in recent years.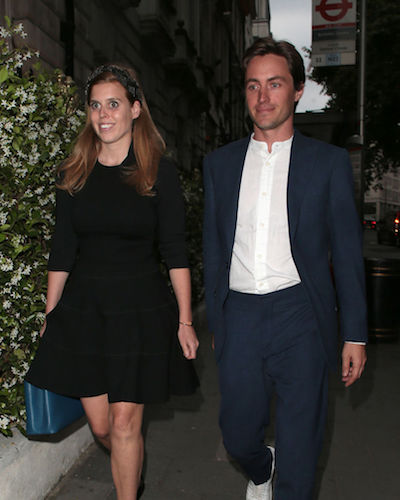 Beatrice and Edoardo had a long-anticipated engagement
From pretty much the moment Beatrice and Edoardo started dating, people were anticipating their engagement. Some royals tend to take their time with engagements, while others move a bit more quickly (Prince William dated Kate Middleton for nearly seven years before they wed, while Prince Harry only dated Meghan Markle for about a year). Beatrice and Edoardo reportedly met at Eugenie's wedding, only a few months after he exited a long-term relationship with architect Dara Huang. Though Beatrice and Edoardo kept their relationship under wraps for a while, they ultimately only dated for less than a year before getting engaged.
The two are reportedly looking to break some royal traditions
Beatrice is a royal, but she isn't a working royal, which means that the royal rules are a bit more relaxed for her. She is the granddaughter of the queen and the first cousin of William and Harry, but since she isn't a direct heir to the throne, she doesn't need to follow all the same rules and traditions her cousins do. Rather, Beatrice has a bit more freedom, and according to reports, she's looking to stray from the royal norms during her wedding. The royals tend to only get married in certain venues (both Eugenie and Harry wed their spouses at George's Chapel in Windsor), however, according to Cosmopolitan, Beatrice reportedly wants to get married at a more unique spot that doesn't hold as much royal history. She also supposedly wants to forego the carriage procession, which has been a longstanding royal tradition.
One royal expert thinks Beatrice wants something more low-key due to Edoardo's situation
Beatrice and Edoardo started dating shortly after he broke up with Huang, and it didn't go over that well with some. There were rumors that he was engaged to Huang when he and Beatrice started dating, plus, he shares a young son with Huang. Other rumors suggest he broke up with Huang out of nowhere and left her without much of an explanation. Though it's unclear if these rumors are true, some suspect that Beatrice and Edoardo will choose to have a more low-key ceremony to avoid any drama. Other royals tend to have elaborate, televised ceremonies.
The two probably won't be married in Italy
Despite what was originally thought, it doesn't look like Beatrice and Edoardo will end up marrying in Italy. Edoardo is from Italy, and it was suspected that the couple would tie the knot at an Italian venue, though that might mean that Queen Elizabeth wouldn't be able to attend. With her and Prince Philip growing so old, it isn't feasible for them to make the trip. However, Beatrice has reportedly bagged that idea, and the two will opt for a wedding in the United Kingdom instead. It will likely be a while before many more details unfold.