How 'Queer Eye' Season 5 Will Be Different From Past Seasons
If you're like us and you binged all of Queer Eye season 4 in one day, don't worry. Season 5 of Netflix's makeover series is just around the corner, henny. This season, the Fab Five tackles new challenges in a brand new location. What makes season 5 of Netflix's Queer Eye different? Here's what we know.
'Queer Eye' won multiple Emmy awards, including Outstanding Structured Reality Program
We've seen Antoni make guacamole, Tan sport the iconic french tuck, and Karamo make a few dozen people cry. Seasons 1 through 4 of Queer Eye were all about self-reflection and self-improvement, and that's why fans love it so much.
In fact, the series earned multiple Emmy awards and nominations. Last year, Queer Eye won the Emmy Awards for Outstanding Structured Reality Program, Outstanding Casting For A Reality Program, and Outstanding Picture Editing For A Structured Or Competition Reality Program.
Now, the series has been renewed for Netflix for a fifth season. Production has already begun on the next few episodes. But what makes this season different? For one thing, its surprising location.
The Fab Five is traveling to Philadephia for season 5 of 'Queer Eye'
Although the first few seasons of Queer Eye were predominately shot in Georgia, the Fab Five has gradually been branding out to other states and even other countries. For last season, the Fab Five was in Kansas City, Missouri, making a stop at Jonathan Van Ness' high school.
Earlier this summer, Queer Eye announced that their fifth season would take place in Philadelphia, Pennsylvania. The television show's Instagram account even posted a picture with Gritty, making the move official. Naturally, fans from Philly shared their excitement at the news.
"Okay, so thanks for everyone for confirming [the video with Gritty is] because the Fab Five are filming in Philly for the fifth season," said one Twitter user. "Food, grooming, culture, and design will have their work cut out for them, but God bless Tan France, who has to explain why sweatpants, socks, and Adidas slides is not a look!"
But that's not all. One of the upcoming episodes of Queer Eye takes place in Japan. There, the Fab Five will take their inspirational message to local heroes.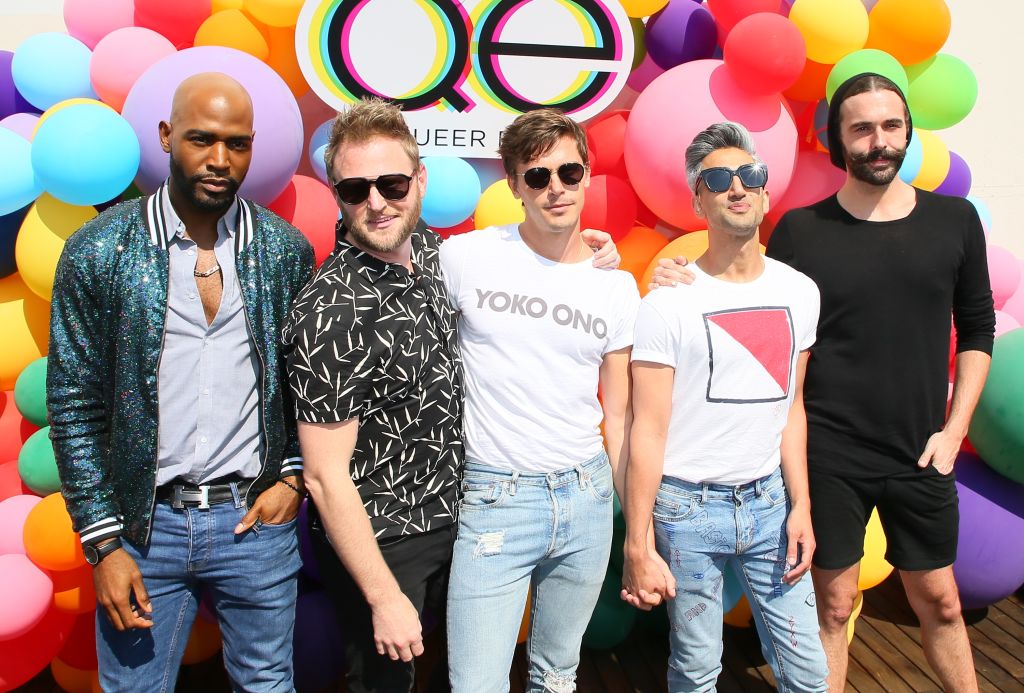 When does the next season of 'Queer Eye' come out?
Unfortunately, there is no official premiere date for the next season of the reality series. In the meantime, the special episode, Queer Eye: We're in Japan premieres on the streaming platform within the upcoming months.
"I tried so much food. I had sea urchin. I had all sorts of stuff. Japan was so incredible. I didn't know what to expect, but the tradition and the culture was so rich. It's been amazing. But they do have a ways to come in terms of LGBT equality, and I hope our experience moves that wheel forward," Jonathan Van Ness said in an interview with The Philly Voice.
Episodes of the original series, Queer Eye, are available for streaming on Netflix. In the meantime, members of the Fab Five can be found enjoying separate projects. Bobby Berk partnered with Target. Tan France, Karamo Brown, and Jonathan Van Ness wrote their own books. Antoni Porowski has a restaurant in New York City, called The Village Den.