Here's How the Royal Family Will Change Once Queen Elizabeth Steps Down
Queen Elizabeth likely still has quite a few years left of ruling, but things will change when her reign ends.
Though we all hate to think about it, Queen Elizabeth isn't getting any younger (but we're confident she still has a lot of life left in her). Eventually, though, the queen will need to step down; she'll become too old to rule and hand the throne over to her eldest son, Prince Charles. But when that happens, the dynamic of the royal family will change in several ways.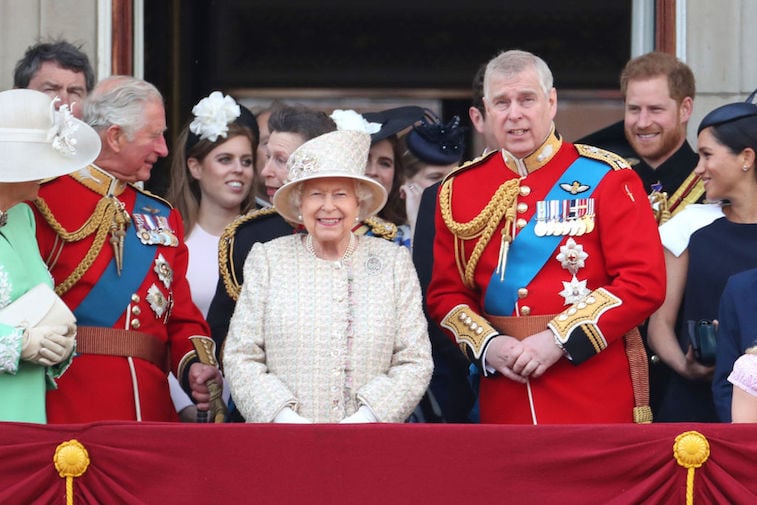 Prince Charles will become the most important member of the royal family
This might seem obvious, but Prince Charles will become arguably the most important man in the world. The royal family oversees such a massive part of the world that when Charles becomes king, he will also become more important than anyone else in his family. The interesting part about Charles becoming king is that not everyone adores the current prince. He damaged his reputation severely after his affair with Camilla Parker Bowles broke, and when he finally married her, people still weren't thrilled with the couple. The two seem to have made their way into the public's good graces a bit more, however they aren't nearly as loved as other family members.
Prince George, Prince Louis, and Princess Charlotte will become even more important
Right now, Prince George, Princess Charlotte, and Prince Louis are enjoying their youth. Rumor has it none of the little royals even know how important their roles are just yet. However, once Charles becomes king, the three children will essentially take on the same roles that William and Harry have now. And everybody knows how much time William and Prince Harry have spent in the spotlight. The kids will need to learn how to properly behave in public and will suddenly be carrying the entire next generation of royalty on their shoulders. Out of all the young royals, they will be, by far, the most important.
Prince Harry and Meghan Markle won't matter much anymore
Though we tend to focus a lot on Prince Harry and Meghan Markle, especially since the media can't seem to give Meghan a break, the truth of the matter is that they really aren't that important. Harry is the son of the future king, which means he will always be relevant, but once the queen leaves the throne and Charles starts to rule, William and his kids will become much more important. Harry and Meghan are already doing their best to stay out of the spotlight as much as possible, and they will only become less and less important (royally speaking) as time passes.
For all we know, the queen could have another 10 years in her  
Though it's important for the royals to look at where life will go once the queen steps down, there is nothing to say that she won't rule for several more years. Her mother lived to be 102, so it's very possible that she could have nearly another decade left in her before she either dies (which we hate to think about) or leaves the throne. Right now, she's still going strong, so we're rooting for her to stay the queen for as long as possible.