How Ryan Reynolds Really Feels About Marvel Pushing Deadpool Back To Phase 5
Marvel may not have teased a Deadpool appearance in the Marvel Cinematic Universe during Comic-Con International, but Ryan Reynolds just told fans exactly how he feels about the apparent snub. In a hilarious image posted to Instagram, Reynolds, who portrayed Wade Wilson in the first two Deadpool movies, joked about his character being pushed to Phase 5 of the MCU by tying it to an old conspiracy theory.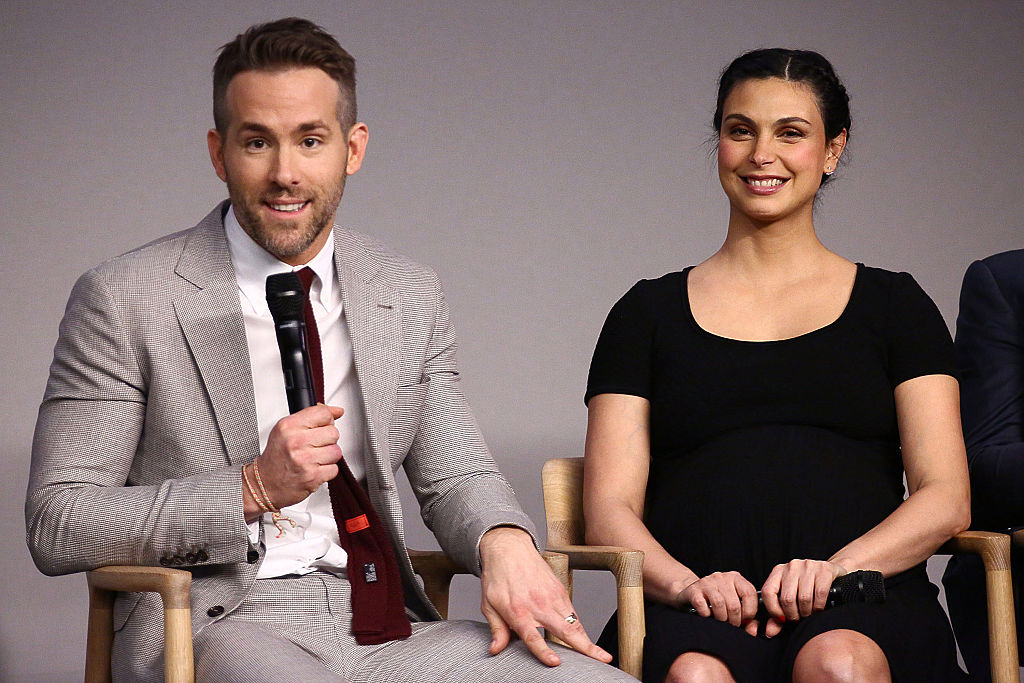 How does Reynolds feel about the Phase 5 push?
The image featured a poster board of a top-secret investigation about who leaked footage of the first Deadpool movie back in 2014. The board includes photos of several celebrities, including Hugh Jackman, and strings that connect them to the larger conspiracy. But it was Reynold's caption that really poked fun about Marvel not including Deadpool in Phase 4 of the MCU.
"Investigation heading into year 5," Reynolds shared. "Or as I call it, 'Phase 5.' The point is, I love conspiracy-yarn. #LeakAversary"
The reference to Phase 5 is clearly a playful shot at Marvel. During a special panel at Comic-Con, the studio revealed its extensive plans for Phase 4 of the MCU, including upcoming movie titles, timelines, and casting. This includes several standalone films, such as Black Widow, Thor: Love and Thunder, and Doctor Strange in the Multiverse of Madness.
It is unclear if Reynold's caption is confirmation that Deadpool will not appear in Phase 4, but it has renewed hope that the Merc with the Mouth will have a movie in the MCU at some point.
Disney buys out Fox franchises
Disney recently bought the rights to several franchises previously owned by Fox, including Deadpool and X-Men. After the purchase was announced, fans wondered if Disney would continue Deadpool with Reynolds in the lead.
Given the movie's popularity and loyal fan base, it is a safe bet that Reynolds will be reprising the role whenever Disney approves the project. One reason why it may not have made it into Phase 4 is that the purchase of the franchise happened while most of Phase 4 was already being ironed out.
Reynolds first appeared as Deadpool in X-Men Origins: Wolverine. The cameo did not go over well with fans, mostly because the movie itself was not highly praised. Reynolds reprised the role in 2016 in Deadpool, which was directed by Tim Miller.
Despite its R-rating, the movie was a huge success in the box office and Fox immediately moved forward on the sequel. Prior to being bought out by Disney, Fox had plans for Deadpool 3 and an X-Force project, but these movies have since been delayed until further notice.
'Deadpool 2' director opens up about the new movie
Marvel has yet to comment on why Deadpool is not a part of Phase 4 of the MCU. Deadpool 2 director David Leitch, however, recently opened up about making Deadpool 3 and assured fans that it will happen eventually.
According to Movie Web, Leitch talked about the future project while promoting his new movie, Hobbs & Shaw. Leitch said that Deadpool is so popular that he cannot image why Disney would not move forward with a third film. He also revealed that he is willing to return and director another Deadpool movie, which is a promising sign.
"And I think they will find a way to do it. But I'm just being patient and let everybody take a breath and see how it works for them in the new Marvel, Disney world. And, hopefully, I'll get the call. And that would be cool," Leitch shared.
Disney and rated R movies
Another big question surrounding the Deadpool franchise is whether or not Disney will continue to allow an R-rating for the movie. So far, Disney has not said no to the R-rating, despite the fact that there is not another R-rated movie in the MCU.
Fans, of course, would be outraged if the studio changed any element of the character, especially since the Deadpool comics are just as vulgar, so it is probably a good thing that Disney is not planning to mess with it.
The first two Deadpool movies earned over $1.5 billion in worldwide box office sales. The superhero was one of the few franchises that was successful in the Fox lineup and is one of the reasons why Disney bought it out. We can only hope that Disney brings Reynolds back for Deadpool 3 and that they do not make us wait too long to see it happen.