How Sarah Hyland Made Sure Wells Adams Picked the Perfect Engagement Ring
Sarah Hyland knew exactly what kind of engagement ring she wanted from fiancé, Wells Adams. The Modern Family actress took matters into her own hands. In a boss move, Hyland did this one thing to make sure she had the perfect rock.
How long have Sarah Hyland and Wells Adams been engaged?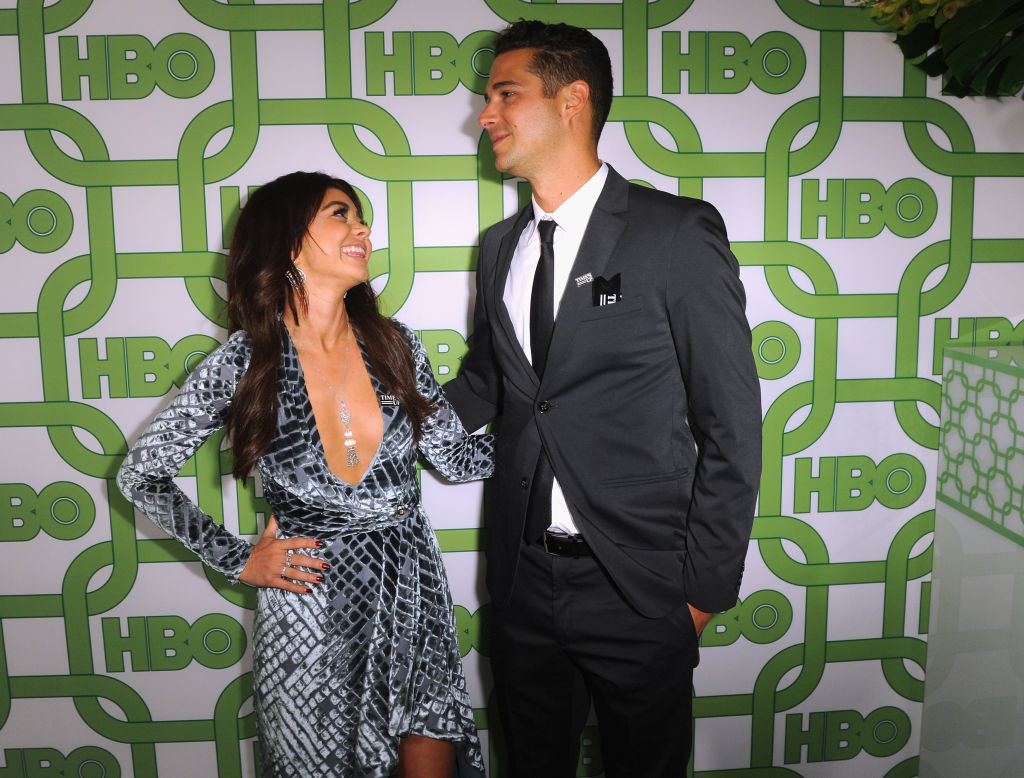 In October 2017, Hyland and Adams wore Stanger Things couple's costumes for Halloween, making their whirlwind romance public. Hyland confessed their love story began when Adams "slid into her DMs" where they began talking.
That was only the beginning. In the time since they've been very open about their relationship, posting all the adorable photos you could ever want.
Tuesday, July 16, 2019, Hyland and Adams (former Bachelorette contestant and Bachelor in Paradise bartender), announced their engagement. For two months now, the love birds have been spotted at various events hand-in-hand. With that gorgeous engagement ring on Hyland's finger, it's hard not to stop and take notice.
How did Adams propose to Hyland?
In a beachfront move in Fiji, Adams proposed to Hyland. The two documented their special moments and posted on social media.
"That can't eat, can't sleep, reach for the stars, over the fence, world series kind of stuff," Hyland said on her Instagram post. In a follow-up Instagram post by Adams, he said, "My fiancée is cooler than yours."
Hyland has been open about her ongoing health issues . She suffers from kidney dysplasia, a condition in which the kidneys don't fully develop in the womb. She's had two kidney transplants, which made being physically intimate with Adams impossible through the early stages of their relationship.
"We had two dates before the surgery, and then I was just on massive amounts of painkillers in the hospital, FaceTiming him all hours of the day and night," she told People.
"Health-wise, because of the surgery, can't really do it," she continued. "We weren't able to have that physical part of the relationship like you normally have in the beginning, so that bonded us on an emotional and intellectual level much faster."
She concluded by saying the two became an "official couple" before they were "that" physical.
Hyland picked the perfect ring
During an appearance on The Ellen Degeneres Show, Hyland showed off her Lorraine Schwartz oval-cut diamond engagement ring. Guest host, Dax Shepard, commented that Adams has "great taste," to which Hyland responded, "Thanks. I told him what to get."
Typical Bachelor Nation tradition suggests contestants (former or current) choose a Neil Lane diamond ring. Hyland went a different route, knowing exactly what she wanted. It may take the surprise out of the proposal, but Hyland gets the ring of her dreams. It's a win-win.
Kathryn Money, Brilliant Earth's vice president of strategy and merchandising, weighed in on the choice.
"Sarah's elegant and timelessly classic ring appears to feature an estimated 5-carat oval diamond in a delicate solitaire or diamond-accented setting," she told Page Six Style in July.
As far as worth, Money estimated the ring's worth between $100,000 and $150,000. Clearly, the girl has good taste.
There isn't yet a date confirmed on when Hyland and Adams will marry. Hyland stars in the final season of Modern Family while Adams hosts a podcast, Your Favorite Thing with Wells & Brandi.