How Storm Reid Manifested Her Role On 'Euphoria'
Storm Reid has been having a great couple of years even before she landed a role in Euphoria. It seems that everywhere we look, this talented 15-year-old actress is making massive strides in her career with varied, yet memorable roles. Though Reid has been acting since 2012, she became a household name when she landed the role of Meg Murry in Disney's A Wrinkle In Time starring opposite huge names like Oprah, Reese Witherspoon, and Mindy Kaling.
Since then, Reid worked with director, Ava DuVernay, again and played the role of Lisa for the miniseries, When They See Us, which released just a few short weeks ago and has received outstanding critical acclaim. Tonight, Reid will take on her new role as Gia Bennet in the new HBO series, Euphoria. What's crazy about this new acting endeavor, is that Reid actually manifested this role for herself years in advance.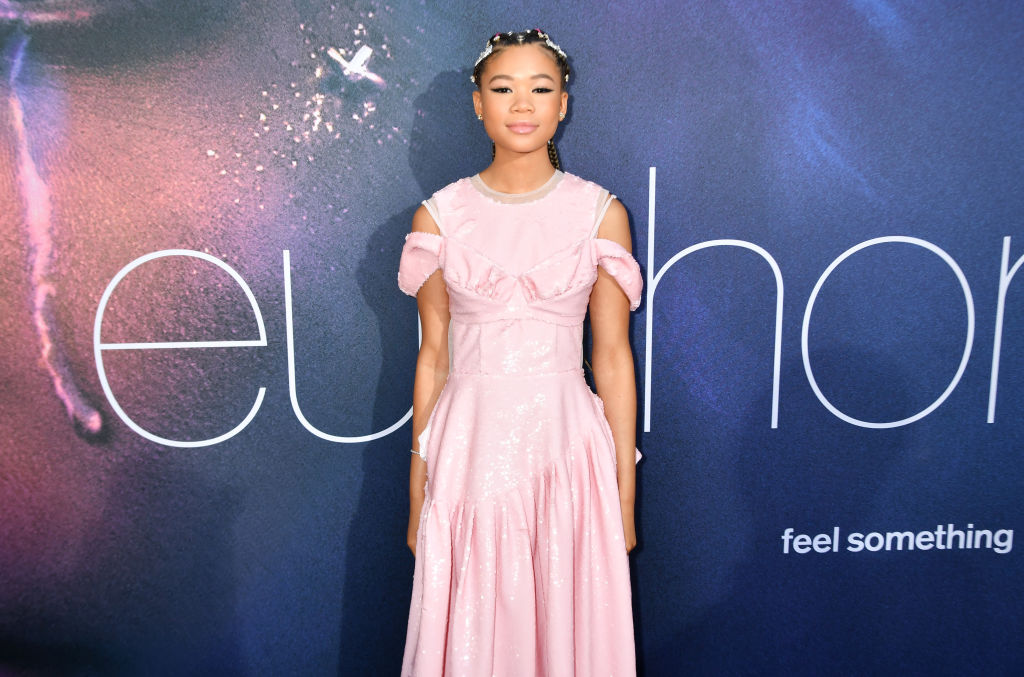 Euphoria
Euphoria follows a group of teenagers (led by actress and singer Zendaya Coleman) as they attempt to navigate all the trials and tribulations of adolescence. Some of the themes that are explored are love, sex, friendship, drugs, alcohol, trauma, and, of course, social media. Because the show deals with such heavy themes, it has been slated to be polarizing. However, Reid feels like that is accurately encompasses the teenage experience and that it's a show that people need to see because it is so rooted in truth.
"The show is really about what teens go through in the real world and I feel like it can be a tough conversation to have. I think watching it will evoke a lot of conversation and it may be uncomfortable for some, but it's really what's happening and I feel like it's a conversation that needs to be had" the 15-year old stated in a recent interview with People Magazine.
Instagram shout out
In the new series, Reid plays Zendaya Coleman's younger sister, Gia which is a huge deal for Reid because she has looked up to Coleman for years. Reid recently posted a video of herself, that was taken years prior, where she is singing Coleman's praises. When asked who her favorite actress was on a red carpet, Reid immediately named Coleman. When asked why, the When They See US actress adorably said, "Umm cause she's a fashionista and I just love her acting and I think she's really cool."
Of course, Coleman embodies cool with ease, but what is even cooler is that Reid managed to manifest a role for herself starring opposite Coleman. And it seems that Reid knows that this is more than just coincidence, in the caption for the video, she praised herself and the universe for allowing things to work out in her favor.
Zendaya
"When being a dreamer and the power of the universe are lining things up and you have no idea. Keep on dreaming. ✨ I said @zendaya whole government name 🤣 #Euphoria in 5 more days #whywasmyvoicesohigh" the A Wrinkle In Time actress wrote.
Reid admits that her relationship with Coleman is a special one and professes that she has learned quite a bit from the 22-year-old. When asked what about the lessons Coleman has instilled in her, she had this to say. "To just like always be humble. Of course, I learned that in my household but she is like a great representation of that. And then just to be able to have her in my corner, to like get advice from her when I need it, and just have her as like another big sister is something that means the world to me."
Premiere
We're excited to see Reid take the next step in her career. She has such an incredible resume at such a young age, and something tells us she's just getting started. Catch Reid on the series premiere of Euphoria, airing tonight at 10 PM EST on HBO.