How Taylor Swift Helped Selena Gomez Get Over Justin Bieber
Through the ups and downs in Selena Gomez's life, one famous friend has stood by her side to support her. Gomez is back on the music scene with two new songs that speak about her relationship with Justin Bieber and she has pal Taylor Swift to thank for getting her over the drama and heartbreak of that relationship.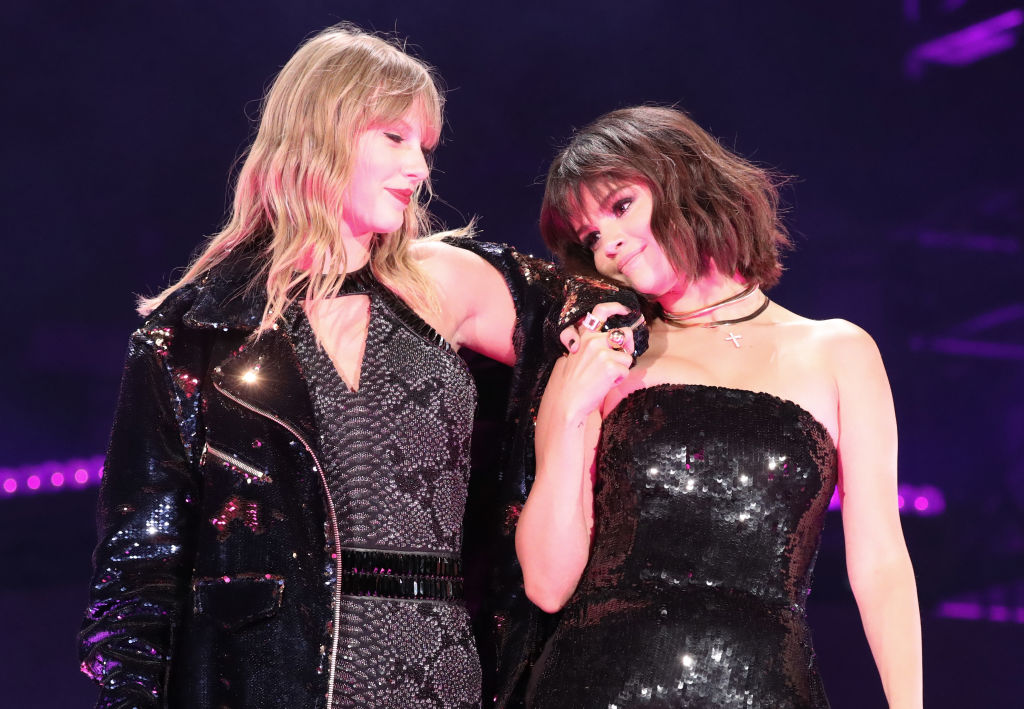 Gomez's new music is revealing
Gomez released two new songs this week, "Lose You to Love Me" and "Look at Her Now" and fans were quick to decode the lyrics, which seem to be all about her ex, Justin Bieber.
"Lose You to Love Me" is about healing after a breakup, with lyrics that make an obvious Bieber connection. One line notes, "In two months, you replaced us like it was easy," which tracks with Bieber and Hailey Baldwin getting together a couple of months after he and Gomez split.
She appeared to confirm that it's about Bieber during an interview on On Air With Ryan Seacrest, sharing, "I wrote this song over a year ago. I feel completely different from when I wrote it."
Gomez added: "It's more beautiful for me because I know exactly where I was when I wrote it and how I felt."
When Seacrest asked how it felt to see the song's subject in a new relationship after their split, she explained, "That's the unfortunate part of what I do. It's all very real to me, and I'm sure it's entertainment for other people but I think I had become numb to it. It would be stupid of me if I didn't acknowledge what I had felt because it would be inauthentic, and that's everything I claim to be and do."
She continued, "All I know is that these two songs were me wrapping up a chapter in a pretty little bow. The rest of the album is just all about where I am now and where I'm going… These are great songs, but I've saved the best for later."
Taylor Swift gushes over Gomez's new song
Swift and Gomez both spoke with Zane Lowe on Apple's Beat 1 radio and discussed the song "Lose You to Love Me."
Swift called the song "the best thing she's ever done," sharing: "She came over, she played me the video. I'm so proud of her. She's been through so much. I've watched so much happen in her life and had a front row seat to so much, and I'm so proud of her. She is such a revelation because now she's making her best stuff. I am 100 percent convinced this is the best thing she's done so far."
Swift also noted: "The things that she's overcome, the situations she's risen above, it's been a long time since we were friends and she's the best. She's just the best. I'm really excited because when somebody has had great life experience, has had really tough things they've had to go through and they can process that and make art that's going to help other people, that's what kind of song this is. I'm stoked."
How Swift helped Gomez after the breakup
When Lowe played Swift's interview for Gomez, she was emotional, sharing: "[Taylor has been an] amazing [friend]. For sure. She was frustrated when I was frustrated; she was sad when I was sad. But more than anything, my friends stood by my side. I think they visibly saw me in so much pain. And they didn't want it for me but they never stopped loving me."
In speaking of her relationship heartbreak, Gomez shared: "It was awful. Yeah, it was pretty terrible. And that's okay. I think I had experienced years of it already so I wasn't really thrown off, but I was just exhausted."
She added: "My heart was just so tired and I think that allowing myself to just say that was important for me."