How 'The Jinx' Delivered the Satisfying Finale That 'Serial' Didn't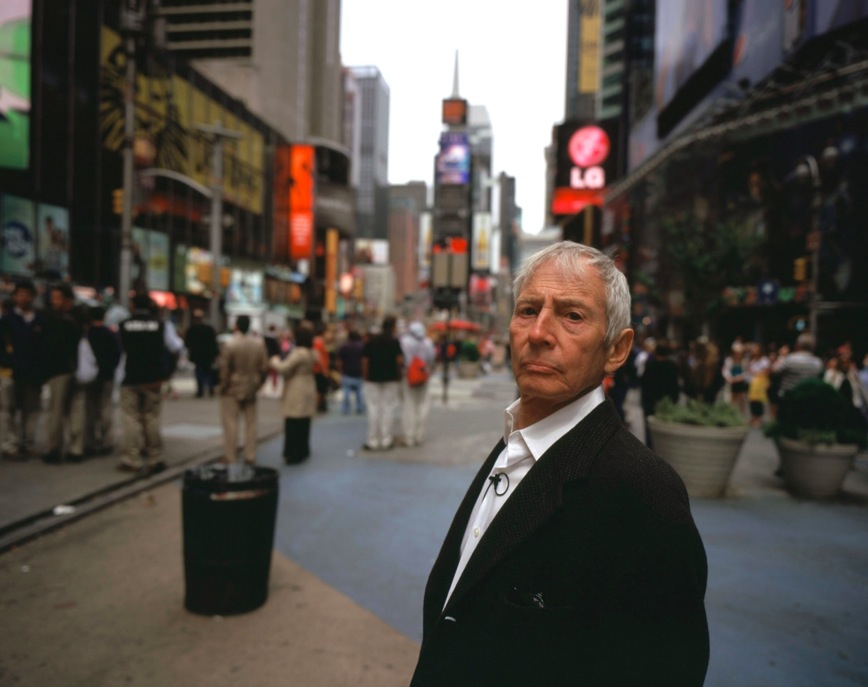 When HBO's documentary The Jinx first started airing, director Andrew Jarecki promised that viewers would get a satisfying and conclusive finale. But given the ambiguity of Jarecki's past documentary work (Capturing the Friedmans) and the recent disappointing climax of the similarly themed podcast Serial, most audiences likely took his words with a grain of salt, knowing all too well that definitive endings are hard to come by in true crime drama. Thankfully, Jarecki just proved us all wrong. With its series finale, The Jinx delivered the jaw-dropping finish he once assured us – and then some.
The Jinx follows the story of Robert Durst, the son of a wealthy real estate mogul who has long since been connected to the murders of three people: his wife, Kathie, who went missing in 1982; his friend Susan Berman, who was shot in 2000, and his neighbor Morris Black, whom Durst admitted to killing and dismembering, but was acquitted after claiming self-defense.
The show began drawing comparisons to Serial almost immediately upon its debut and it's not hard to see why. Both profile the suspicious events surrounding real-life homicides in pieces, through direct interviews with the suspects in question and many of the other actual people involved in the deaths. But some critics were also careful to point out that while the two may bear certain similarities in format, Jarecki's The Jinx was far darker in tone than the podcast and much clearer about where it was going. As Slate once put it, "The Jinx does relatively little of the step-by-step emotional hand-holding that Sarah Koenig did for the audience of Serial."
That difference became abundantly clear over the course of the six-part series, in which Durst made several shocking revelations about himself, eventually leading up to the stunning finale that aired this past Sunday.
In terms of unforgettable moments, The Jinx already had Serial beat well before the final episode rolled around. By Sunday's conclusion, Durst had openly admitted to lying to the police about his whereabouts on the last night he saw Kathie and to being "complicit" in her "not being here." He also had been caught murmuring the phrase, "I did not knowingly purposefully lie," to himself while still mic'd – a slip-up his lawyer warned him about and which proves to be hugely significant later on.
And whereas Koening's main contribution to the Serial investigation was bringing it to a wide audience, Jarecki and his producers actually uncovered new and explosive evidence. In episode five, they dropped two notable bombshells. First, they obtained access to the records of Ed Wright, a private investigator hired by Durst's lawyer, that concluded Kathie was never seen arriving at the couple's New York City apartment by the doorman, as widely reported. Even more shockingly was Berman's stepson's discovery of a letter from Durst to his stepmom, written in block lettering that matches that of an anonymous note received by the Beverly Hills Police Department alerting them to a "cadaver" at Berman's house. Both letters also misspell "Beverly Hills" as "Beverley Hills."
Though some have wondered why Jarecki held onto the letter for so long, the director told The New York Times that lawyers advised him that handing it over too soon could "make them law enforcement agents in the event of a prosecution" and potentially jeopardize the material's admissibility in court. Regardless, the finding has since proven to be crucial to the re-opening of the investigation into Durst. In fact, this weekend, hours before the finale aired, Durst was arrested in New Orleans, reportedly due to this evidence. That alone was enough to make the series all the more riveting, but The Jinx still had one more twist coming.
In the final episode, after stepping off camera, Durst repeated his mistake of forgetting he was wearing a mic and was once again caught muttering to himself in the bathroom. "You're caught. What a disaster," he says. Then, in the final moments of the show, an unforeseen confession: "What the hell did I do? Killed them all, of course."
Cue the jaw drops. Viewers couldn't have asked for a more satisfying resolution, had it been scripted. The Jinx gave Durst the final word and pulled off what Serial couldn't: a slam-dunk ending that may have also just provided the smoking gun that police, lawyers, and Kathie and Berman's family and friends have been chasing for years.
More from Entertainment Cheat Sheet:
Want more great content like this? Sign up here to receive the best of Cheat Sheet delivered daily. No spam; just tailored content straight to your inbox.