How The Kennedys Made the Holidays at The White House Special
No matter which holidays you celebrate or which traditions might be unique to you, almost universally across the nation, Americans come together to celebrate the holiday season. For Jackie Kennedy and John F. Kennedy, who entered the White House in 1961, the holiday season was a time to transform our nation's house for its citizens while adding extra special touches for their young children, Caroline, and John, Jr.
Though the Kennedys spent only two holiday seasons in the White House, 1961 and 1962, Mrs. Kennedy, in particular, set the standard for what the holidays could be. Not only was it a time to decorate The White House to a level of glorious splendor, but it was also a time for outreach, connection, and giving back. These are all the ways the Kennedys made the holidays season spectacular in the White House.
1. Christmas tree themes
In 1961, during her first holiday season as America's First Lady, Jackie Kennedy began a tradition that would continue among first ladies into the present day. She started the tradition of selecting a theme for the official White House Christmas tree. In the past, the trees in the White House were pretty traditional. The Eisenhowers, for example, had a tree covered in tinsel and white lights which they called the Eisenhowers' Silver Tree. Mrs. Kennedy wanted to elevate her decorations by using themes.
Next: The first Christmas tree
2. Petr Tchaikovsky's Nutcracker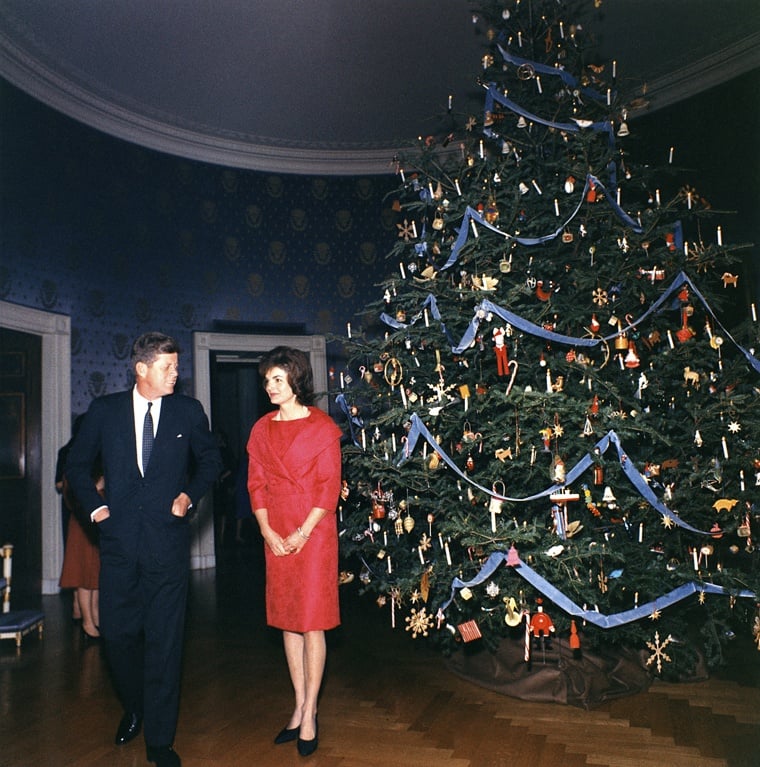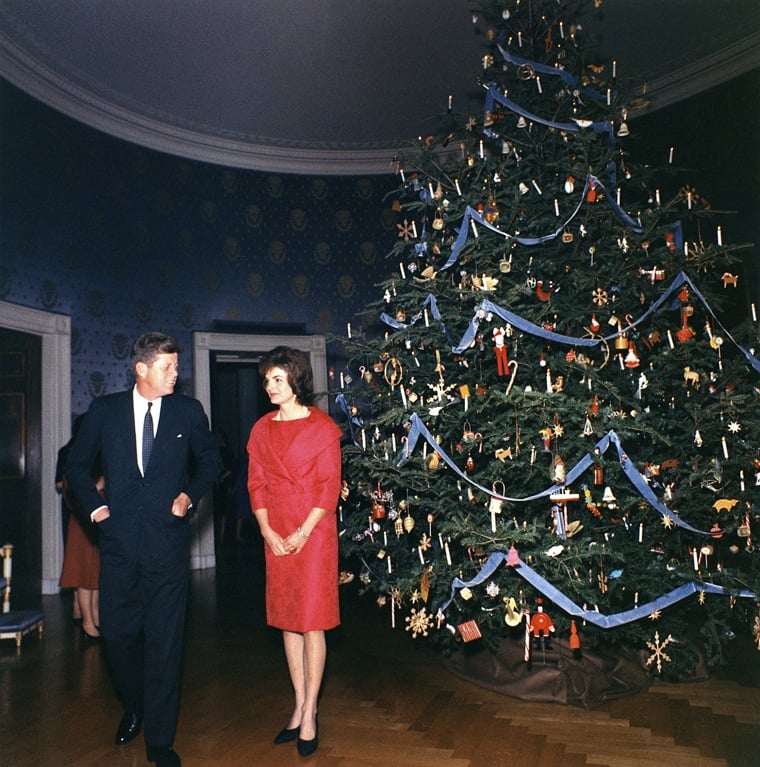 In 1961, Mrs. Kennedy chose to decorate the official White House tree using Petr Tchaikovsky's Nutcracker as her guide. She placed the tree in the oval Blue Room in the White House and decorated it with ornamental toys, birds, and angels that all followed the Nutcracker theme.
The tree also included gingerbread cookies, tiny toys, sugarplum fairies, and candy canes. The tree was massive, joyful, and a sight to behold.
Next: A new theme for year two.
3. A children's themed tree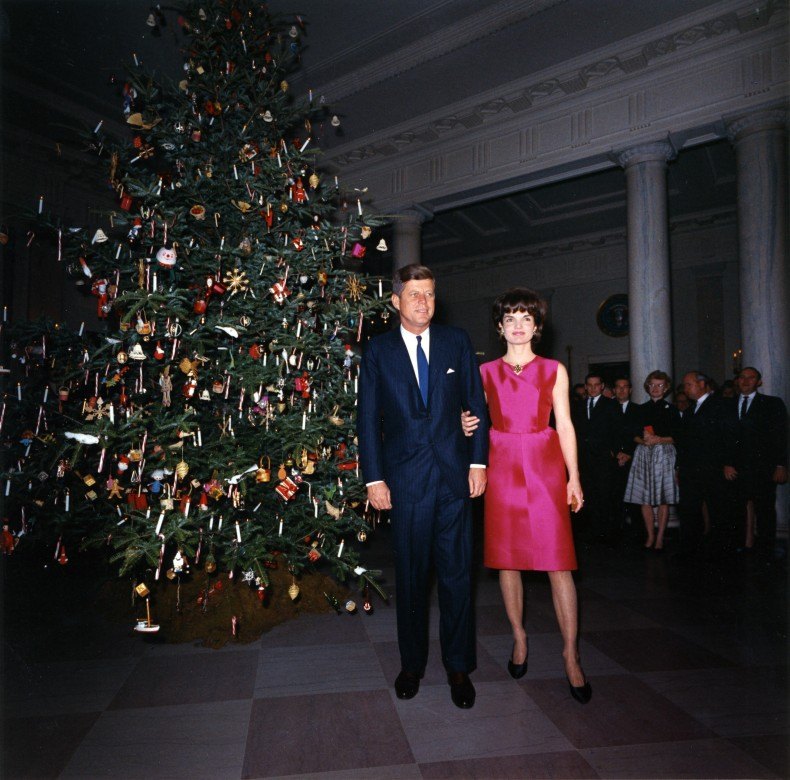 Getting new ornaments each year would be expensive, and Mrs. Kennedy was not a wasteful woman. In 1962, for her final holiday season in the White House, she re-used her nutcracker themed ornaments for her children's themed tree. That year, she set the tree up in the North Entrance.
Along with the nutcracker themed ornaments, she added brightly wrapped packages, candy canes, gingerbread cookies and, straw ornaments made by disabled or senior citizen craftspeople throughout the country.
Next: Keeping with tradition 
4. A very Kennedy Christmas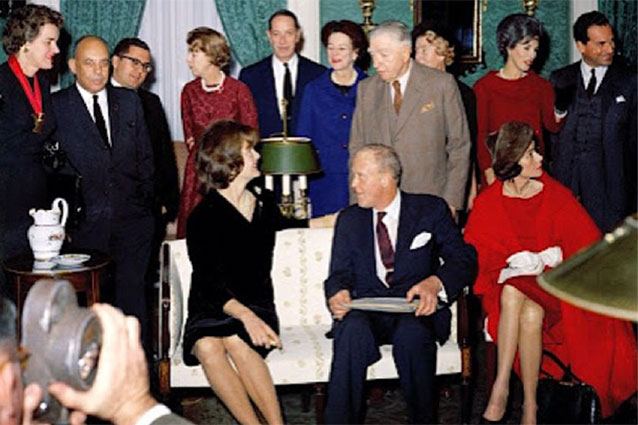 Though the White House was decorated to the nines, President Kennedy, the first lady, and their children didn't actually spend Christmas Day at the White House. Instead, they typically flew to Palm Beach to the Kennedys' compound for the traditional Kennedy family Christmas.
Since President Kennedy had seven siblings and came from a massive powerhouse family, Christmas was a traditional affair that brought everyone together even if it was just for a brief period.
Next: A terrible shock
5. A Christmas tragedy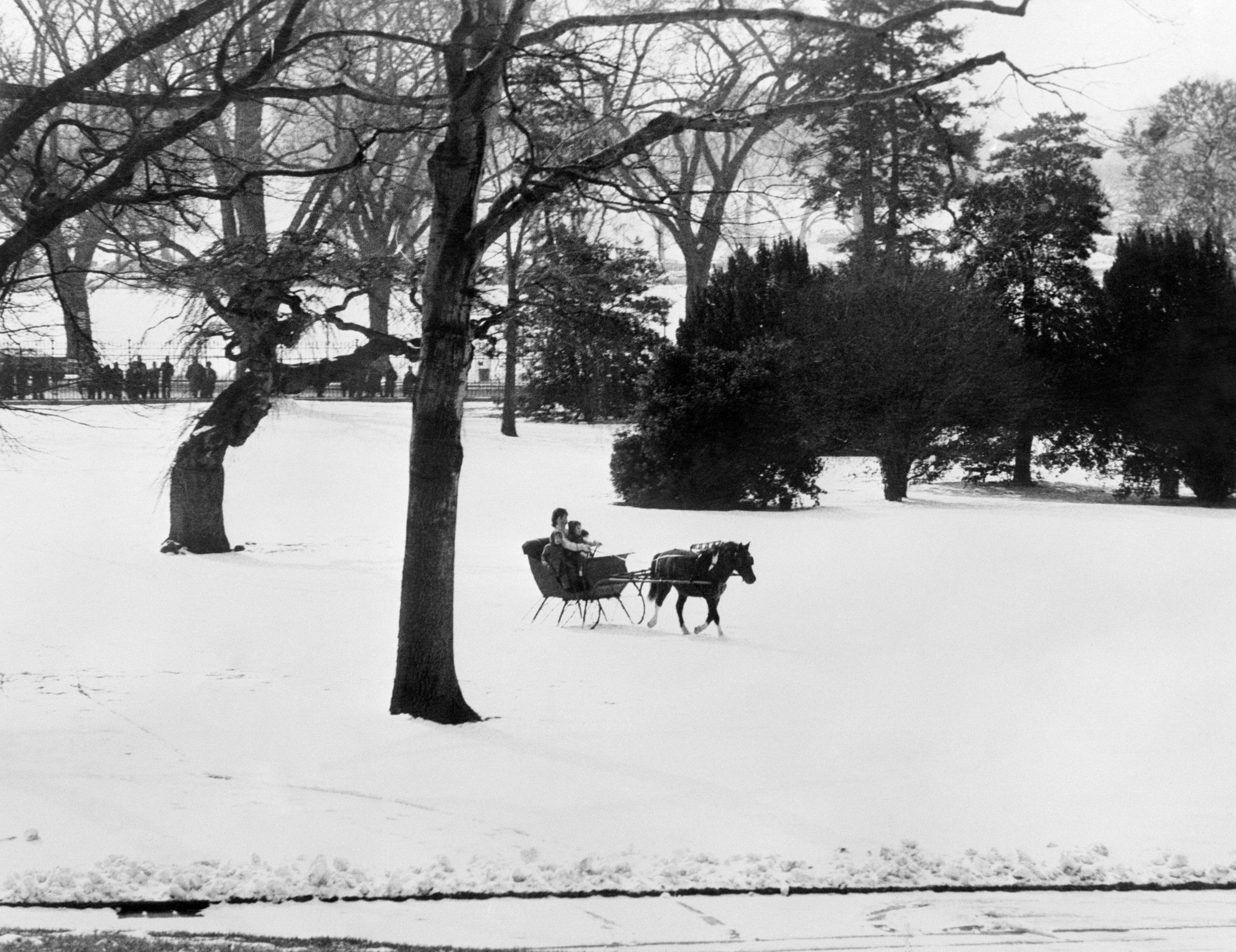 Sadly, Christmas 1961, was not without its tragedies for the Kennedy family. The president's father, Joseph P. Kennedy, Sr. suffered a massive stroke on December 19. As the Kennedys strong-handed patriarch, this was an enormous blow. The president ran to be by his father's side and missed the National Christmas Tree lighting.
Though the senior Kennedy would survive, he was left paralyzed on his right side, and it severely affected his ability to speak. The Kennedy family, including the first lady who had a special connection with her father-in-law, were devastated.
Next: An awful shopping experience 
6. A Christmas shopping disaster
Despite her father-in-law's health crisis, the first lady was determined to carry on with her traditions, including Christmas shopping. Mrs. Kennedy went to the glamorous Worth Avenue to try and get some shopping done and maintain a sense of normalcy. To say it was a disaster is an understatement.
Mrs, Kennedy's secret service agent Clint Hill remembered that the store employees were awestruck and shoppers gawked through the windows. Hill and another secret service agent ran interference with the crowd so that no one got to close to the first lady. He remembered, "We tried to be as respectful as possible, and usually people responded positively to our requests, but every so often, we'd have to extend an arm or use our body to fend off an overzealous individual trying to reach Mrs. Kennedy."
The first lady managed to buy a few gifts from her children but overall, the experience was not what she hoped for. Hill remembered her saying, "It seems I can't go anywhere anymore without causing a scene."
Still, those shopping at Worth Ave got a very nice surprise.
Next: Some very odd stocking stuffers 
7. Non-traditional gifts
Though the Kennedys got their children a small number of toys, the affluent family didn't believe in abundance during the holidays. Instead, the tradition was to was to give the children oranges and walnuts for Christmas. Caroline Kennedy told NPR's Renee Montagne, "It's one [tradition] that children longing for toys didn't quite appreciate."
However, when she had her own children many years later, the late president's daughter kept the tradition alive. She said, "I think the continuity … of the traditions is really what makes Christmas so special. And for me, seeing my children do the same kinds of thing that I did when I was young and even that my mother did for her mother — all that is just so powerful when you have kids and when you see that continuing forward."
Next: Spreading Christmas cheer
8. Giving back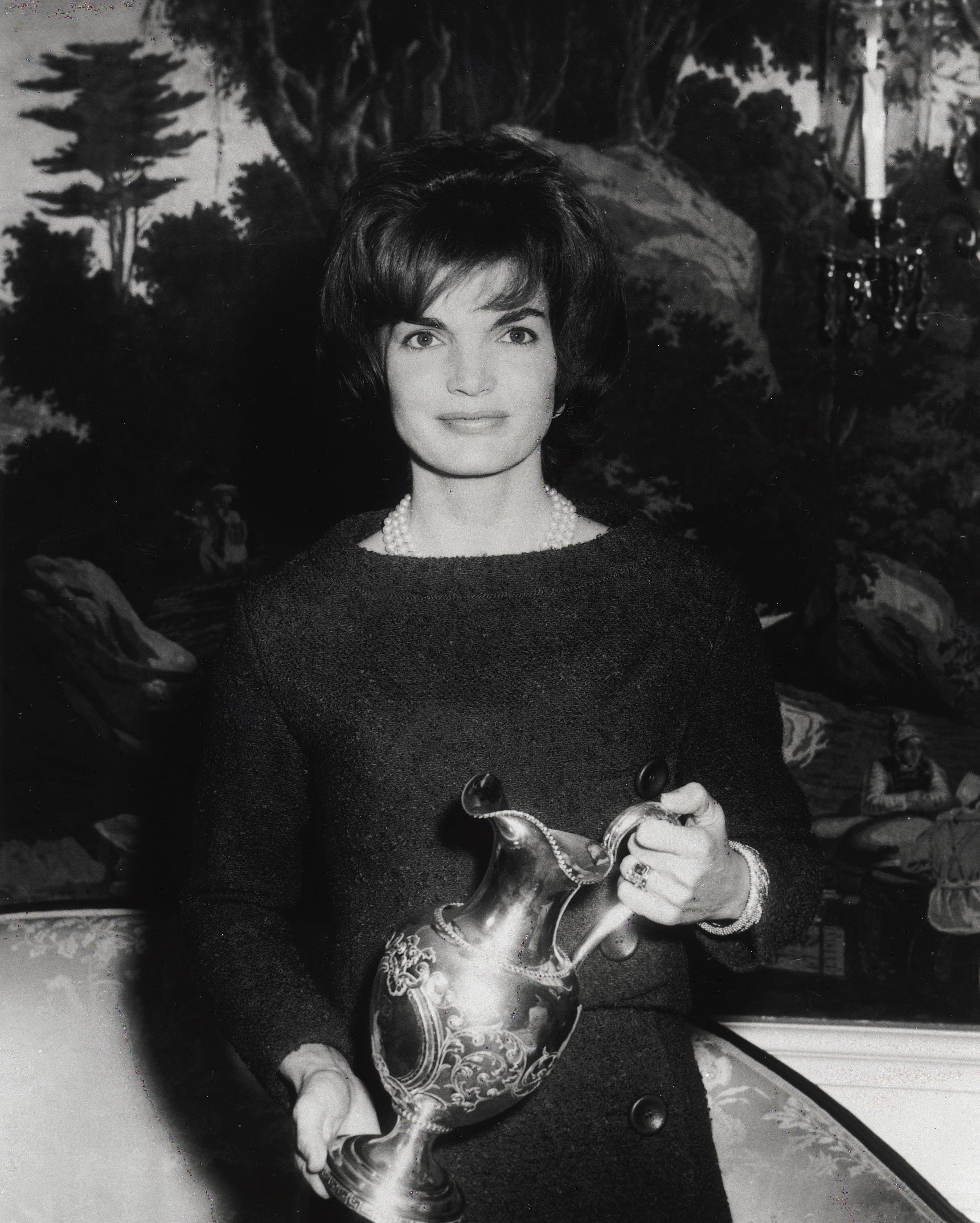 Like Princess Diana, and former first lady Michelle Obama, Jackie Kennedy was a big believer in giving back, especially during the holiday season. The first lady visited a children's hospital in Washington in 1961 where she met with staff, sick children, and gave out small gifts for children who weren't able to spend the holidays at home with their families.
New reports stated, "The first lady expressed the wish to make the visit so that she might bring a little cheer to the unfortunate tots who will have to meet Santa Clause here."
Next: A final Christmas together 
9. The best (and last) Christmas
Christmas 1962, would be the best and last Christmas the Kennedy family spent in the White House. The tree's theme that year was inspired by children and the first lady was pregnant with a son, Patrick, who would only live just a few days after his birth. 1962, was a good year for the Kennedys. The first lady had completed her restoration and redecorating of the White House –even founding the White House Historical Association.
Meanwhile, the president had weathered the Cuban Missile Crisis. It was an excellent time to feel thankful and to be with family.
Next: Purchasing holiday gifts in the Big Apple  
10. Shopping in New York
Though her first-year Christmas shopping as first lady was a less than stellar experience, Mrs. Kennedy did not let that deter her in 1962. That year she headed to New York City to try and get her shopping done. Unfortunately, she was not able to go incognito and a photographer took her picture and splashed it all over the Daily News.
The caption read, "Mrs. Jacqueline Kennedy cuts a bright figure as she leaves Carlyle Hotel to do some Christmas shopping. The First Lady said she was going to buy a gift for her father-in-law, former Ambassador Joseph P. Kennedy."
Next: A letter to Santa 
11. Caroline's Christmas list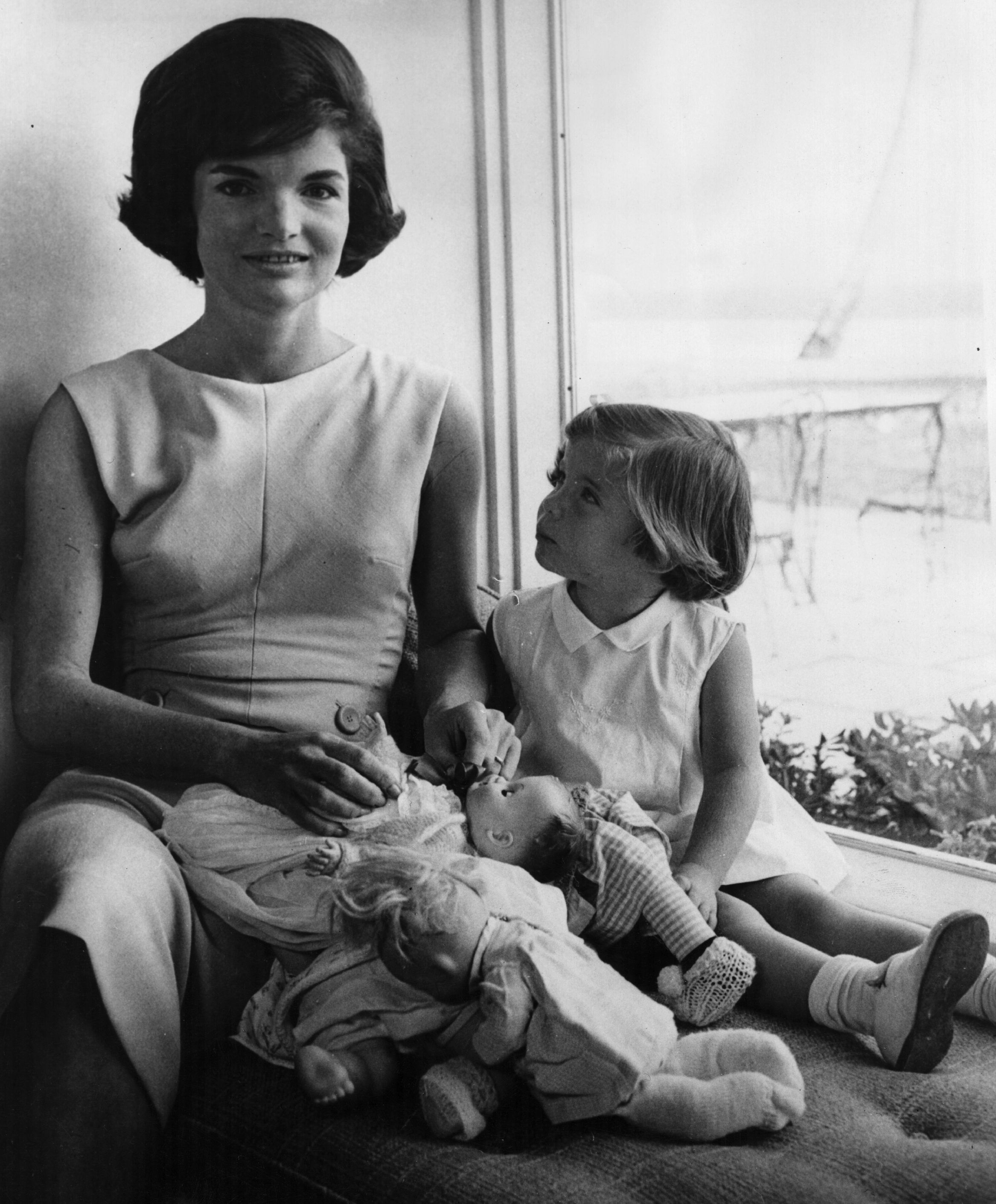 Caroline Kennedy, the late first lady and president's only daughter remembers Christmas 1962 vividly. Though she was just five-years-old, she can still remember what she asked Santa for that year. In her 2007 book, A Family Christmas, she recalled requesting, "a pair of silver skates, dolls, a real pet reindeer and a clock to tell time. She also asks for interesting planes or (a) bumpy thing he can ride in or some noisy thing or something he can push or pull for her little brother John."
Next: The perfect holiday 
12. Palm Beach, 1962
In 1962, the Kennedy family headed to Palm Beach for their traditional Christmas and it as a joyous occasion. The first lady's sister, Lee Radziwell and her family joined them, and they took the children to see Santa Clause at Burdine's.
The children put on a Christmas pageant which thrilled their parents, and on Christmas Day the first lady attended mass with her family wearing a Spanish-style white lace mantilla.
Next: The most meaningful gift 
13. A final gift
Jackie and John F. Kennedy's gifts to one another on Christmas Day in 1962, would be thoughtful and considerate. They would also be the last holiday gifts the picturesque couple would ever exchange. JFK would be killed, on Nov. 22, 1963, just six days shy of Thanksgiving.
For Christmas 1962, he gifted his pregnant wife a drawing by the French Impressionist Auguste Renoir. Mrs. Kennedy got her husband a piece of scrimshaw, which is an engraving on a piece of ivory with the presidential seal carved on it. The first lady would place it in her husband's coffin less than a year later.
Next: Some final happy days
14. The Orange Bowl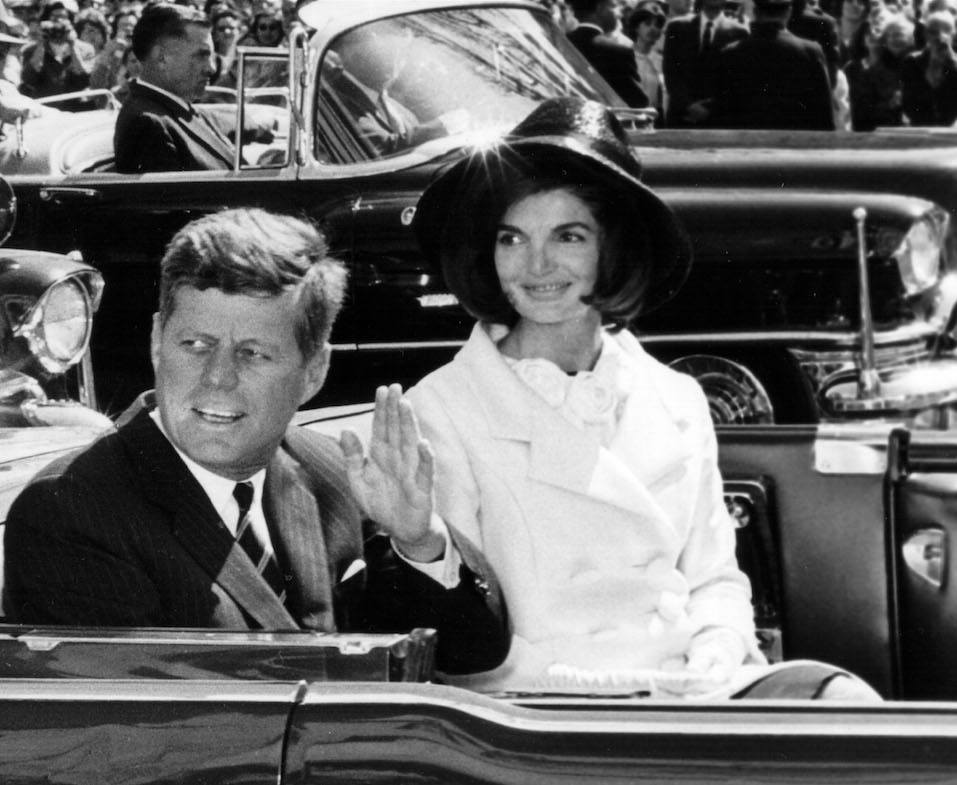 On December 29, 1962, just a few days after Christmas, the Kennedys went to the Orange Bowl where the president addressed a crowd of 50,000 Cuban exiles welcoming the arrival of 1,113 veterans who had just been released from prison by Fidel Castro. Following her husband's remarks, the first lady addressed the crowd in Spanish, much to their delight.  It was a lovely way to mark the end of the holiday season.
Next: The Christmas that never happened.
15. A forgotten Christmas
Jackie Kennedy and her children would spend Christmas 1963 in a mostly empty house in Georgetown, mourning the death of the president. However, before he was killed, JFK and Mrs. Kennedy had begun making plans for the holidays. The had recently lost their baby, and they wanted to try to make Christmas a festive occasion.
The president brought his wife the perfect gift —  a fur coverlet. He also learned French and intended to surprise her with it on Christmas Day. Before they left for that fateful Dallas trip, the couple has also had already selected and ordered their annual Christmas card which depicted an 18th-century Neapolitan crèche that had been displayed in the East Room of the White House each year they had lived there. The card inscription read "With our wishes for a Blessed Christmas and a Happy New Year." They had already begun signing a handful of cards that would never be sent out.
Instead, an adoring and mourning public sent over 800,000 cards and condolence letters to Mrs. Kennedy and her children.