How the Members of BTS Celebrated V's Birthday
On Dec. 30, V of BTS turned 24 years old internationally and 25 years old in South Korea. The singer spent most of his birthday traveling to New York City for BTS's Dick Clark's New Year's Rockin' Eve performance. However, the members of BTS still found a way to celebrate V's birthday.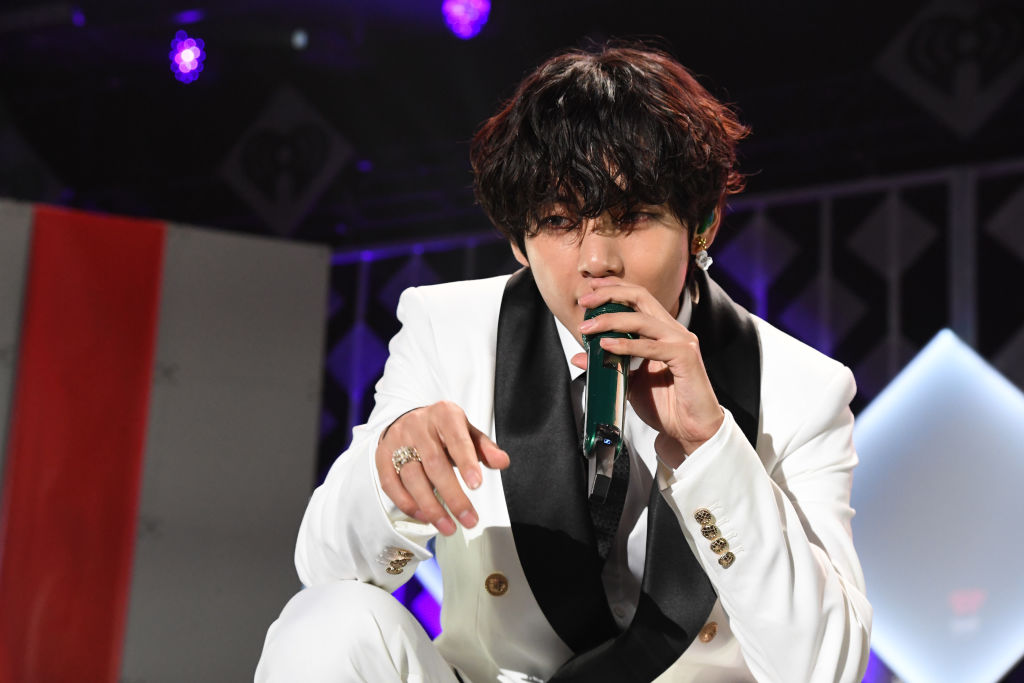 V held a birthday VLIVE with BTS fans
After BTS arrived in the U.S., V held a VLIVE with fans to talk about his birthday. V titled the livestream "My Belated Birthday!" The singer revealed during the VLIVE that although the group spent most of his birthday traveling, BTS still surprised V with a celebration.
With the surprise party, the other members gave V a strawberry cake, as strawberries are his favorite fruit. Even though the group agreed they would not do gifts, J-Hope still went out and got a present for V.
"tae said they don't give each other birthday gifts anymore but hobi gave him a gift anyways :( that's hobi's baby," a fan tweeted.
Some of the BTS members posted about V's birthday on Twitter
Often times when a member of BTS has a birthday, the other members post personal messages on Twitter. On BTS's shared Twitter account, the members of BTS started posting birthday messages for V as soon as it was Dec. 30 in South Korea. Jin, Suga, RM, J-Hope, and Jimin ended up posting for V's birthday.
"Happy birthday, winter bear #TaehyungBirthdayCongrats," RM tweeted according to a fan's translation.
According to a fan's translation on Twitter, Suga tweeted, "Taehyung-ah, who's so funny these days, happy birthday #TaehyungBirthdayCongrats #ItsSugaHyung #HisSenseOfHumourHasSharpened #TheLaughterChiefOfOurVillage."
Jin, J-Hope, and Jimin also wrote out birthday posts for V, and they each included photos of V in their tweets.
BTS fans enjoyed the singer's VLIVE
While the VLIVE was just over 20 minutes long, there were still a lot of quality moments. At one point, V remembered he had not shaved and moved far away from the camera. Because V always unapologetically embraces his choices, he decided that fans being able to see his mustache was not a big deal.
One fan tweeted, "find it adorable how tae slowly moved away from the camera cause he didn't think we'd like the mustache then slowly came back to his seat saying it shouldn't matter if he had one !! THAT'S MY BABY!"
Overall, BTS fans enjoyed V's surprise VLIVE and it drew in millions of viewers.
"its 2 am and im bawling my eyes out cus tae decided to do a vlive and he just ended it AND I MISS HIM AGAIN ): look at how pretty," a fan tweeted.
"Tae's vlive are basically him smirking and walking around the room looking like a model. I'm not complaining," a Twitter user wrote.
Still, some fans thought it was concerning V had to spend his birthday traveling.
"tae said the members gave him a suprise party but spending his birthday on a plane felt like the day was wasted so he wishes he will be able to do something more for his birthday next year :(," a fan tweeted.