How the Royal Cambridge and Sussex Great-Grandchildren Could Be Holding the Entire Family Together
Prince George, Princess Charlotte, Prince Louis, and Archie Harrison are not even old enough to know they are royalty. However, they will someday play an incredibly important role in the royal family. George will eventually be king, while his siblings will be working royals. But right now, the young children might play a more vital role in the royal family than they realize.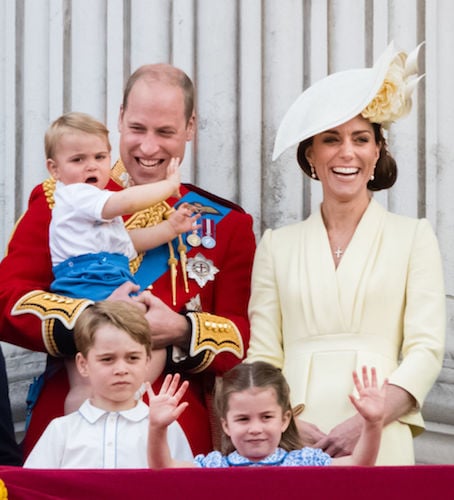 There are currently four Sussex and Cambridge great-grandchildren
Prince William and Kate Middleton were married in 2011, and since then, they've welcomed three children. George was born in 2013, and he is the future king, while Charlotte and Louis were born in 2015 and 2018 respectively. William and Kate have been doing their best to raise the children as normally as possible, despite coming from one of the most well-known families in the world. Prince Harry and Meghan Markle welcomed their first child, Archie, in early May 2019. And since then, the four proud parents have brought their children to spend time with each other on several occasions.
There have been rumors of rifts among the Cambridge and Sussex couples
Ever since Harry and Meghan were married, they've lived life a bit differently than their in-laws. The two are aiming for privacy, so Harry and William split their royal households, and Harry and Meghan moved out of Kensington Palace. However, there have been rumors that the brothers don't get along the way they once did. There have also been rumors that Kate and Meghan don't get along; the women have reportedly been in a feud since Meghan joined the family, though the stories have never been confirmed. But now that they're all parents, they're thinking more in terms of their children and setting their own feelings toward each other aside.
The great-grandchildren play a role in keeping the Cambridge and Sussex families close
Before Harry and Meghan welcomed Archie, they had less in common with William and Kate. But now that all four of them are parents, it gives the royals something to talk about when they're together — on the off chance that they aren't actually very close anymore. Kate and Meghan have been spotted together with their kids, and having the children around gives the women a chance to hang out and get to bond on a deeper level. Plus, Harry and William were always very close with their cousins growing up, and they most likely want that for their own children as well.
The children will likely remain close as they grow up
If Harry and William raise the kids the way they were raised, the great-grandchildren will likely grow up to remain close, too. Meghan is not very close with her extended family, and she probably doesn't want to raise her own child the same way. Harry, Meghan, William, and Kate will make a greater effort to keep their family close if it means the queen's great-grandchildren grow up to have a strong bond. Though the couples may or may not have their differences, they seem to always put their children first. The little ones will allow Meghan and Kate to spend time together if William and Harry are away on royal engagements, and they'll give all four of them infinite reasons to bond.