How 'The View' Risks Falling Into the Cable-News Trap
If you watch cable news, you're familiar with the tiresome format of most prime-time programs. After an anchor such as Chris Cuomo or Tucker Carlson introduces a story, they turn to partisan commentators to weigh in with their talking points.
The thing is, you can already guess what a Trump campaign official has to say on the subject. (It's going to be good for Trump.) And, back in 2016, you were just as likely to hear a Hillary Clinton supporter offer a counterpoint (i.e., bad for Trump) to someone like Corey Lewandowski.
The audience of The View comes to ABC's popular daytime show for something different. While you get interviews with politicians and debates on developments in Washington, the appeal of The View has been its laid-back, less-partisan approach to topics.
At least it used to be that way. If you've watched The View over the past year, you've likely noticed a shift toward the ugliness of cable news — and you can probably trace it to the hiring of two political pundits.
Abby Huntsman and Meghan McCain both come from cable-news backgrounds.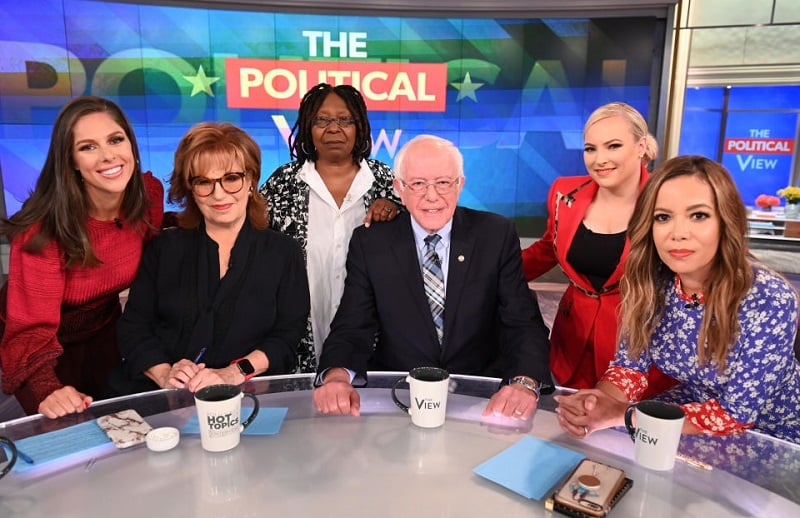 When you hear the names Abby Huntsman and Meghan McCain, it's not unusual to think of their famous fathers (both of whom ran for president). Indeed, both got their first bit of major exposure during their fathers' national campaigns.
In the case of Huntsman, her father Jon's 2012 run featured Abby working as media adviser and surrogate. Afterward, she worked on MSNBC at The Cycle prior to a gig as anchor and contributor on Fox & Friends Weekend. If you're keeping score, that's one campaign and two cable-news gigs prior to The View.
As for McCain, after publishing a book on her father's unsuccessful 2008 run, Meghan wrote for The Daily Beast before beginning her own run on cable news. After a stint on MSNBC and a documentary series on Pivot TV, McCain also made her way to Fox News (Outnumbered).
In earlier incarnations of The View, a co-host might leave the show to branch out into propaganda at Fox News (as Elisabeth Hasselbeck did). These days, there seems to be a pipeline coming the other way (i.e., from Fox News) and the show has suffered for it.
McCain and Huntsman's predictable replies make 'The View' less interesting.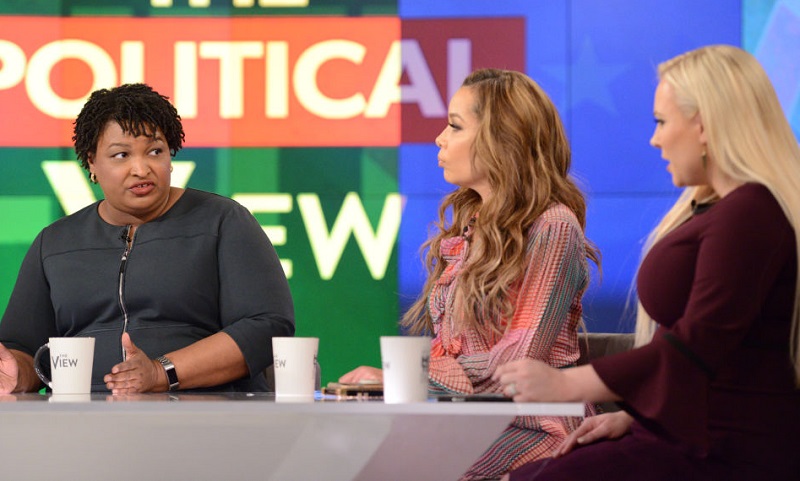 When CNN viewers waited for someone like Jeffrey Lord to weigh in on a panel in past years, the predictability of Lord's replies made things tedious. Every formulaic cable-news show shares this weakness. With contributors like Lord, there's little chance viewers will get anything close to insight.
That's become more common on The View in the past year. Not counting the period when Huntsman was on maternity leave, watching the show has become dull, as you can easily predict how Huntsman and McCain will address a topic.
In March, following the release of William Barr's since-discredited summary of the Mueller Report, Huntsman warned Democrats about "overreach" in potential investigations into the report. Ignore the "wave" election and maintain the status quo, she seemed to be saying.
Granted, Huntsman hadn't seen the report yet, but it was natural for a cable-news pundit to jump to that conclusion. It would have worked brilliantly on a Tucker appearance or coming from a concerned centrist on a CNN panel. And you heard that again this past week.
Huntsman and McCain's more recent hits
On the latest occasion (the September 16 show), an editorial mistake by The New York Times became a watershed moment. "New York Times: Congratulations, if the president gets re-elected, you are helping him get there," Huntsman said. In the universe she's describing, people vote for the next president based on a newspaper's correction tally.
Later in that segment — not to be outdone — McCain casually flipped her cards to another talking point you'll hear any day on Fox News: the Kavanaugh Effect. In this case, pushing for an investigation into credible accusations against Brett Kavanaugh cost the Democrats the Senate, McCain argued.
Even though there's a heap of evidence to the contrary, you can't let a good partisan take get in the way of real insight. (Five Trump-state Democrats triumphed in the Senate that night.)
Certainly, cable-news producers (especially at Fox) couldn't ask for anything more than McCain's performance. As for what made The View great, we'd argue it's quite the opposite.
Also see: Why 'The View' Is Afraid to Get Rid of Meghan McCain