How This Former NBA Superstar Landed A Starring Role in Adam Sandler's 'Uncut Gems'
Sometimes, prominent and famous athletes are recruited to join Hollywood on the big screen. Lending notable talent or references to various sports legends can be just the extra boost a film needs. But, athletes aren't actors, and typically, it shows. We're usually ok with it and bear in mind that athletes are at their best on the field or the court, not the screen. However, with a recent Adam Sandler movie, one popular basketball player is getting all the praise for his portrayal of himself on screen. With all the buzz around the movie itself, along with this NBA superstar's performance, we had to jump in to learn more.
The latest Adam Sandler movie isn't a typical Adam Sandler movie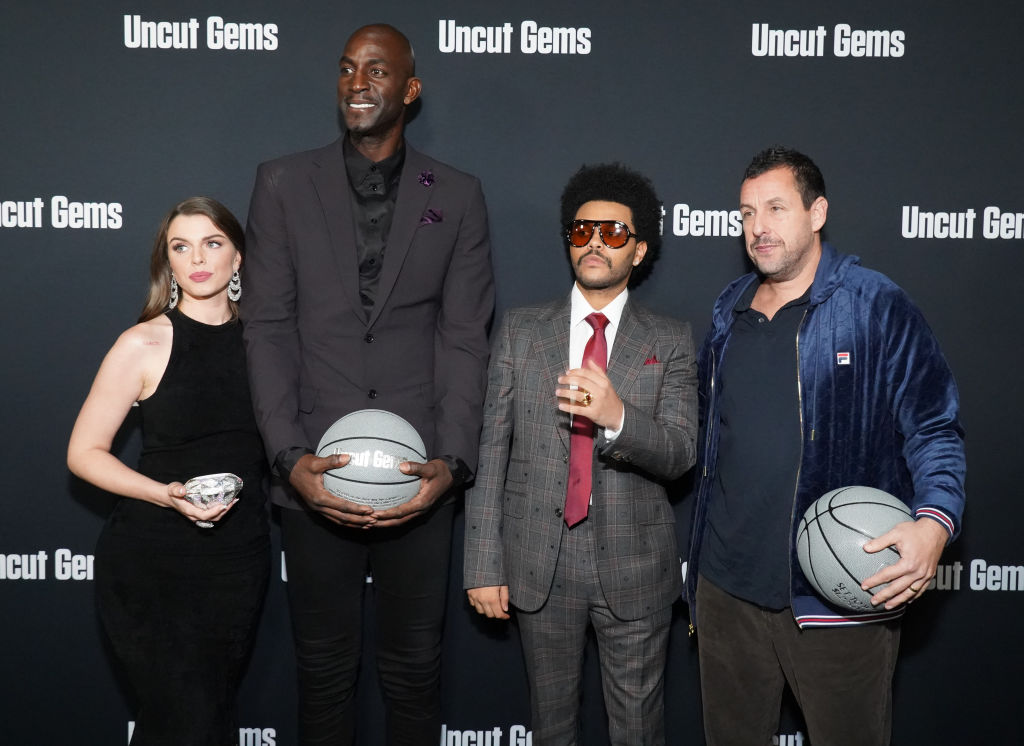 Usually, Adam Sandler performances have audiences gut-laughing, so when we see him starring in a new movie, it's easy to assume he's there to make us giggle. However, Uncut Gems is far from giggle-worthy. It's a tale about Howard (Sandler), a man obsessed with basketball, gambling, and his endless descent into his curse and love of winning.
It's a rare role for Sandler, and there is Oscar buzz surrounding his performance. Brought to life by the Safdie brothers, die-hard NBA fans, and young movie producers, Uncut Gems is an actual gem all its own.
Historically, athletes are best on the court, not the screen
Celebrities aren't just in the movies. Professional athletes bring notoriety and performance to their respective courts and fields. Their popularity sometimes makes them attractive for the big screen too. Historically, athletes don't always make a big impression in the movies, though. After all, they're passionate about their sport, not their acting.
When it came to casting a high profile NBA superstar role in Uncut Gems, the Safdie brothers told The Ringer they learned firsthand just how hard it is to find a film-worthy player. They lost a few NBA candidates early on. One couldn't commit due to the demands of the regular season schedule. Another NBA player who had expressed interest refused to shave his dreadlocks for the role. Kobe Bryant wasn't interested in acting and would only come on board if he could direct instead.
Which NBA player is getting all the head nods?
Similarly to the tale of Goldilocks, the Safdie brothers finally found an NBA player who was just right. He was contemporary enough to have immediate recognition. He interviewed much differently than the athletes that came before him.
At first, Josh Safdie said he wasn't interested, but he later realized just how passionate this player felt about any and all projects brought before him. He was totally committed to tackling his role with the same vigor and deep-level passion that he routinely applied to his play on the court. That perspective might be the very reason Kevin Garnett was perfect for this movie.
Why is his performance so noteworthy?
According to the Safdie brothers, Kevin brought a level of authentic working commitment to this role. Uncut Gems offers actual game footage, real players, and when Kevin worked hard, you could tell by the amount of sweat pouring from him. He was dedicated to getting it right and keeping it real. Kevin wanted to conquer something new to him and came prepared to bring his best in delivering every line.
It's not often professional athletes get much more than a name mention in the movie promos and ending credits. For this latest Adam Sandler movie, however, critics are raving. They're moved by the story and production. Everyone's impressed with Adam Sandler's performance of a man unwilling to call it quits. They're even singing the praises of the former NBA superstar, Kevin Garnett. It's not everyday an athlete excels on the screen as well as he does on the court.