'How To Get Away With Murder': Can Season 1 Live Up to Premiere?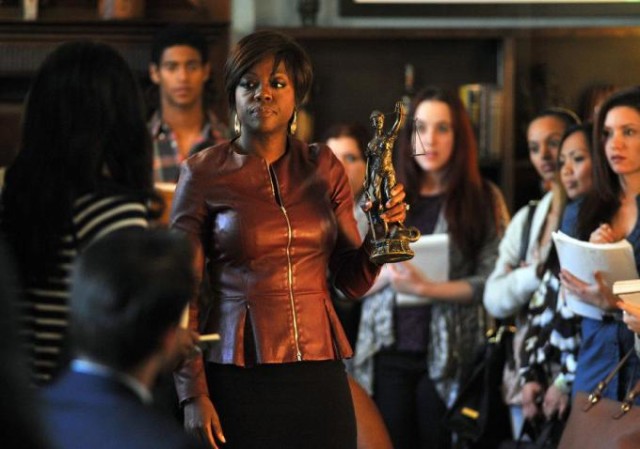 How to Get Away With Murder, the latest creation from Shonda Rimes, has definitely started off with a bang. The series premiered to stellar ratings in late September and is quickly shaping up to become one of fall's most addictive new TV shows. Viewers already saw one major bomb dropped in the very first episode and now executive producer Pete Nowalk is sharing more details about the numerous other tantalizing twists headed our way.
In the season premiere, viewers got their first look at Viola Davis's tough, no-nonsense lawyer character Annalise Keating and the group of students she teaches, all of whom are eager to make a good impression. The episode moved back and forth between flashbacks to the students' first few classes with Keating and current time, in which four students are shown frantically trying to figure out the best way to dispose of a body. It's not until the very end of the premiere that it's revealed the body belongs to none other than Keating's own husband Sam (Tom Verica), leaving the audience with the two burning questions: Who killed him and why?
In a recent interview with Entertainment Weekly, Nowalk revealed that How to Get Away With Murder has already started laying out subtle hints about the crime so that fans can come up with their own theories. "Some of [the clues] we've planted intentionally, a lot of them are subtle Easter eggs of suspicion for the audience, and some of them we didn't plant and people are still seeing them," he told the publication. "I'm hoping people really get into the details and subtleties of the show, and they might even want to watch certain episodes twice or watch those flash-forwards again because they're all very specific and detailed and full of little clues."
The producer also delved further into what fans can expect from each character throughout the rest of the season, starting with Davis's character, Annalise. Since it's early on in the show, all of the characters are considered possible suspects at this point. Still, the wife as the killer seems like too obvious of an answer, particularly from the creator of shows like Scandal, which spins quite a complicated web.
Then again, their marriage have its fair of problems, which Nowalk confirms aren't going away anytime soon. As seen in the premiere, Annalise is cheating on Sam with her boyfriend, Detective Nate, and believes that Sam also had an affair with the now-deceased student Lila. The two will continue to struggle with issues of lack of trust and infidelity, particularly after Annalise confronts him about the suspected cheating.
According to EW, we'll also get learn plenty more about each of the students, particular the four who are involved with getting rid of the body–Wes Gibbins (Alfred Enoch), Connor Walsh (Jack Falahee), Michaela Pratt (Aja Naomi King), and Laurel Castillo (Karla Souza). Wes will be the central figure of the group. As the purest and most naïve of the students of the four, he'll have the most to learn from Annalise—and Annalise will learn from him as well. Meanwhile, the usually confident Michaela, whose always had her whole life mapped out, will have her plans turned upside down by the murder and Annalise's teachings. Viewers got a peek of this in the premiere episode, when she purposely looked away from her peers' actions so she wouldn't be able to testify. Laurel and Connor will also show different sides of themselves, with the former coming out of her shell and the latter struggling to deal with the competitiveness at school.
Annalise's associates, Frank Delfino (Charlie Weber) and Bonnie Winterbottom (Liza Weil) will also play a big role throughout the season, particularly the latter. "She lives completely within Annalise's world and she works really hard," Nowalk described. "For Bonnie, that can result in some unhealthy habits. She doesn't have a good work life balance, so she might be looking for things within work that she shouldn't be."
But perhaps the biggest suspect of them all? Rebecca Sutter (Katie Findlay), Wes's next door neighbor, who already has a connection to the deceased student (and the girl who Sam might have had an affair with), Lila. The first episode showed Rebecca hanging out with Lila's boyfriend, football jock Griffin O'Reily (Lenny Platt), and Norwalk says viewers can expect to see her "in trouble with the law."
The drama-filled premiere episode of How to Get Away With Murder definitely didn't disappoint, providing just enough detail for viewers to obsess over on social media and the same kind of surprises that keep them tuning into shows like Scandal. From the sounds of Norwalk's teasers, it seems the rest of the season will be just as satisfying.
How to Get Away With Murder airs Thursdays at 10 p.m. EST on ABC.
More from Entertainment Cheat Sheet:
Want more great content like this? Sign up here to receive the best of Cheat Sheet delivered daily. No spam; just tailored content straight to your inbox.