Here's How to Get Meghan Markle's Shiny, Healthy Hair
Meghan Markle has been in the media nearly every day since she married Prince Harry back in May 2018. And though the British tabloids have tried to take her down, there is one thing that's hard to deny — she has incredible hair. In every photo of the duchess, Meghan's hair truly shines like a diamond. It shimmers, it's thick, and we're totally envious. Here's how she keeps it that way.
The royal women have incredible hair
It's no secret that the royal women are pretty incredible. But they also have incredible hair. Whenever Meghan and her sister-in-law, Kate Middleton, step out for royal engagements, they always look effortlessly amazing. Their outfits are on point, but their hair is what truly grabs people's attention. Kate's blown-out, natural look has always been a staple of hers, and Meghan somehow manages to rock a messy bun to professional events, which shows that she can probably do anything. Possibly one of the greatest parts about Meghan's hair is that it looks as though hardly anything has been done to it, yet it still looks amazing.
Meghan's hair looks natural yet flawless
The public was first drawn to Meghan's hair when she and Harry announced their engagement. It was the first time the couple truly made the statement that they would be together forever, and Meghan's natural waves were a look that she has kept up ever since. Since then, she has hardly explored much with hairstyles. She either rocks the natural waves or puts it back in a messy bun, both of which look like she spent five minutes putting them together (in the best way, of course).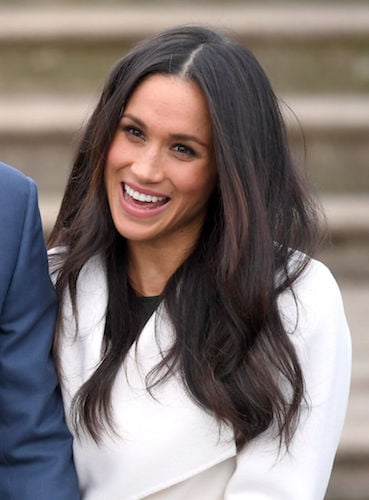 The duchess is obsessed with oils
Before Meghan became Meghan, Duchess of Sussex, she was a television actress best known for her role as Rachel Zane on the USA Network show Suits. She spoke with beauty website BeautyBanter about her daily hair care routine, and there were a ton of products involved in helping her get that incredible shine. And plenty of those products were various types of oils that add shine to her hair. Meghan told BeautyBanter that she's "obsessed with" Wella Oil Reflections Luminous Smoothing Oil, which adds shine to damp or dry hair. "It doubles as a pretty amazing body oil," Meghan added.
She swears by Kerastase products
Wella isn't the only oil Meghan uses. She also swears by one brand called Kerastase. The duchess loves Kerastase's Sérum Oléo-Relax, a smoothing oil that eliminates frizz by hydrating the hair. She also gives her hair a deep condition by using Kerastase's Masquintense, which is a hair mask that helps repair damage — something the duchess needs when she's constantly having hot curling irons create those loose waves for her many royal engagements. In terms of how Meghan gets those casual-looking waves, they aren't as natural as we wish they were. Celebrity stylist Patrick Kyle said that Meghan likely uses a 1 1/4-inch curling iron to loosely curl the hair away from her face, creating that no-effort look. Finishing with a dry texture spray and a hairspray will hold the look together for those all-day events Meghan often has to attend.