How to Read Critically: 8 Steps
It takes more than simply reading a book to truly reach an understanding of a work of literature. Here are some steps you can take if you wish to read more critically and gain a deeper appreciation for either an old favorite or an intimidating tome you've been afraid to tackle without a little guidance.
1. Read up on the author
Doing your research on the book's author can give you a lot of insight into whatever you're reading, as details from an author's life very often find their way into his or her writing. If there are any introductions or short biographies included in the edition of a book you have, don't skip over them, as they are typically filled with highly useful information. Going a step further and reading an author's Wikipedia page or maybe even some interviews with them from around the time they either were writing or finished the work you're reading, can be very useful for further understanding the context from which the book was written.
For example, if you read The Bell Jar by Sylvia Plath without doing any research about Plath, you could read the book without realizing how highly autobiographical it is and finish it without ever knowing that Plath later committed suicide due to the same issues with depression described in the novel. Knowing that information about The Bell Jar makes the experience reading it much more emotionally charged than it would be if the author were completely sane and only fantasizing about what it's like to be deeply depressed.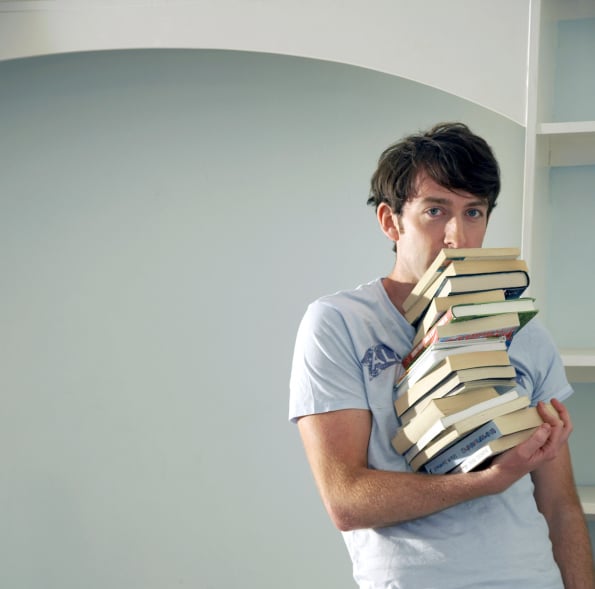 2. Identify the author's style
Researching a writer can help you learn about what their work is like stylistically before you begin reading, giving you a heads up about what the writer was trying to do with language. Whether a book's sentences are long or short, whether there's lots of dialogue or only a little, whether the author describes the visuals in precise detail or lets the reader imagine things for themselves are but a few of the choices made with style. Whether or not a writer was a part of a certain literary movement is also helpful to know, as that can tell you about what those writers' goals might have been and how the book you're reading fits into the movement. Being able to identify if a book you're reading is using stream of consciousness, magical realism, or minimalism will help you understand the book you're reading much more deeply and know why the author does certain things that are common within that style.
Dominican author Junot Diaz uses a lot of Spanish slang in his writing and doesn't bother to give you a translation in order to mimic the effect that English slang can have on non-native speakers, not to intentionally confuse the reader or prevent people who aren't bilingual from reading his work. Doing some research on stream of consciousness-style writing is crucial for understanding a writer like William Faulkner, who sought to write the equivalent of his characters' interior thought processes.
3. Take notes while reading
Maybe don't use this practice with a library book, but using a pencil, pen, or highlighter to mark anything that seems important, interesting, unusual, or confusing so you can come back to it later is a highly useful way to improve your critical reading skills. Identifying which sentences you find difficult to understand or maybe don't know how they function within the passage as a whole is the first step toward figuring it out. Sometimes tenuous connections between characters will be briefly mentioned and the author won't do much to help you remember how these characters are/were/will be connected, which is a perfect time to jot down a note. The more difficult a book is to understand, the more helpful note-taking will be for getting a grasp on it.
4. Pay close attention to anything that repeats
Anything that repeats in a book is particularly important, even if it seems small. Whether it's a symbol, an image, a word, a phrase, a color, or a seemingly mundane action, if the author takes the time to tell you about it again and again then it likely has deeper meaning than first meets the eye. Sometimes the same author will even continue to use similar symbols, words, colors, etc., across multiple works and you can identify even broader repetition. Anytime you notice something that repeats, mark the spot with a pencil. As the same item continues to crop up, you can think about what the author might be trying to say with the symbol. If you want to go further in trying to understand what all the cats in Murakami or all the bodily functions in Ulysses mean, you can always seek out scholarly essays in which literary critics give you their ideas about what the author is trying to do.
As an example, Joan Didion's 1970 feminist critique of Hollywood, Play It As It Lays, is chock full of snakes. The narrator fears snakes while driving on the highway, remembers learning how to treat snake bites while growing up in the desert, and hallucinates seeing rattlesnakes in her food or in children's playpens. Snakes are traditionally symbols of evil, associated with the story of the Fall from the Bible, and are often related to sexual temptation and sin. Those themes relate to the plot events in Play It As It Lays, with the ever-present snakes expounding on the themes Didion explores.
5. Be aware and wary of the narrator
The narrator of a book is a very important character to pay attention to, even if they're not an actual character in the story, as is the case with some third-person narration styles. Early on in the book you should identify who the narrator is and think about why they speak the way they do. Sometimes a narrator will change throughout the same book. Sometimes an author will use what's known as unreliable narrators, which means you're being told the story from a person who can't be trusted or has false information or maybe doesn't even exist. Sometimes a book's narrator will be very close to the author's own perspective, which is something you'll learn when researching the author. But you can't always assume that the narrator's voice is similar to the author's thoughts and opinions. Never take for granted who is telling you the story when you're reading a book.
Unreliable narrators are the most important narrators to identify because they can have the biggest effect on the story they're telling you. In Faulkner's The Sound and the Fury, the novel's first narrator, Benjy Compson, is mentally retarded and so presents a highly skewed view of the events around him. Vladimir Nabokov's Lolita is narrated by a man desperately trying to justify his sexual relationship with his 12-year-old stepdaughter and so operates under a morality that the rest of society does not accept.
6. Don't just breeze over difficult passages
When slogging through a really hard book, it can be tempting to just skim over passages that you don't understand right away and assume they aren't important. But if you really want to understand a book, you need to actually read the whole the thing. If a paragraph or a page seems to evade your understanding, try and figure out why by reading through it several times with your pen or pencil. Identify the things you do understand and the things you don't. Maybe there are some words that you need to look up; jotting down the definition in the margins increases your chances of remembering what it means should you come across it again. Maybe there's a character who you don't remember. It's quite possible that the author is intending to throw you off and the events to come will inform you about what's happening at this difficult section. Identifying exactly what you didn't understand will help you recognize if a future part of the book fills in any of those blanks. Learning to understand the challenging sections is ultimately what will make you a better reader, so skipping over them is essentially pointless if you're trying to read critically.
7. Research the time and place of the setting
More research on the book will only help you get more out of your reading. The more you know about a book's setting in time and space, the better you can understand what's happening and how the characters feel. If a story is set in Paris in the 1920s, you should research what the city was like at that time rather than using your memory of your recent spring break trip there to inform your reading of the book. Looking at photos or paintings from the time can give you an idea of what the setting would have looked like. The further removed from present day the book is, the more important it is to understand the historical context. Many authors are very preoccupied with place as well, so particularly if a novel is set in a place you know nothing about, perhaps do a little research about the local culture and what the place looks like.
If you're going to read Tennessee Williams, you should know something about how to visualize New Orleans; William Faulkner, the rural American south; Jack Kerouac, the open American highway. For a very old writer like Shakespeare or Homer, it can be very useful to read a biography about them to get a better idea of what things were like during the time they were writing, which will give you better tools to imagine Shakespeare's London or the epic battles of Homer.
8. Realize everything is there (or not) for a reason
Sometimes when reading, you might come across a weird passage or section or sentence that seems pointless, but it's important to keep in mind that the vast majority of the time, everything that's in a book was carefully considered and placed there by the author for a reason. A random scene or detail that appears completely unrelated might seem like it was just thrown in at first, but aspects those can be the most important points to think about when reading. Absences are just as deeply thought about by writers as well. Occasionally a writer will only give the smallest details about a minor character or an event that the reader desperately wants to know more about, and then just leave us hanging rather than satisfying our desire for more information. That's not carelessness, that's a decision the author made for any number of reasons. Sometimes in more experimental books, some things can seem like they are mistakes or even typos, but it's much more likely that the author is doing something grammatically incorrect on purpose.
David Mitchell's novel Cloud Atlas has a famous non-mistake. The book's first chapter consists of a journal entry that is torn in half. The first half of the journal is the first chapter of the book and the second half of the journal is the last chapter, which means the first chapter ends mid-sentence where the journal was ripped. That has thrown off many a reader and Amazon received so many complaints about it that the company issued a product alert telling readers that the way the narrative ends abruptly on page 39 of the paperback edition was done purposefully by the author and is not a misprint.
Follow Jacqueline on Twitter @Jacqui_WSCS
More from Entertainment Cheat Sheet:
Want more great content like this? Sign up here to receive the best of Cheat Sheet delivered daily. No spam; just tailored content straight to your inbox.