How to Upgrade Your PS4 Hard Drive to 2TB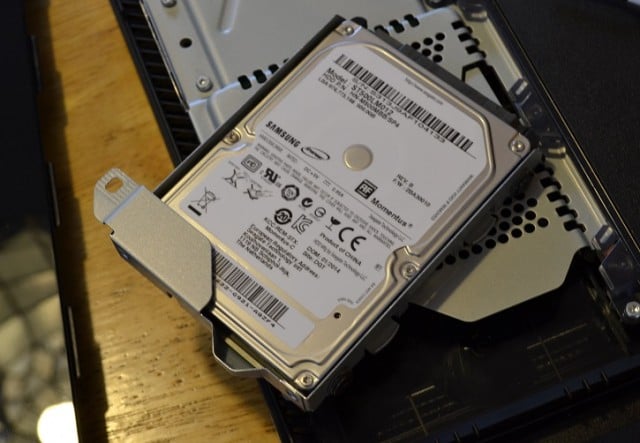 If you're looking to go the purely digital route on your new PS4 console, 500GB will go a long way before you'll start having to make some tough choices. But once you get a year or so into your ownership, space may start to get a little sparse and you might start wondering how you can expand.
Sony doesn't offer a plug-and-play solution. Unlike Microsoft's Xbox 360 and Xbox One consoles, you can't plug an external hard drive into the PS4 to download and play games. Sony CEO Shuhei Yoshida made it clear in the beginning of the PS4's lifecycle in several Tweets that there was no way to play games off an external hard drive and no plans to make it possible.
@_Tracid_ no

— Shuhei Yoshida (@yosp) August 31, 2013
Yoshida did, however, explain that the internal hard drive was upgradable.
And yes, PS4's HDD is upgradable like PS3 <3

— Shuhei Yoshida (@yosp) June 11, 2013
Don't let the idea of cracking open your PS4 deter you from boosting your storage. It's easy and takes no more than 45 minutes out of your day. In fact, the most time you'll spend is waiting for the system to install Firmware.
If you haven't run off, let's get started.
Here's what you'll need:
1x PS4
An Internet connection
1x 2.5-inch hard drive
1x USB flash drive
A Mac or PC to download Firmware
1x 2.4mm Phillips head screwdriver
Selecting a hard drive
The first thing you'll need to do is pick out a hard drive. You'll want to get a 9.5 or 7mm-thick, 2.5-inch drive (many people have found the 12mm ones are a bit of a tight squeeze). What size you want? Well, how many games do you plan on downloading? 1TB or 2TB worth.
If you don't know where to start looking (or don't want to spend the time shopping around), here are a few drives that come highly recommended from the DIY community.
1TB
2TB
Out of these drives, I would recommend the Seagate Backup Plus Slim. Yes, it's an external hard drive, but you can easily pry the drive out of the plastic enclosure (it's held together by glue), unwrap the foil and disconnect the USB connector from the main hard drive (it should easily pull right out). It's a small price to pay to save some extra money. Also, you'll be able to re-use the enclosure for your old PS4's hard drive.
Backup
Before you take apart your PS4, backup everything to the cloud (if you have a PS Plus membership) and/or a USB flash drive. It never hurts to back everything up twice.
To do that, from the home screen go to Settings > Application Saved Data Management > Saved Data in System Storage
From here, you can insert a USB stick into one of the front two ports and select to copy your saved game data to a USB device. PS Plus members can also select to upload their data to online storage (aka the cloud).
Downloading Firmware
Take a USB with at least 1GB of free space and insert it into your PC or Mac — we're going to download the Firmware required to boot and setup your PS4 with the new hard drive inside.
Create a folder on the USB drive named "PS4." Inside that folder, create another one named "UPDATE." Make sure that UPDATE and PS4 are in all-caps.
Go to this website and download the file as PS4UPDATE in the UPDATE folder of the USB drive. Make sure the file is saved as a PUP.
Once that's downloaded to the USB drive, you'll want to remove the USB from your computer. We'll use it in the next section when we're booting the PS4 with the new hard drive.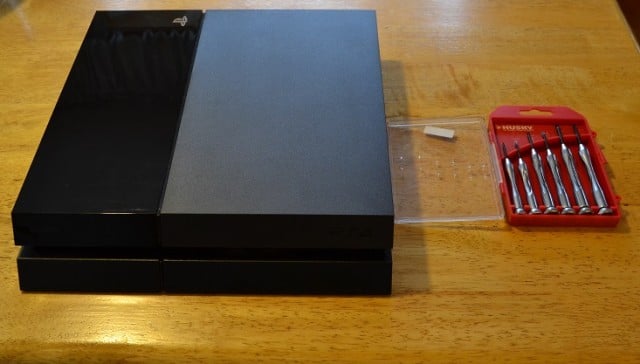 Replacing the hard drive
Make sure the PS4 is turned off before you open it up. It's best to unplug the device as well to ensure you don't accidentally turn it on while swapping out the hard drive (that power button is sensitive).
Open the PS4 by sliding off the glossy part of the lid. It's a little tough to remove and requires some finagling.

Source: Natalie Shoemaker

After it's open, you should see a metal cage. There's a screw in the bottom left corner with the iconic Playstation button symbols pictured below. You'll want to use the 2.4mm Philips head screwdriver to unscrew it.

Source: Natalie Shoemaker

Source: Natalie Shoemaker

When that's done, you should be able to slide the PS4 hard drive out. You'll notice it's in an enclosure, so you'll have to remove the four screws that hold the hard drive in place.

Source: Natalie Shoemaker

Source: Natalie Shoemaker

Once that's completed, you're ready to slide in the new hard drive and repeat the process in reverse.
After you've assembled your PS4 with the new hard drive inside, plug it back into your TV as you had it before. But before you boot it up, make sure to insert the USB drive we used in the last section to download that PS4UPDATE.PUP file. Once the USB is in, you're ready to boot the PS4.
The PS4 will start in safe mode, and the screen will flash: You need a Firmware of 1.72 or higher. You have that on the USB stick, so you're going to click "Yes."
The hard drive will spin for a bit then flash to another screen that says, "The PS4 will be initialized. All users and all data will be deleted. Are you sure you want to continue?" Click "Yes."
The PS4 will be formatting and installing the Firmware. Once that's completed, the PlayStation will reboot and you'll have to go through setting up the PS4 (i.e., selecting Language, Time Zone, etc.).
Once you've started everything back up, you can sign into your PSN account, which means you'll be able to re-download your library of games and save game data. You can go back to Settings > Application Saved Data Management > Saved Data on USB Storage Device to Upload Files OR Saved Data in Online Storage to download all your saved game files and data.
More from Tech Cheat Sheet:
Want more great content like this? Sign up here to receive the best of Cheat Sheet delivered daily. No spam; just tailored content straight to your inbox.