How 'Today's' Jenna Bush Hager is Following Her Parents' Example With Her 3 Kids
Jenna Bush Hager of NBC's Today With Hoda and Jenna recently returned from maternity leave following the birth of her son Henry 'Hal' in August. Now with three young kids in tow (daughters Mila, 6, and Poppy, 4) Hager has her hands full, but thankfully gets plenty of help and support from her husband Henry.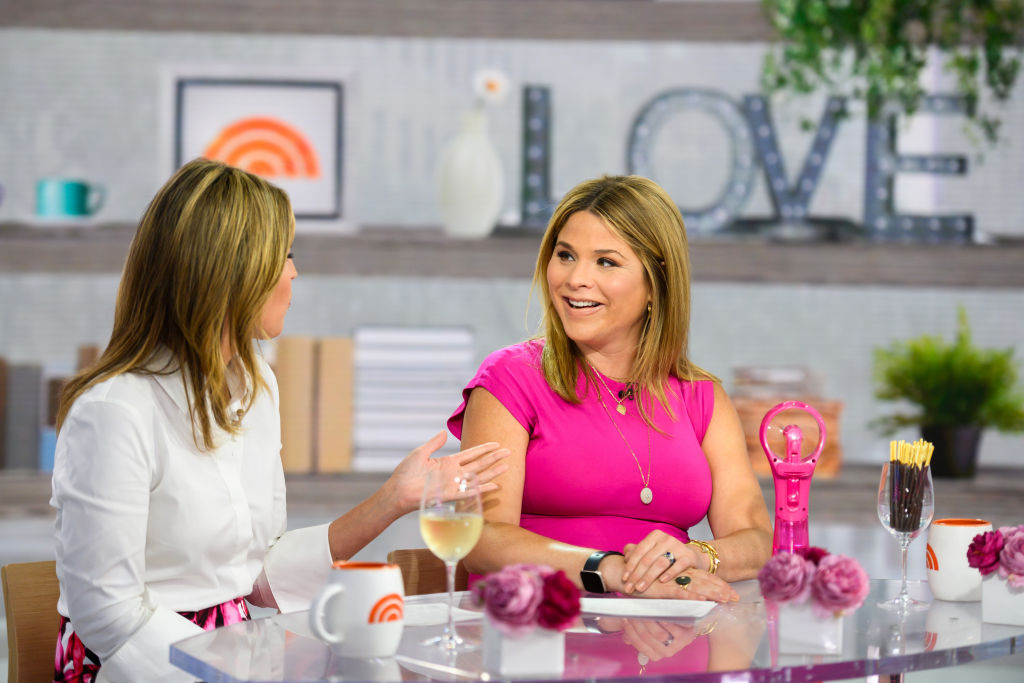 Setting an example
Hager, daughter of 43rd President George W. Bush, has shared in the past that her dad has always been a huge support to her and her twin sister Barbara. When she was pregnant with her second daughter and dealing with the stress of juggling family and career, her dad was there to encourage her.
"(My father) texted me this beautiful text that was like, 'Jen, mom told me you called and you're worried about this — that doesn't matter,"' Hager said according to Today. "'I promise you. What matters is what type of mom you are to Mila, and you're a fantastic one, about the baby you're growing in you, how you treat others, the people that love you.' I've gotten a lot of those texts and they feel good."
The Today co-host recently commented on her dad being a very present father, helping with daily chores of the household and child rearing. "In a time when probably a lot of dads weren't showing up, my dad showed up, and he helped because there was no choice. There were two of us at the same time," Hager said, referring to her twin sister, "and they were equal parents." 
Different generation, different challenges
The television personality realizes that times have greatly changed since her parents were raising kids, where issues such as technology and overuse of screen time are a bit hard to navigate.
"When my parents got home from work, there was nothing else. We didn't have the internet," Hager said, according to USA Today. "So that worries me, just about all of our kids — that hopefully they know that they're our priority and that we're not looking down at our computers or our telephones and making them feel like they're insignificant."
Trying to preserve what she learned from her parents, Hager is making a point of passing on some treasured family pastimes to her kids. She recently shared a touching moment with daughter Mila on Instagram, where the little girl is apparently picking up her mother's love of reading.
"My tears because of the beauty of the writing, I had long forgotten and because I could never have dreamed what it feels like to share one of my greatest loves (reading!) with one my greatest loves," Hager wrote in her post next to a pic of Mila holding the classic "Charlotte's Web."
Hager is relishing Mila's new affinity for reading. "I think watching my daughter learn to love something that I've loved since I was a little girl has been an unbelievable part of parenting," she said.
Hands-on dad
Hager sang her husband's praises on being an equal partner in parenting, much like her dad. "Daddy and Mommy both do diapers," Hager said. "Daddy and Mommy both do bedtime. We both do baths. We both do dinner." As for keeping the house clean, that's a bit of a gray area. "There's glitter slime everywhere," she commented.
Holding down the fort tends to be a bit more challenging when Henry is away. "If I'm alone with all three kids, which I have been because my husband travels for work, it's tricky," Hager revealed, as reported by People. "I'll put the baby to bed first and then I'll read with [the girls]."
While she and her husband are juggling demanding careers, Hager acknowledges that they can both miss out on valuable moments with their kids. The couple chooses to concentrate on being present for their children and appreciating the special moments they share. "I try to focus on what I can do and what I do bring because I think if we beat ourselves up for everything we miss, then we're not as happy of a parent as we can be," she shared. "Since Henry and I both have big jobs, I'm hoping that our kids realize the biggest job and the biggest priority is them."
The morning news co-host also admitted that her home can get a little crazy. "Whenever anybody walks in, we go, 'Welcome to the nut house.' Who says that? I do," Hager joked.