Tom Brady Just Reminded Us All of 1 Important Lesson
As every famous person knows, being in the limelight brings plenty of fans and plenty of haters. They get judged and become a target for people to say whatever they want, whether it's really good or really terrible. But the one thing that just about everyone agrees on is to keep the kids out of it.
Apparently, one radio host in Boston didn't get that memo and thought it was okay to call Tom Brady and Gisele's Bunchden's daughter, Vivian, a "pissant." Brady, of course, didn't take kindly to that remark. Here's how the New England Patriots quarterback reacted and the fallout that occurred since the comment, as well as what Brady does not want to happen.
The host's comments are publicly aired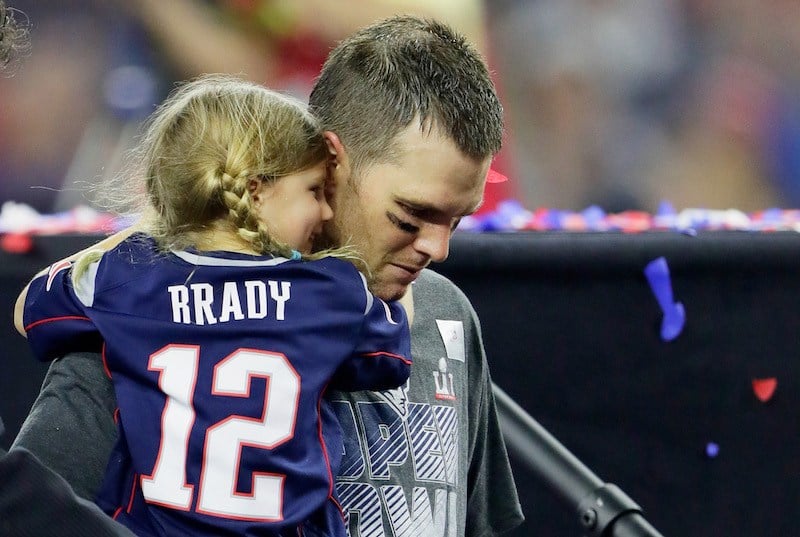 During a show on Jan. 26, 2018, WEEI radio host, Alex Reimer, was discussing the Facebook docu-series titled Tom vs. Time and, for some reason, didn't think it was a bad idea to call Brady's daughter "an annoying little pissant."
While Brady's fans slammed Reimer for the remark, the station did not publicly announce its take on the comment until several days had passed.
Next: How should a parent react after that?

Brady's reaction
Brady's reaction was the same as any parent's would be. He was a little heated that someone didn't realize talking about his children is off limits, and he showed it while on-air with the station for his weekly Monday morning spot.
I've tried to come on this show for many years and showed you guys a lot of respect. I've always tried to come on and do a good job for you guys. So it's very disappointing when you hear that, certainly. With my daughter, or any child, they certainly don't deserve that.
The quarterback then cut his appearance short by saying, "I'll obviously evaluate whether I want to come on this show again. I really don't have much to say this morning. So maybe I'll speak with you guys some other time."
Next: Who else isn't happy about the comment?

The Patriots owner is also upset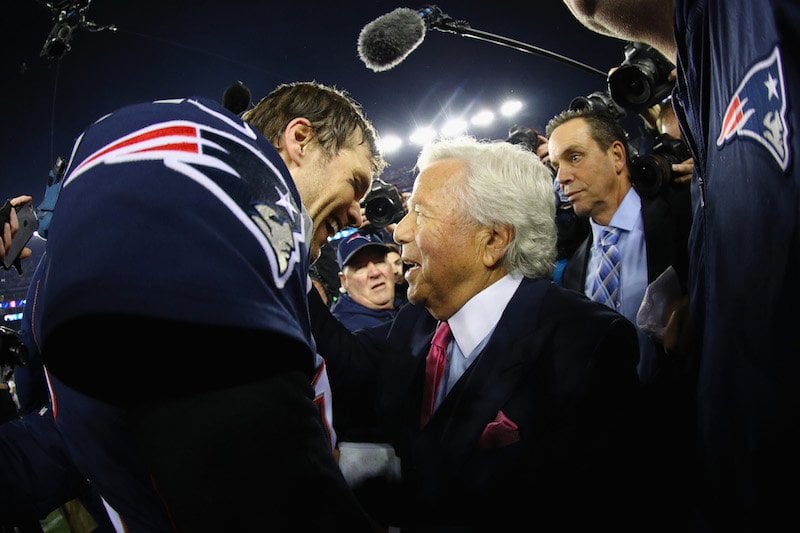 Someone else not at all pleased with Reimer's remark is Patriots owner Robert Kraft, who actually knows Vivian and had nothing but great things to say about her.
"I happen to know the child," Kraft told reporters during the team's media session on Jan. 29. "She's awesome, vivacious, loving, terrific." As for what he thinks about Reimer's comment, Kraft said, "You don't talk about someone's [5] year old child. No matter who the adult is."
Next: What consequences should the host face?

Reimer is suspended indefinitely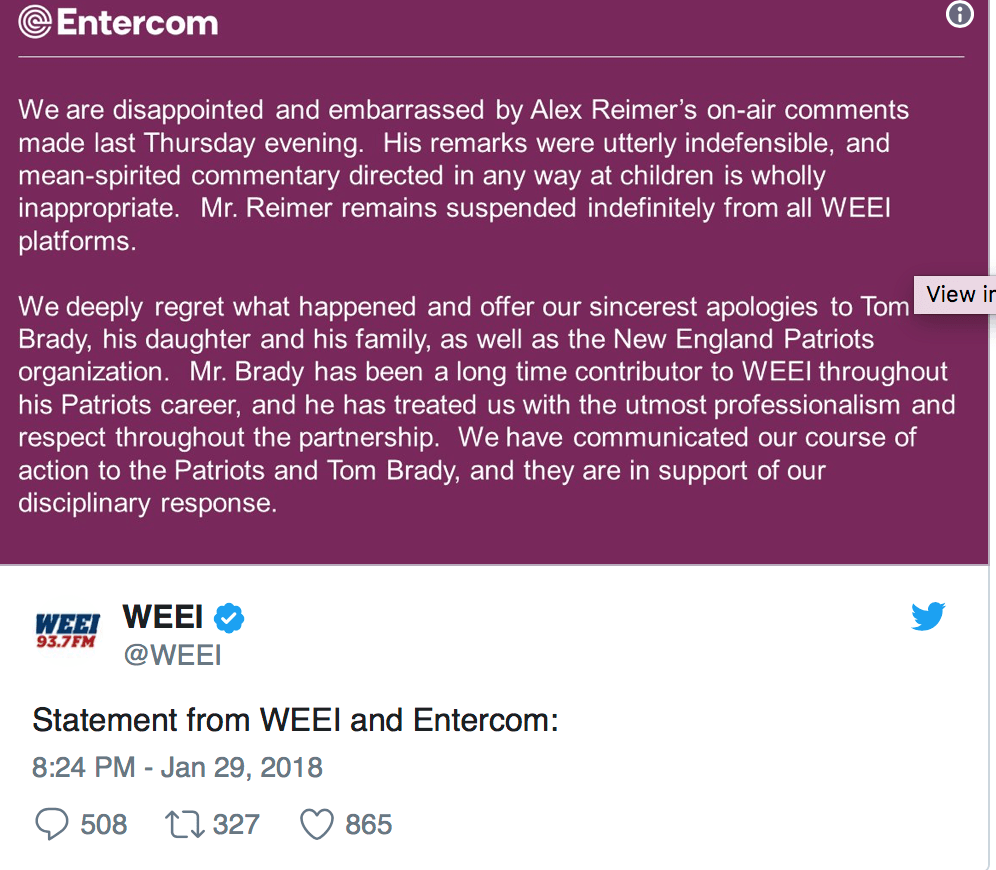 Three days after Reimer said the little girl was acting like a "pissant" in the docu-series, WEEI finally announced that he was suspended indefinitely.
Boston 25 News reported that the station claimed the suspension took effect on Friday, Jan. 26. However, sources revealed that Reimer traveled to Minneapolis for WEEI's Super Bowl coverage and wasn't sent home until Monday, Jan, 29.
Next: Will the station continue to produce its derogatory content? 
The station's history of derogatory remarks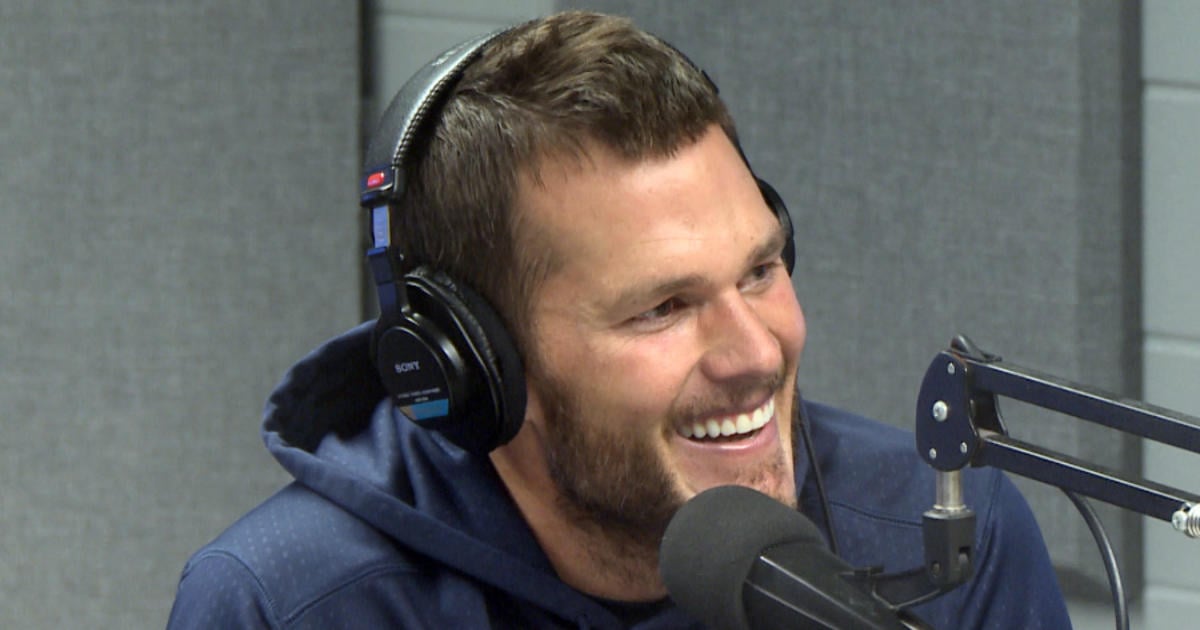 While Brady is weighing his future with WEEI, it should be noted that the station has a long history of making disparaging, and most of the time disgusting, remarks on a number of topics.
As USA Today noted, in the past, hosts have mocked former MLB pitcher Roy Halladay's death, turned a gorilla escaping from a zoo story into racist jokes, casually discussed hiring a hit man to murder NFL Commissioner Roger Goodell, and called sideline reporter and Dancing with the Stars host Erin Andrews a "b**ch."
Next: Where does WEEI's parent company stand on this?
Apology issued
After Brady cut his interview short, WEEI's parent company, Entercom, issued an apology which read in part:
We are disappointed and embarrassed by Alex Reimer's on-air comments. His remarks were utterly indefensible, and mean-spirited commentary directed in any way at children is wholly inappropriate. We deeply regret what happened and offer our sincerest apologies to Tom Brady, his daughter and his family, as well as the New England Patriots organization. Mr. Brady has been a long time contributor to WEEI throughout his Patriots career, and he has treated us with the utmost professionalism and respect throughout the partnership. We have communicated our course of action to the Patriots and Tom Brady, and they are in support of our disciplinary response.
Next: What is the disciplinary action Brady doesn't support? 

Brady doesn't want Reimer fired
There's really no way Reimer can return to his line of work — at least, not in Boston after insulting the offspring of a guy who has won several Super Bowls in that city. Although Patriots Nation would never embrace him again, Brady took the highroad and said he didn't want the radio host to lose his job.
He also reminded interviewers and fans everywhere of the important lesson that kids — even famous ones — should always be off-limits, saying:
I certainly hope the guy isn't fired. I would hate for that to happen. I think any parent is protective of their kids. I understand criticism is part of sports, but I certainly don't think my children or any other children should really be in that.
Follow Michelle Kapusta on Twitter @philamichelle.
Follow The Cheat Sheet on Facebook!