How Tom DeLonge's Exit From Blink 182 Got Screwy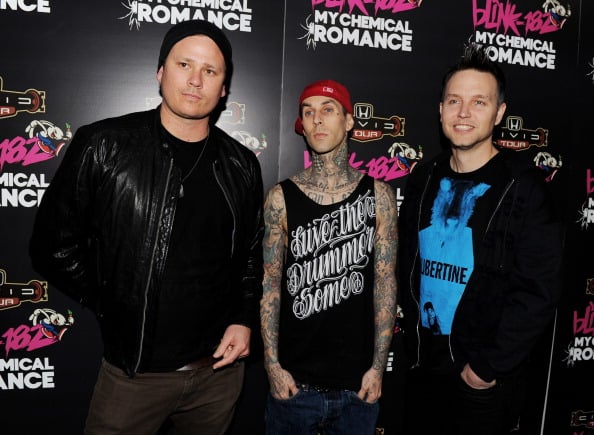 Blink 182 has made a long, successful career off of the pop-punk genre they helped spawn back when they started up in 1992. Since then, they've been around long enough for entire generations to grow up on their music, giving them fans now who are well into adulthood. But now it seems as though the original trio of Tom Delonge, Mark Hoppus, and Travis Barker may officially be coming to an end. Following a strange series of events, Tom Delonge has officially left the group, set to be replaced by Alkaline Trio's Matt Skiba on their upcoming tour.
It all began earlier this week, when a report surfaced in an official release from the band, stating that Delonge had left on his own accord. This apparently came as news to Delonge, who soon put out a post on his Instagram claiming he "never quit the band." Barker and Hoppus quickly fired back in an interview with Rolling Stone.
It's hard to cover for someone who's disrespectful and ungrateful…To say, 'I didn't quit the band' is just not true. It's disingenuous.
They went on to talk about how they hadn't actually seen Delonge in person in almost eight months, with all communication going through his management. They further claim that he actively refused to go into the studio to record a new Blink album they'd all previously agreed to do together. It's an interview that paints an incredibly negative picture of Delonge as a preening prima donna not willing to move the band forward.
But then another wrinkle was thrown into the mix, following a 900-plus-word post on Delonge's Facebook outlining a situation far different than the one described by Hoppus and Barker. In it, Tom told his side of the story, one where he in fact claimed to be the only one with his heart in the band. Hoppus had originally described a situation in the Rolling Stone interview where he had flown from London to Los Angeles to record an EP at Delonge's behest as evidence of his willingness to work together. The other side of the story outlined on Facebook though says something entirely different.
The EP was the test. Months later, we're recording those songs. I was in the studio for two months and they came in for around 11 days. I didn't mind leading the charge, but we had all agreed to give it 100%.
What we seem to have degenerated into is a classic case of "he said/they said," with accounts from both sides holding the other at fault. At this point, it's less the legal issue that usually surrounds controversies like this, and more about everyone looking to protect their respective images. On one side, we have Hoppus and Barker claiming that they were struggling to work with a bandmate who was functionally absent. On the other is Delonge, saying that his treatment was less than fair in being drummed out in a press release he wasn't made aware of.
We may never know the true story of what exactly happened behind the scenes, but we certainly have our theories. What probably happened? Three men who've worked together for 20-some years simply couldn't make it work anymore. When communication breaks down the way it appeared to here, a bloody break-up is practically an inevitability. We can only hope that eventually everyone manages to part ways without shedding anymore blood.
More from Entertainment Cheat Sheet:
Want more great content like this? Sign up here to receive the best of Cheat Sheet delivered daily. No spam; just tailored content straight to your inbox.