How Tori Spelling Filled 'BH90210' with 'Fan Candy'
All fans of Beverly Hills 90210 wanted was to see Brenda, Brandon, Donna, Kelly, Andrea, Steve and David again. BH90210 gives them so much more because they get all that, plus the real Shannen Doherty, Jason Priestley, Tori Spelling, Jennie Garth, Gabrielle Carteris, Ian Ziering and Brian Austin Green. The stars play themselves as they reunite for a fictional 90210 reboot in the show, and they have plenty of 90210 Easter eggs already.
You already saw Donna's red dress in the series premiere of BH90210. Spelling promises even more "fan candy" in every episode until the stars of Beverly Hills 90210 produce a 90210 reboot within the show. Spelling was at the Fox party for the Television Critics Association talking about BH90210. BH90210 airs Wednesdays at 9 p.m. on Fox. 
Tori Spelling stole that red dress for the '90210' fans
Tori Spelling's antics in the first episode of BH90210 landed her and all her costars in jail. She stole Donna's red dress from a display and her costars were accessories. Spelling admits she has no attachment to the dress, but knew the fans would eat it up.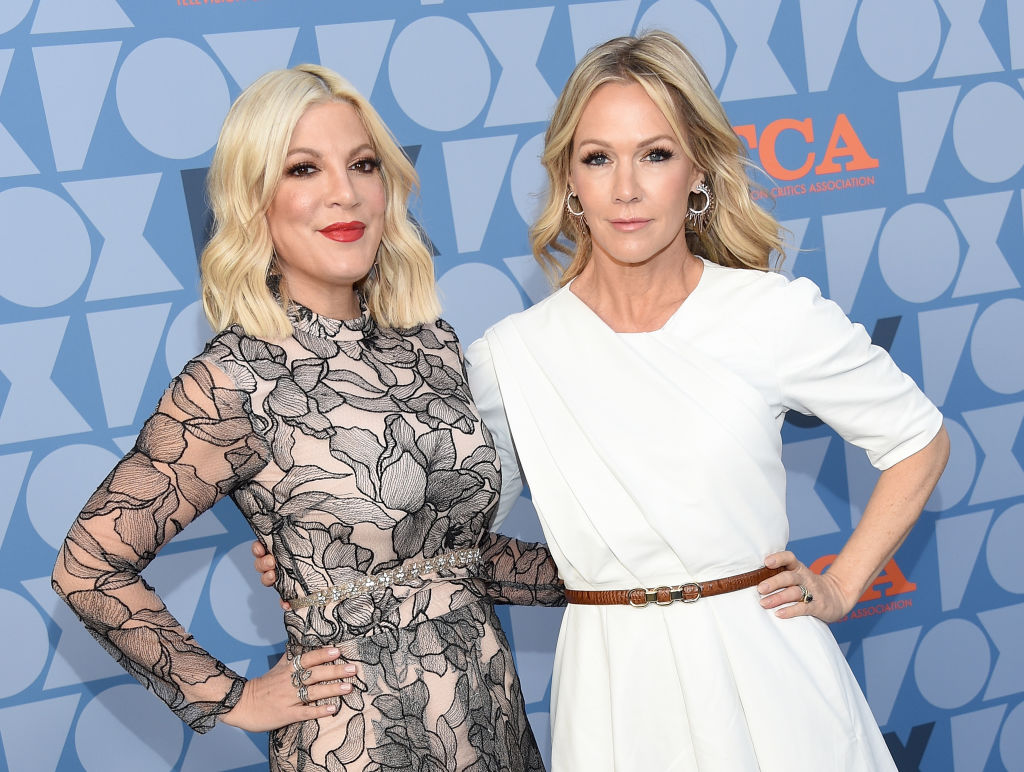 "I think it was one of Donna's iconic things so we thought every fan would know that," Spelling said.
A controversial guest star is coming this week, and she's staying for the rest of 'BH90210'
Fans of Beverly Hills 90210 went wild when they saw Christine Elise in ads for BH90210. Now that you know the premise of the show, that means Elise is not just playing Emily Valentine, but she'll be playing Christine Elise too.
"She appears [this week]," Spelling said. "She's in the rest of the series. The next episode is about us trying to put the reboot together and seeing what happens with everything."
Now where's Hilary Swank?
You won't have to wait long to see the gang back at West Beverly High
A running joke among fans and critics of Beverly Hills 90210 is that the actors were already way too old to be in high school when they played teenagers on the original series. Now they embrace the joke in scenes in which the actors still find themselves walking the halls and facing teenage drama.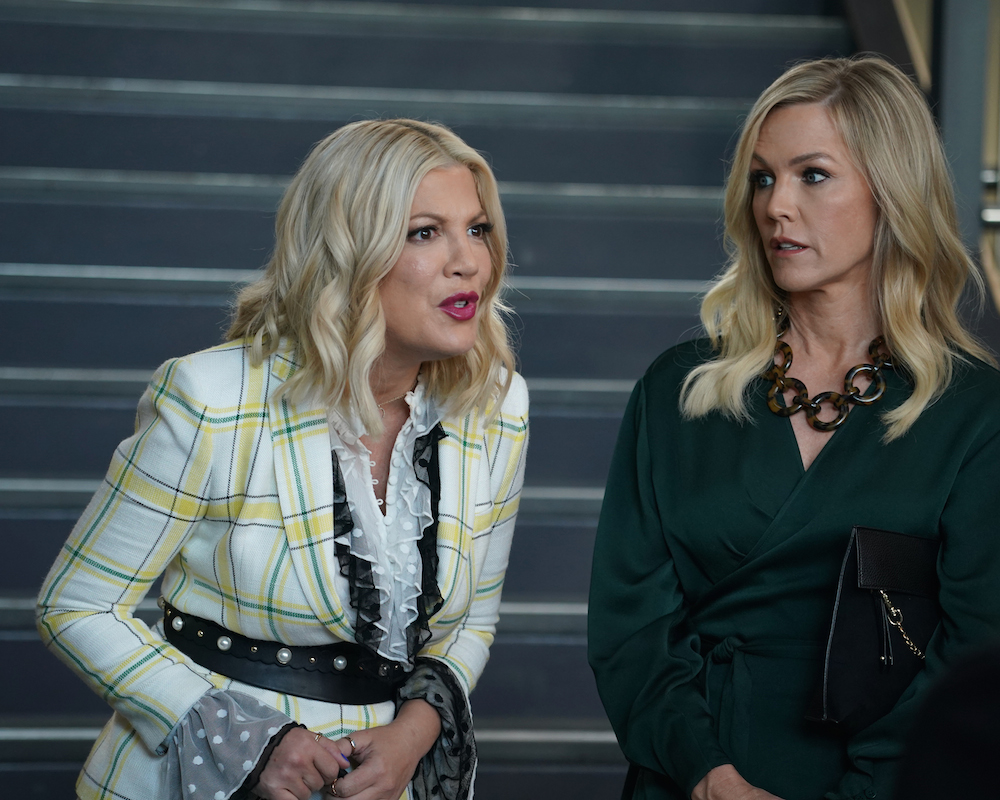 "That was kind of our fan candy we wanted to give the fans because until the reboot actually starts, which it will eventually," Spelling said. "We wanted them to have some actual moments with the characters from 90210 so that's why we put those [scenes] in."
Tori Spelling created her ultimate Tori Spelling on 'BH90210'
As a co-creator of this incarnation of BH90210, Tori Spelling wanted to tackle all the perceptions of her out there as a former teen actor, a reality TV show star, a woman in the industry and the daughter of media titan Aaron Spelling. Nothing was off-limits.
"I feel like either go big or go home and I really wanted to tackle what perception is in the media," Spelling said. "So I was like go for it. Nothing bothers me at this point."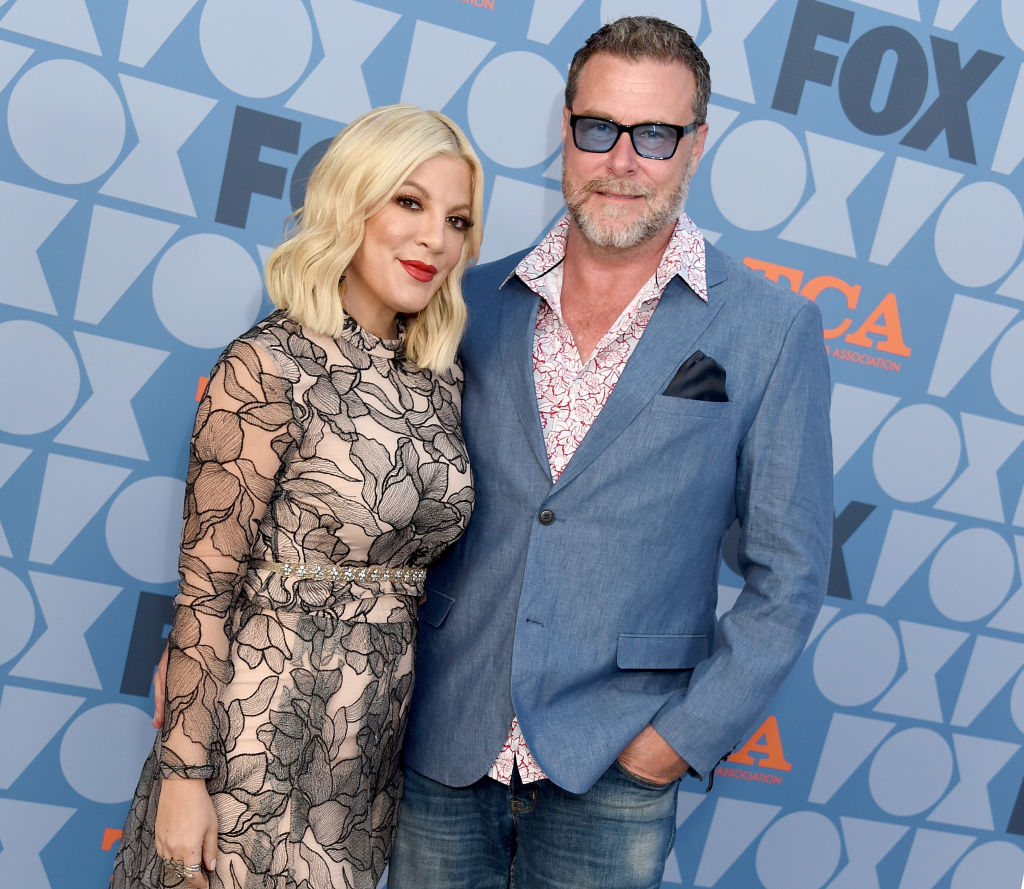 Spelling and Jennie Garth co-created this take on BH90210 together, suggesting they and all their costars play versions of themselves.
"Jennie and I really went to battle for our vision," Spelling said. "It's something different than I think anyone's seen so it's about making people believe that this formula would work, which is something that's never been done, a blend of drama and comedy and soap. Making everyone believe to have faith that this was a cast that could pull this off, and I think it worked really well."
Tori Spelling will never get tired of '90210' for another 30 years
Beverly Hills 90210 has followed Tori Spelling around since it premiered in 1990. Even after the show ended in 2000, it followed her another 20 years. And if it follows her another 30 years after BH90210, that's okay by Tori Spelling.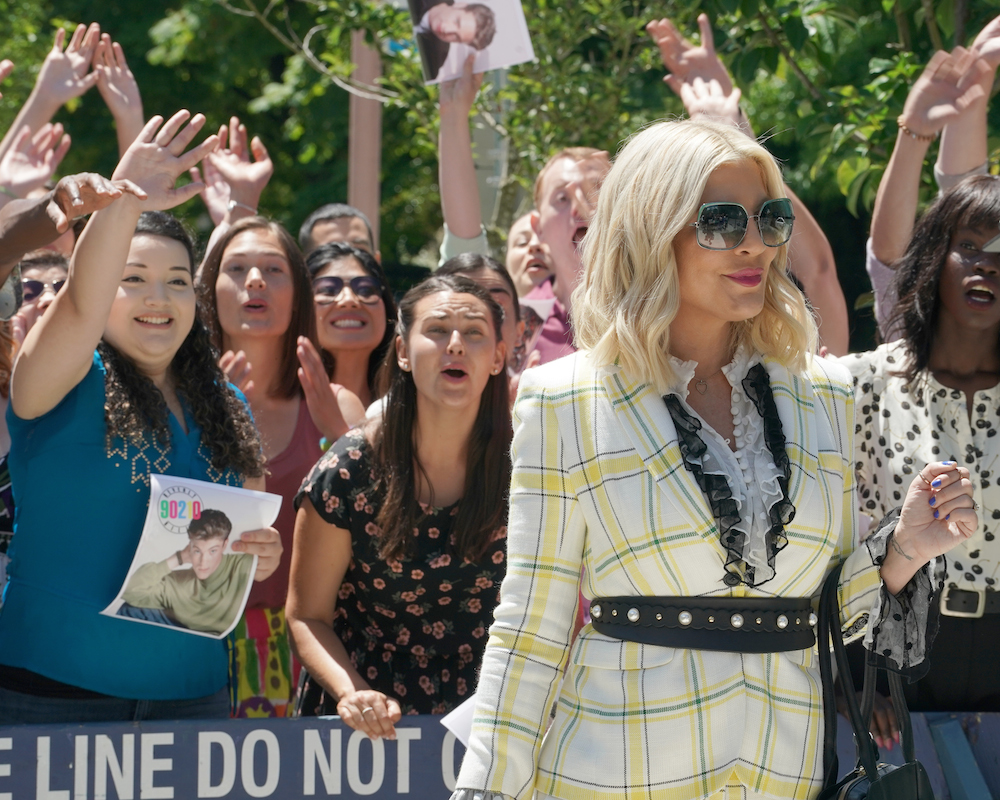 "I don't want a break [from 90210]," Spelling said. "I'm super appreciative of the show and grateful. It made me everything I am career wise and we had such an impact on people which is what we really wanted to do was be able to give back to the loyal fans we've had for 30 years now."