How Will 'Suits' Tackle Missing Meghan Markle From Season 9 Story Arch?
Now that Meghan Markle has become a real-life princess, she probably wouldn't have time to return to acting even if she wanted to. Besides, royal families have historically resisted their members going to Hollywood, even if they were once there before.
The good news is that Meghan's return to Suits is not completely out of the question. The bad news is, that still doesn't mean a return is very likely, to hear the showrunner tell it.
We'll show where she left off with the series, how she could return, and how once upon a time there was another famous princess who missed a chance to return to her old show business life.
What happened last time on 'Suits'?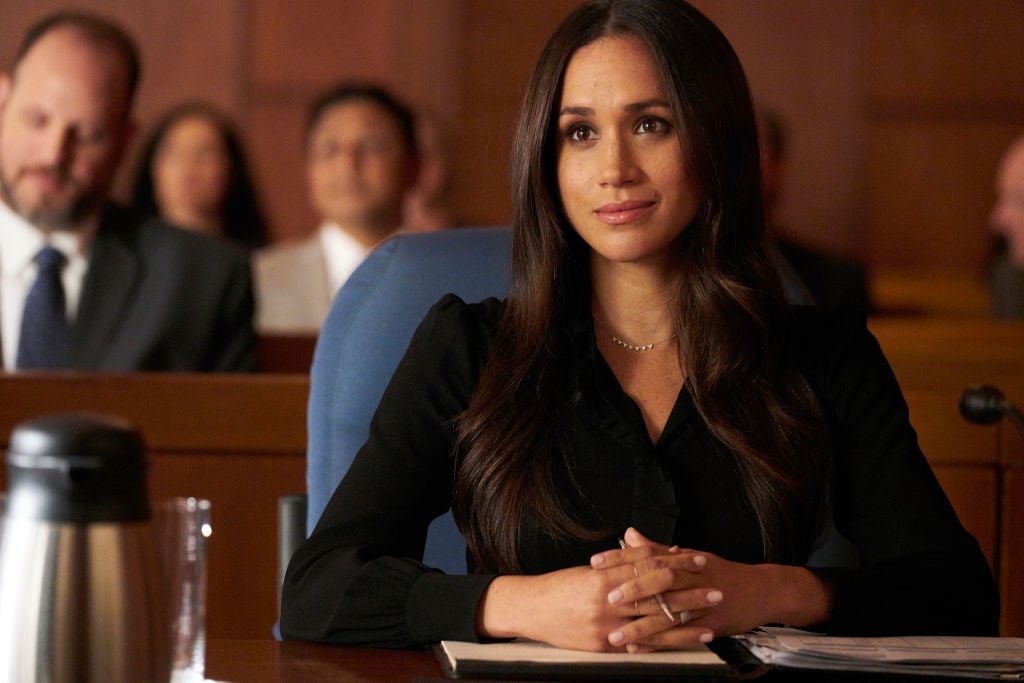 Meghan joined the cast of the legal drama Suits in 2011, playing paralegal Rachel Zane. Her main love interest was Mike Ross (Patrick J. Adams), who had begun working as a law associate.
Meghan spent seven seasons on Suits. When she left the show, Mike and Rachel were getting married. Meghan didn't depart just because of her engagement to Harry: As it happens, her and Adams' contracts were both due to expire anyway, according to EW.
It had been rumored that Meghan would return to the show being pregnant with Mike's baby and living in England, naturally. This would have tied in nicely with the fact that Meghan was pregnant with her son Archie, who was born just last month.
Alas, this turned out to be a pipe dream, although Adams is set to return to the show himself for its ninth and final season.
"There was never a question in my mind that I wanted him back for this season," showrunner Aaron Korsh said of Adams in Deadline. "He is the foundation of the show; it was built on him, others also but the very foundation we built on Patrick and Mike."
How Rachel might reappear
Korsh said there "would be a little update" on Rachel, although he wasn't sure what form that would take. Asked if it would involve a baby, Korsh said: "As of this moment no, we have not determined that they've had a baby, but you never know."
"You never know" leaves a lot of doors open. If Ziva David could come back from the dead on NCIS, why couldn't Rachel come back from a supposed pregnancy? Simple answer: Meghan is the Duchess of Sussex and Cote de Pablo is not. Even a cameo would probably be unlikely, given that Meghan is busy caring for her and Harry's newborn son, who is seventh in line to the British throne.
"There is always a chance she is going to pick up the phone and call me and say can I come back, and if she did she would be welcome back her with arms wide open. But no, I don't see that happening," Korsh said.
Another princess had a Hollywood past
Meghan is not the first princess to have been an actress. Grace Kelly had a brief but bright Hollywood career in the 1950s with movies like High Noon and The Country Girl, the latter of which got her an Oscar for Best Actress. She is best remembered for the three movies she made with the Master of Suspense, Alfred Hitchcock: Dial M for Murder, Rear Window and To Catch a Thief.
Grace left Hollywood behind when she married Prince Rainier of Monaco in 1956. It was a double fairy tale. Not many women can claim to be actresses and princesses, but Grace and Meghan both pulled it off. Although, it should be noted that Grace's career was more esteemed than Makrle's.
Grace performed her royal duties with aplomb, but biographers say she occasionally missed her old life in Hollywood. None other than Alfred Hitchcock was prepared to help her return when he offered Grace the title role in his 1964 film Marnie, about a kleptomaniac with a troubled past.
Grace was willing to take the role, but the official story went that the people of Monaco objected to her return to the movies, and especially could not accept their princess playing a thief. Reportedly, the real reason was that she had suffered a miscarriage after agreeing to the role, and that made her return to acting impossible. The part was eventually played by Tippi Hedren, Hitchcock's lead in The Birds. Grace died tragically in a car crash in 1982, eerily mirroring the 1997 death of Princess Diana.