'HTGAWM' Season 6 [Spoiler]: These Theories About This Character's Death Will Make You Think Twice
How to Get Away With Murder opened up its biggest mystery in its sixth and final season premiere on Sept. 26. After highlighting the aftermath of Laurel Castillo's (Karla Souza) disappearance, HTGAWM viewers were left begging for more. When the episode ended, Annalise Keating's (Viola Davis) death was front and center. Naturally, fans quickly speculated their own theories on who killed Annalise — or if the beloved character is really dead. And quite frankly, the lengthy laundry list of suspects proves anything could happen in the final episodes.
Annalise Keating faked her death in 'HTGAWM'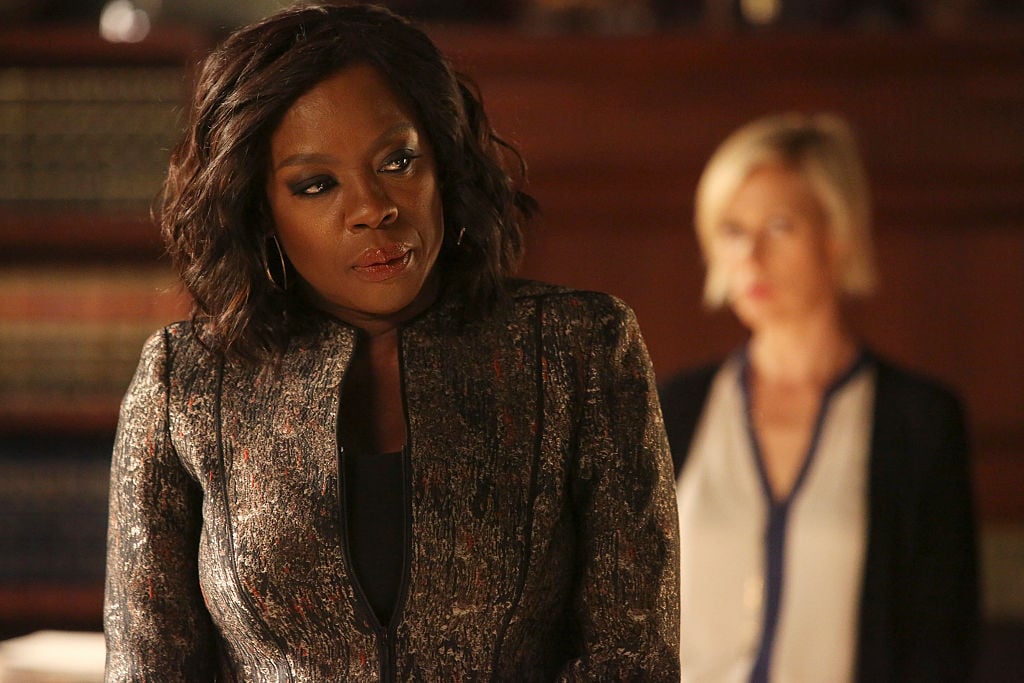 Most fans of How to Get Away With Murder seem to think Annalise faked her death. Following the season 6 premiere, a Reddit fan shared their thoughts on the funeral. And in the post, they hypothesized why viewers were not shown Annalise's corpse.
"Annalise has faked her death," the Reddit user explained. "Killing her off would be far too easy, but how can they fake her death and have a funeral without a body? Because there really is a body in that casket… it's just not Annalise."
The fan then suggested the dead woman inside of the casket could be someone viewers already know. For example, Vivian (Marsha Stephanie Blake) or Tegan (Amirah Vann).
"The body in the casket is an unidentified black female who isn't recognizable, (body has been burned, explaining why it is a closed-casket)," the user wondered. "Bonnie or Nate have managed to swap the results of the DNA from the body in the casket to the DNA of Annalise (they hinted at the corruption of the coroner this episode)."
The Redditor also noted potential foreshadowing in the season premiere. "The undertone throughout the episode foreshadowed that Annalise will finally just protect herself instead of the [Keating Four]," the fan wrote. "She gets Bonnie or Nate to help her and they manage to convince the K4 that Annalise is dead, they can't be helped by her anymore, Annalise is finally free."
"Annalise is killing two birds with one stone here," the Redditor continued. "Getting rid of a big threat (Vivian or Tegan) as one final act of protection for everyone else, and escaping the possibility of being caught out, after all… they can't prosecute a dead woman."
Someone close to Annalise killed her
In a Reddit discussion board about the flash-forward in the How to Get Away With Murder Season 6 premiere, fans questioned who had motive to kill Annalise. One fan suggested multiple names and ruled out others.
"It's probably by the hand of Connor, Bonnie, Gabriel, or Asher," the fan offered. "Frank, Oliver, and Tegan have no personal motivation to kill her (unless Oliver snaps trying to protect Conner; we still don't know why Annalise picked him for [the Keating Five]). Michaela is too obvious, Laurel has been protected by Annalise, and Vivian is too new to the show."
The Redditor then explained their choices. "Gabriel has yet to find out what really happened to his father, Bonnie is kept in the dark about Miller and already has a complex relationship with Annalise," the fan shared. "Connor may snap depending on if Annalise is keeping a secret from him, and Asher is honestly a wild card at this point because he lost almost everything already."
Nevertheless, other fans seemed to think the original post "eliminated suspects too quickly." And at this point, too many storylines are left unfinished to get a definite answer. "We don't know what may go down to push Frank or Nate into a murderous rage," a user wrote. "Tegan is playing some game of her own and may not appreciate interference with that. Oliver probably not but Laurel and Michaela would turn on Annalise in a heartbeat if they thought she betrayed them. Vivian is an unknown quantity but that doesn't mean she's not dangerous."
Regardless, it appears most fans believe Annalise was killed by someone close to her. That is if she is dead at all.
What showrunner Pete Nowalk has to say about Annalise's death on 'HTGAWM'
Following the HTGAWM Season 6 shocker, showrunner Pete Nowalk opened up about Annalise's death. But, he didn't reveal much. There's plenty to unravel as the final season continues to unfold.
In an interview with TV Guide, Nowalk confirmed he wants to keep things vague for now. But, he hinted the major death won't hoax audiences.
"I don't want to answer too much because obviously we started with something that was in her imagination, so I don't really want to speak to that scene too much in general," he said of Annalise's funeral in the premiere. "But I also don't like to fake the audience out. I'll say that."
Nevertheless, the storyline has been a long time coming. "I came to the season with the big idea of how to end the show, which you get a hint of in the season premiere," Nowalk told Variety. "I wanted to give everyone, especially Annalise, an ending that felt big. For me the mystery of this premiere, which is 'Who killed Annalise?' was something I wanted to do forever, but obviously you can only do it in the last season."
And while Nowalk thinks fans might be "angry" about Annalise's death, he believes the storyline "is something really useful to maybe take away into your own life. It's going to be uncomfortable." The showrunner also promised the How to Get Away With Murder team did their best to stay "true for the character."
Regardless, fans will be glad to know Nowalk intends to leave no stone unturned. And the series finale of HTGAWM will not end on a cliffhanger.
"I don't want to leave the audience with a cliffhanger at all, I think that's the least satisfying version of the show at all," he said.
Check out Showbiz Cheat Sheet on Facebook!