'HTGAWM': These Theories About Connor Prove No One Is Safe
When How to Get Away With Murder premiered its sixth and final season, everyone wondered who killed Annalise Keating (Viola Davis). But, as always, the plot thickened — and we're only three episodes deep. Now, HTGAWM fans are worried about the members of the Keating Five — we mean Four — most notably Connor Walsh (Jack Falahee).
In the third episode of HTGAWM Season 6 — titled "Do You Think I'm a Bad Man?" — Connor was interrogated by the FBI. They accused him of the murder of an informant. But, before fans could even question who Connor killed in HTGAWM, he suddenly broke out into laughter and toppled over onto the floor. And although viewers will have to wait and see what the ABC series prepared, many fans came up with their own theories on what happens next.
Will Connor die in 'HTGAWM' Season 6?
Many fans seemed to question what really happened to Connor in the third episode of How to Get Away With Murder Season 6. Most appeared to believe Connor's collapse was caused by a panic attack or even a heart attack. However, one Reddit fan proposed something that could mean Connor's death in an upcoming episode.
"Is it just me or did Connor collapsing in the flash forward look scarily similar to the way Emmett died when they claimed he had a 'heart attack' but we knew he was actually poisoned," the Redditor hypothesized. "Maybe Connor was just having a panic attack and hyperventilating after seeing the picture of a dead person that the FBI showed him, but the chest clutching and sweatiness looked more like poisoning triggering something cardiac to me."
However, other fans refuted the theory and questioned if Connor was faking his attack to get out of the situation. "I also half-wondered if he's somehow faking something to get away with whatever is going on," a user replied to the original post.
Connor is shown Sam's body by the FBI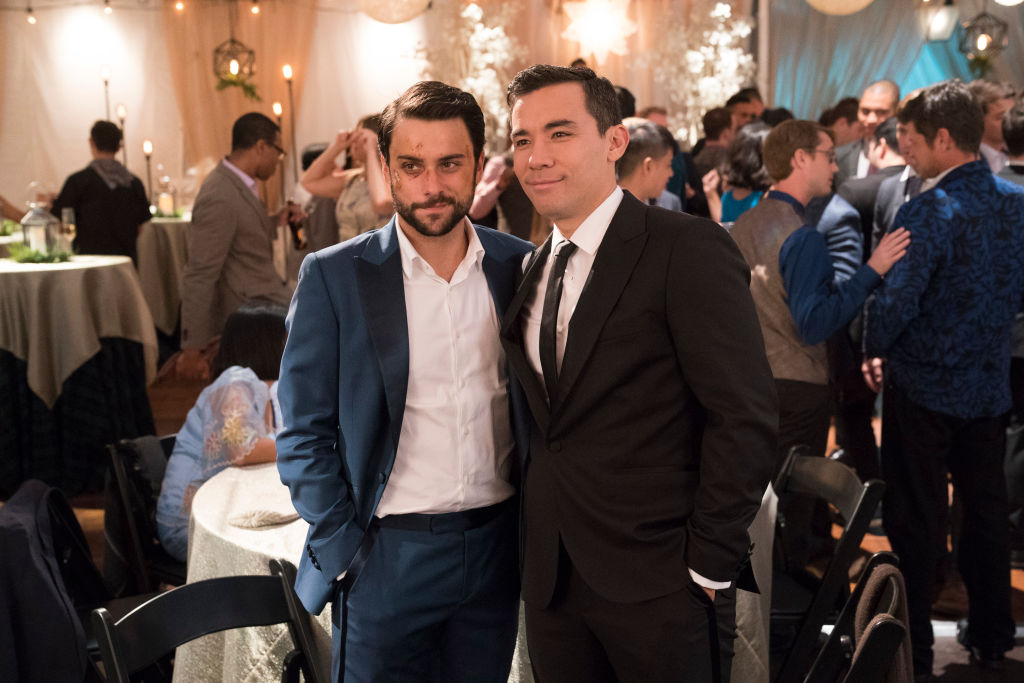 Another popular theory in regards to the FBI interrogation involves the picture that caused Connor's collapse in HTGAWM. In a Reddit discussion, one fan suggested Connor was shown a photo of Sam Keating's (Tom Verica) body.
"What if they showed Connor a picture of Sam's body on the floor?" the fan asked. "The blood pool reminded me of Sam's and he cracked up like that the night Sam died. Maybe the panic attack was because it's all coming back up."
They also hypothesized who took the photo. And while the fan noted everyone could be suspect, they believe the culprit is likely Laurel Castillo (Karla Souza) or Annalise.
"My guess would be Laurel if she turns out to be the informant, because she had the least involvement and her family to get her out of trouble if she needed," the Redditor explained. "Or maybe [Annalise] when she came home before deciding to help cover it up. Possibly to scare/blackmail the [Keating Five] if she couldn't get them to cooperate and stay quiet. We know she's not opposed to blackmail."
Meanwhile, another fan added to the theory and suggested the photo could have been taken by Rebecca Sutter (Katie Findlay) and uploaded to her computer, later discovered by Wes Gibbins (Alfred Enoch) and eventually Laurel in the safety deposit box.
They then speculated the informant is trying to incriminate everyone for their crimes. "The murder with the fire poker is obviously a different and more recent event than Sams death," the fan wrote. "But if the informant was feeding them information about Sam and Sinclair and Rebecca's death it would connect the two events."
Connor killed someone before 'HTGAWM'
In the season 6 premiere, HTGAWM had fans asking why Annalise chose Connor to be part of the Keating Five. On Reddit, some fans pondered if the interrogation has anything to do with Annalise's reasoning.
"I figured it was something to do with his past and why Annalise chose him. I never saw it being related to Sam," a fan offered. "After everything, Connor was unsettled about his role in Sam's death early on, but has progressed past that and recovered."
In response, some fans refuted the theory and pointed out Connor was shocked after Sam's murder. However, the original poster suggested Connor's reaction was a result of trauma as opposed to shock.
"He was definitely in distress after Sam," the user explained. "Was it shock at having not killed or being exposed to violence? Or was it bringing up some sort of past trauma to the surface? Hard to say."
At this point in the game, anything is possible. How to Get Away With Murder Season 6 still has a long way to go before the ending is unveiled. And of course, it's going to be a rough journey before viewers find out what exactly is going on with Connor. Let's just hope he makes it out of the series alive.
Check out Showbiz Cheat Sheet on Facebook!