Hugh Jackman's Favorite Musical Number Is from 'The Music Man'
Hugh Jackman – forever tied to X-Men's Wolverine amongst pop culture enthusiasts – is also a Broadway performer with a couple of dancing feet and impressive pipes.

Last seen in a musical role as Peter Allen in The Boy From Oz, for which he earned a Tony award, the musically inclined mutant will make his return to the stage with The Music Man. The Music Man will return to Broadway October 22, 2020, with Hugh Jackman in the title role, as Harold Hill, originally embodied by Robert Preston in the 1957 Broadway show, and later in the 1962 film.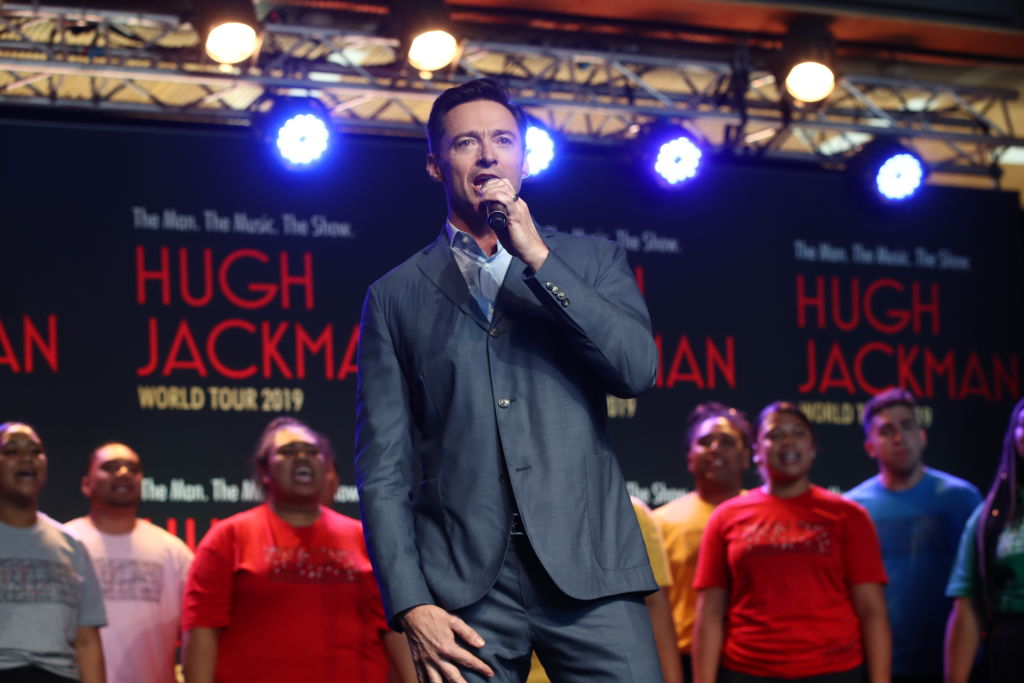 Hugh Jackman  – still receiving praise for his work in The Greatest Showman – is also known for starring in the 2012 movie musical Les Miserables as Jean Valjean, which earned him an Academy Award nomination for Best Actor in a Lead Role. Jackman – a four-time Tony Award host – always seems to find his way back to song and dance. However, playing in The Music Man likely fulfills a long-awaited dream.
Jackman revealed his favorite musical number in an interview for 'The Greatest Showman'

When asked, "Can you sing your favorite showbiz tune?" during an interview, Jackman replied by breaking into the main title song from The Music Man, which also includes the songs "Rock Island" and "Iowa Stubborn." He, without batting an eyelash, recited the lyrics to one of the show's most fast-paced and tricky numbers. He rapped:
He's a what?
He's a music man and he sells clarinets
to the kids in the town
with the big trombones and the rat-a-tat drums,
big brass bass, big brass bass,
and the piccolo, the piccolo with uniforms, too
with a shiny gold braid on the coat
and a big red stripe runnin . . .
Well, I don't know much about bands
but I do know you can't make a living
selling big trombones, no sir.

Nu.nl

This interview, published on January 3, 2018, was released long before The Music Man announcement, so it's unlikely that Jackman was trying to promote a Broadway production still being kept under wraps. Furthermore, he even performed a piece from The Music Man while on Jay Leno several years ago! When it comes to The Music Man, Jackman is simply a big fan.

What is 'The Music Man' about?

'The Music Man' follows Harold Hill, a traveling con man who, upon entering River City, convinces the town locals to start a band by purchasing instruments and uniforms from him. However, Hill plans to flee as soon as he receives the money.

Though a suspicious Librarian is onto Hill, she keeps quiet because her son is very excited about the band. The situation gets complicated for Hill when he starts developing feelings for the librarian.
The Music Man features an uplifting story and high-energy musical numbers; the revival is destined to be a nostalgia ride perfectly suited to momentarily remove audiences from the harsh realities of current society.
Jackman is the proper choice for the role, as he retains enough musical experience and foresight to create a new Harold, one that is not merely an imitation of the original, yet still pays homage to Preston. Considering Preston is most known for this role, Jackman has large shoes to fill.

The rest of the cast is still unknown; however, seeing Stephanie J. Block (Wicked, The Boy From Oz, 9-5) reunited with Jackman as The Librarian would definitely be a pleasant surprise and a treat for all those who loved them as Liza Minnelli and Peter Allen.