Hulk Hogan Net Worth and How Much He Made from Wrestling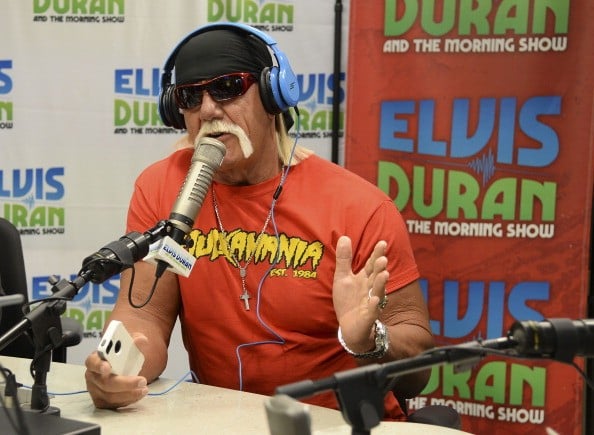 Hulk Hogan, also known as Terry Gene Bollea, made a name for himself in the wrestling world, causing a fan frenzy referred to as "Hulkamania." The charismatic yet controversial celebrity became one of the most recognized wrestlers in the world. Here's Hulk Hogan's net worth and how much he made from wrestling.
The early years
Hulk Hogan began to take an interest in wrestling when he was in high school. After graduating from high school, he went on to study at Hillsborough Community College and the University of South Florida, but he didn't receive his college degree. Hogan's dedication to wrestling led him to spend a lot of time exercising at a local gym owned by wrestlers Jack and Jerry Brisco. This experience prompted Hogan to begin a wrestling career.
Rise to fame
Hogan's dedication resulted in a chance to wrestle professionally. He began his professional wrestling career back in 1979, when he was discovered by World Wrestling Federation (now known as World Wrestling Entertainment) owner Vince McMahon Senior. Hogan won his first match, which was against Andre the Giant. Consequently, his fame grew quickly. The following year, Hogan appeared in the 1982 movie, Rocky III. He played the character Thunderlips.
Controversy
In 2015, there were several reports that Hogan was recorded making racially insensitive comments. One recording was reportedly from a 2012 interview of Hogan using a racial slur when referencing Black wrestlers and celebrities. In July 2015, Hogan was fired from the WWE.
Hogan later apologized for what he said during those conversations in an interview with People. "Eight years ago, I used offensive language during a conversation. It was unacceptable for me to have used that offensive language. There is no excuse for it and I apologize for having done it," said Hogan. He returned to World Wrestling Entertainment in 2018 when it was announced he would host Saudi Arabia's Crown Jewel pay-per-view wrestling event.
How he makes his money
Outside of wrestling, Hogan has several streams of income. One of his income sources is product endorsements. Some of the brands he has endorsed include Rent-a-Center, Right Guard deodorant, FootJoy shoes, and Honey Nut Cheerios. Hogan even tried to go into the restaurant business. In 1995, he opened Hulk Hogan's Pastamania restaurant in Mall of America. The restaurant shut its doors less than a year later.
Acting is another source of income for the wrestler. Hogan has also made several movie and television appearances including Spy Hard, The Secret Agent Club, Suddenly Susan, and Robot Chicken. Hogan had his own VH1 reality show called Hogan Knows Best from 2005 to 2007. In 2008, his daughter, Brooke, got her own reality show called Brooke Knows Best.
Hulk Hogan's net worth and earnings
Hogan's World Championship Wrestling earnings were more than $13 million from 1996 to 2000, reports Fox Sports. Hulk Hogan has an estimated net worth of $25 million, reports Celebrity Net Worth.
Read more: Venom: How Much Did It Cost to Make the Movie?
Check out The Cheat Sheet on Facebook!