'Hustlers' Starring Jennifer Lopez and Cardi B Is Indeed Based On a True Story: Here Are The Details
On Friday, Sept. 13, Hustlers will hit theaters around the country. The film, which stars Jennifer Lopez, Keke Palmer, Cardi B, singer Lizzo, Lili Reinhart, and Constance Wu, focuses on a group of strippers who do more than display their skills on the pole. Told from the perspective of women, Hustlers is a story about sisterhood, exotic dancing, and crime.
Its star-studded cast and promotional images are sure to have audiences lining up at the gate, but perhaps the most intriguing thing about the film is that it's based on a true story. Of course, creative license is taken in the production, but Hustlers is about a group of lady hustlers.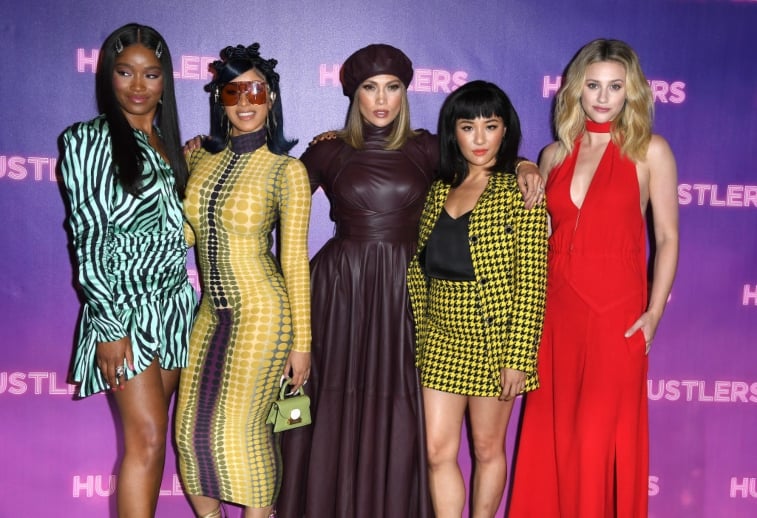 The title 'Hustlers' is an all-encompassing term in the real story
A 2015 now-viral article published in New York Magazine's The Cut by Jessica Pressler detailed the escapades of dancers Roselyn Keo, Karina Pascucci, Marsi Rosen, and Samantha Barbash. Keo, who told Pressler she's the daughter of Cambodian refugees, shared with the journalist that she dropped out of high school and started dancing to help her grandparents make ends meet.
When Keo was first starting out, she bounced from club to club and met Barbash at Larry Flint's Hustler Club in New York. Barbash, the oldest of the strippers, was a sort of recruiter for strippers as well as the men who frequented the clubs.
She taught the ladies how to game rich clients into giving them excessive amounts of cash, or how to steal from those who were careless with their wallets. Businessmen, celebrities, and billionaires were among their clientele.
Moving among clubs like Scores, Lace, and Hustler, the women, led by Barbash, would lead men into private encounters—at clubs or in private locations—and distract them with things like outsourced prostitution, while drugging their drinks with things like ketamine. At some point, they looped in the bartender from club Lace, expanding their exploits.
Tens of thousands of dollars would be racked up in credit card charges, and the strippers would split the money. Clients who threatened to report them were blackmailed into keeping quiet. Many were family men or Wall Street hotshots who didn't want to be exposed.
The women were bold and greedy, and eventually the scheme started to unravel
The ladies ran the money scam for years. How? They'd get the guys to give up the personal details like social security numbers and family maiden names in order to charge their cards. Sometimes, guys who were lucid enough to know what was happening would beg them not to do it.
Besides taking care of their families, the dancers would spend the funds on luxury cars, high-end clothes like Chanel, and trips. Until they got caught in 2014.
One of the men they conned was a doctor whose credit card was charged $135,000. He was able to secure a recording of one of the girls 'fessing up, and a federal investigation was launched.
Part of the reason the women were caught was because there was dissension within their ranks. Once a tight group of friends who looked out for each other and their families, they became a distrustful bunch.
What were the consequences for the real-life hustlers?
J. Lo plays Ramona in Hustlers, a portrayal of Samantha Barbash, whose street name was Samantha Foxx. Photographic moments of Barbash during and after her arrest are played up by Lopez in the movie. You'll see some resemblance, including the scene where Barbash was arrested in 2014 in her sweats.
Barbash, 45, pleaded guilty to conspiracy, assault, and grand larceny, and received five years probation. Wu's character, Destiny, depicts Keo in the film. In 2016, Keo also struck a deal and after pleading guilty to grand larceny and attempted assault, she didn't serve any jail time.
Pascucci, who lured the doctor to Scores to fleece him, was sentenced along with Rosen to weekend jail time and five years of probation.
Hustlers director Lorene Scarafia told IndieWire that one of the film's themes is female power, but she really sought to humanize the women of the story.
"I wanted to tell a deeper story and a fuller story about moms and working moms and what happens when women are really seen as earning money and providing. I can empathize with all of us who are trying to navigate this really broken system of values and women being valued for their beauty and men being valued for their money."
Both versions are undeniably about power, control, and the choices people sometimes make. Catch Hustlers next weekend to get an idea of how things unfolded in real life.