If You Aren't Listening to Jonathan Van Ness' Podcast, You Should Be
One side of Jonathan Van Ness few have a chance to see beyond Netflix is his curiosity about everything in the form of a podcast.
Those of you who like the continuously popular Queer Eye already know Jonathan Van Ness as one of the biggest stars from the group of hosts. His appealing personality and chemistry with his fellow pals continues to make QE one of the most popular shows on Netflix. If you wonder what else he does beyond that streaming universe, you might not know he hosts a very interesting podcast.
One side of Van Ness few have a chance to see beyond Netflix is his curiosity about everything. The world really needed a celebrity podcast allowing experts to come in and explain careers and topics many Americans find perplexing.
If you haven't given Van Ness's podcast a listen, you should, and what makes it stand out is in the details.
The intellectual side of Jonathan Van Ness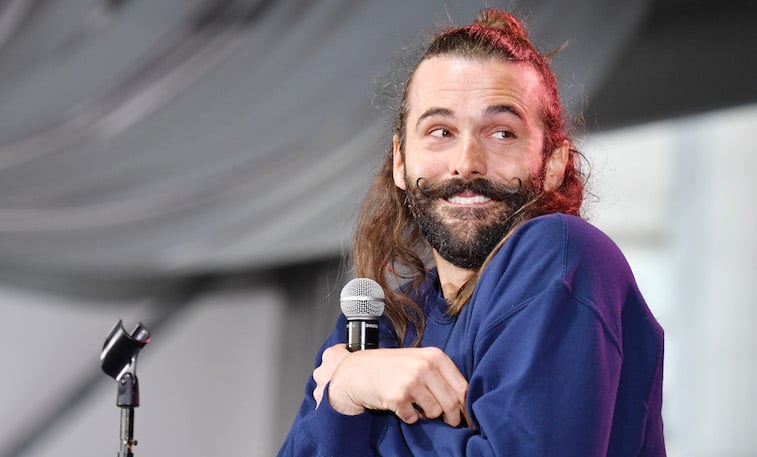 A major problem with reality shows like Queer Eye is they sometimes present the hosts/participants as something they really aren't. Van Ness is usually depicted as more in tune with his heart than intellect. While some would say there's nothing wrong with that, it's always refreshing to see people with a mix of both.
After you give Van Ness's podcast a listen, you'll realize he does his homework on the subjects he discusses. Known officially as Getting Curious with Jonathan Van Ness, it's a grab bag of interesting subjects related to everything from international affairs to specific career niches. His guests are always experts in the chosen topic.
What makes this different from other topical podcasts is Van Ness plays the Everyman who has simple curiosity about esoteric things. This is the real secret to the show being popular with the average listener.
It goes beyond this, though, and into the realm of promoting the importance of curiosity in our world to help us find solutions to our bigger problems.
Some reviewers think the conversations do have occasional awkward moments
Most reviews for Van Ness's podcast are positive, though the host sometimes doesn't have complete knowledge about the subjects he covers. Sometimes this brings some awkward moments in being corrected by the expert guests.
For many, this is another appeal because it's akin to an average person having a chance to converse with someone knowledgeable about a subject. Not many average citizens have access to people like this, so Van Ness speaks for those who have equal curiosity, but don't have credentials/opportunities for similar interviews.
Reviewers also note just promoting the idea of curiosity is an essential civic responsibility. In a time when pop culture seems to be more dumbed down more than ever, having a podcast simply about increasing our knowledge is more than a little refreshing.
What we want to know is if Van Ness can spin this off into a TV show so Queer Eye fans can see what he's capable of doing beyond helping America's heroes.
Would 'Getting Curious' work as a TV reality show?
A first-time pitch of Van Ness's podcast to a cable network might automatically be relegated to more cerebral networks like NatGeo or The History Channel. Even those networks have gone into more entertaining fare so it's not all dry documentaries. Queer Eye is a good example.
Thanks to Van Ness making each podcast episode entertaining based on his exuberant personality, translating this to TV could become a terrific combination. It would prove the old adage that entertaining someone while they learn is the best way to pass on knowledge.
If a TV version ever happens, the guests would have to take Van Ness on location to their jobs to offer visuals of what their careers are all about.
Topics about international affairs would become even richer if they went to the countries in question, outside of fans likely being worried for Van Ness's safety.