A Woman Discovers Exactly What She's Capable of in the Sharp Crime Drama 'I'm Your Woman'
In crime dramas, the focus is usually on the criminal. The narrative follows their motives and mishaps. Very little attention is paid to the people who absorb the most significant repercussions of this nefarious behavior. Namely, the women often left in the wake of bad men are given very little screen time. We saw this displayed in Francis Ford Coppola's The Godfather saga when Michael Corleone's wife Kay wanted to escape her volatile marriage. Then it was depicted more recently in Martin Scorsese's The Irishman as Frank Sheeran's daughter slowly learns his true nature. However, in Julia Hart's I'm Your Woman, the filmmaker puts women back front and center, reminding them of their power. 
Set in the 1970s, I'm Your Woman follows Jean (Rachel Brosnahan), a suburban housewife and mother supported by her criminally-minded husband, Eddie (Bill Heck). Though Jean is well-aware that Eddie is a thief, she's mostly sheltered from his day-to-day activities, and she doesn't ask questions, unwilling to disturb her plush life. That all shifts one evening when she and her infant son are startled awake to one of Eddie's colleagues banging on her front door.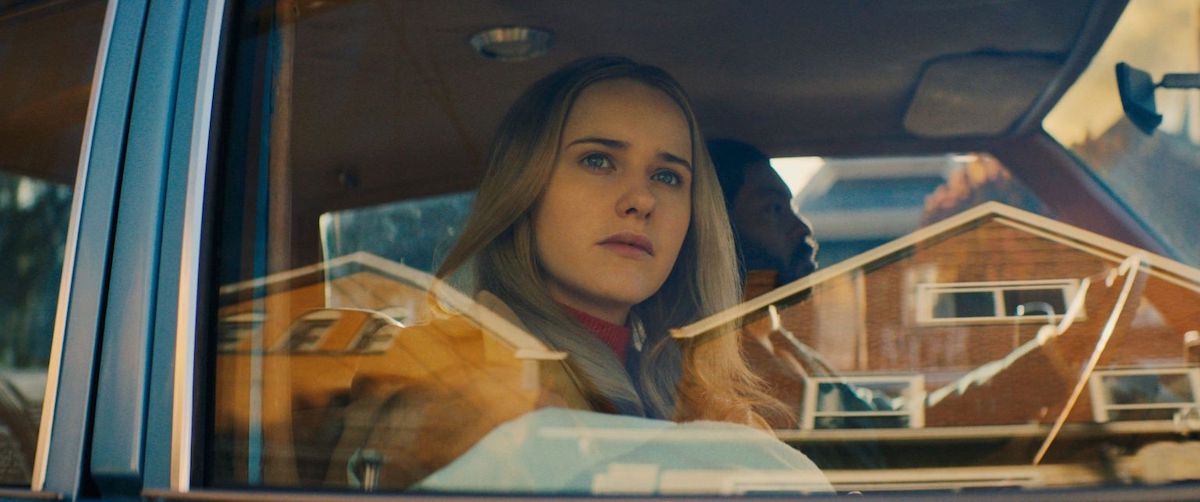 'I'm Your Woman' follows a woman on the run
Eddie, Jean learns, is in the wind. She is forced to trust her husband's old friend Cal (Arinzé Kene), and a duffle bag full of money will keep her and her son safe. Tense, impactful, and well-paced, the film follows Jean during her first several weeks in hiding in a nondescript home in some unnamed East Coast city. Cal has gotten her to safety with a warning — to not speak or associate with anyone. 
However, exhausted from caring for a newborn, terrified, and alone, Jean befriends an elderly neighbor (Marceline Hugot), bringing danger right to her doorstep. Her actions also put Cal, his wife Teri (Marsha Stephanie Blake), their young son Paul (Da'Mauri Parks) in harm's way. 
RELATED: 'The Marvelous Mrs. Maisel' Fans Are Begging for Benjamin's Return in Season 4; 'He's Perfect!'
Jean is complicit in some of the helplessness that she feels
Though the audience often bristles at Jean's choices, especially as she goes against Cal's direct advice, Brosnahan paints a sympathetic portrait of a woman who doesn't know her own power. However, instead of being coddled, Jean is forced to confront her own mistakes. Her marriage to Eddie has made her feel helpless; she doesn't drive, she's never even held a gun, and when Cal tries to leave her and the baby alone, she cries out, "I've never been on my own." Her naivety is what lights the match for many of the obstacles that she, Cal, and Terri find themselves in. This is especially troubling since Jean, and her baby are often alone with Cal, a large, broad Black man.
Though race is only mentioned a sprinkling of times throughout the film, Hart unpacks not only Eddie's choices but Jean's complicit behavior that puts others in harm's way and leave her unable to advocate or stand up for herself. As the film's full scope slowly reveals itself, Jean is literally jolted out of this behavior by force. On the other hand, Terri, as a Black woman, never had the gift of being shielded from the harsh realities of the world. "I don't know what comes next, but I've been through this before," she says at one point. 
'I'm Your Woman' is about standing in your power
I'm Your Woman's two-hour run time has more twists and turns than anyone ever expected. The narrative only lags slightly at the hour mark. It also gorgeously display the style of the era against the grit of criminal life. Sharp and haunting, there's a palpable through-line in the film that keeps the audience on its toes as we await the other shoe to drop.
I'm Your Woman is about female friendship and finding your destiny even when you're not quite sure what it is. As we watch Jean discovers who she truly is, stripping back the lies in search of the truth, she becomes increasingly empowered, not just for baby son and her newfound friends, but also for herself. 
I'm Your Woman was screened for the AFI Film Festival. The film will open in select theaters on Dec. 4 ahead of its global launch on Prime Video on Dec. 11.