In a Country Far, Far Away (China), Gareth Edwards Talks 'Star Wars' Spin-Off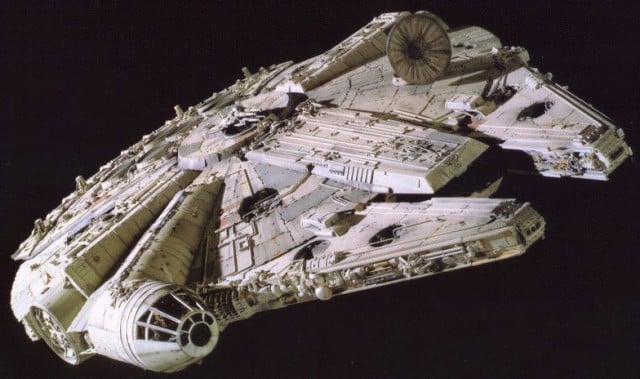 Earlier this week Gareth Edwards attended an event for film students in Bejing, where Edwards's blockbuster Godzilla debuted to a $10.9 million opening day, the highest opening-day gross in China this year. According to The Hollywood Reporter, "Edwards was speaking to a packed auditorium of film students at the Beijing Film Academy, where he was giving a talk with legendary Chinese director Zhang Yimou." Famous Hong Kong auteur John Woo was at the Godzilla debut, where Edwards shook hands with the progenitor of bullet ballet.
"I am very, very lucky, living in a dream job at the moment," Edwards said. "I'm not allowed to talk about it, it's all very secretive, but it's a dream come true. Star Wars is the reason I got into filmmaking, so to be given this opportunity is like a dream," he said. "Now the pressure is on."
Edwards's Godzilla stomped the competition at the American box office, pulling in over $90 million during its debut weekend. Godzilla earned favorable reviews from most mainstream critics, though most reviews mentioned, in some capacity, the film's emphasis on monster spectacle and suspense and not the human story.
"People could be innovative with computer graphics in the early '90s, but I think where we are right now is, we've reached that plateau where you can kind of do anything, and we have kind of done everything. So now, I hope, we are going to see people embracing strong stories, strong characters, as well as the spectacle. The honeymoon is over and it's much more about storytelling, and I think we'll create better films, hopefully," Edwards said.
The standalone film will shoot at the Pinewood Studios west of London, where J.J. Abrams's Episode VII is currently filming. Chancellor George Osborne issued this statement:
Lucasfilm and Disney's decision to shoot the Star Wars standalone movie in the UK is testament to the incredible talent in Britain. This will mean more jobs and more investment. It is great news for people working at Pinewood Studios, from the set designers to the carpenters. As Chancellor I have been determined that we back our brilliant creative industries which is why we have invested in skills and training as well as providing tax relief for films, high-end TV, animation, video games and regional theatre. The further changes the government made to the film tax relief at Budget 2014 will support our highly skilled, innovative creative sectors so that they continue to thrive and encourage more films to be made in the UK.
Other notable films that have been shot at Pinewood include the majority of James Bond films, Alien, and Batman Returns. The studio receieved a special BAFTA in 2009 for its contributions to British cinema.
In unrelated news, Harrison Ford crushed his ankle in the door of the Millenium Falcon while filming Star Wars: Episode VII. (Abrams previously denied that the Falcon would appear in the film, but this turn of events kind of ruins that surprised.) We hope he's alright, because it took him six weeks to recover from a back injury while filming Temple of Doom in 1984, when he was 40. He's now 73. Please don't die, Harrison Ford.
More from Wall St. Cheat Sheet: