Inside Carrie Underwood's Fertility Struggles: How the Country Star Finally Got Her Happily Ever After
As someone who sings every song from the heart, Carrie Underwood allows fans to feel what's she's going through mainly with her vocals.
From heartbreak to overcoming struggles, the country singer has had her fair share of obstacles throughout her career and each one has made her the strong person she is today.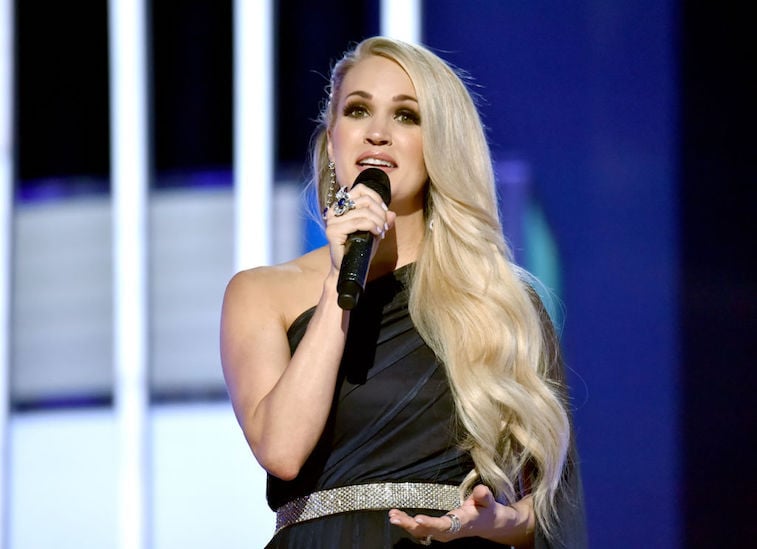 Though her life may read like a fairytale, her past struggles with fertility brought on a form a pain Carrie wasn't sure she'd ever bounce back from.
Carrie's life was going the way she's always wanted
When you think of Carrie Underwood, many of us automatically think of the amazing energy she gives off when she's performing in front of large crowds.
Everyone immediately become entranced by her voice and can't deny that Carrie Underwood has a gift of bringing out every emotion we've ever felt just by listening to her songs.
Though the singer practically has everything she's ever wanted, a great career, loving husband, healthy children, there were times Carrie Underwood was at an all-time low.
As the cover star for PEOPLE's list of 100 Reasons to Love America issue, Carrie Underwood opens up about her past struggles with fertility and how much that took a toll on her mentally.
"I put a lot of stress on myself — I feel like a lot of moms do, a lot of women do," she says. But like the message in her go-to hit "Jesus, Take the Wheel," she said, "the best moments in my life are when I say, 'Hey, I can't control everything, and that's okay. God is in control.'"
Since winning American Idol in 2005, Carrie Underwood was loving the way her life was going.
While maintaining major success in the music industry and eventually marrying her husband, Mike Fisher, in 2010, nothing in the world could break her spirit.
In 2015, Underwood and Fisher welcomed their first child together Isaiah Michael.
Everything was going perfectly for Carrie Underwood, but even the best stories take unexpected turns.
The singer suffered multiple miscarriages in less than two years
Aside from suffering a broken wrist and a facial laceration requiring 40 to 50 stitches after taking a bad fall while walking her dogs, Carrie's experience with fertility was much greater.
Back in September, the singer revealed that she had suffered from three miscarriages in less than two years.
Not only was Carrie Underwood heartbroken that this was happening to her, she also started to blame herself for this continuing to take place.
"Of course you wonder if it's you, what am I doing wrong, or what have I done wrong. I remember having conversations with Mike trying to make sense of it all," she explained.
Carrie started to question if she was right to complain or get angry but soon realized that everything is meant to happen for a reason.
"But the miscarriages made me get real with God and say, 'Okay, I'm kind of giving up a little bit. If this isn't meant to happen, then I need to accept that and know that someday I'll understand why,'" she continued.
Though she was close to giving up, Carrie Underwood maintained a positive mindset and soon received the news she was patiently waiting for.
"We heard that everything was okay and I was pregnant with Jacob," she says. "He's just this perfect little bundle of a smiley guy."
Now that she has her husband, four-year-old Isaiah, and four-month-old Jacob, Carrie Underwood couldn't be more thrilled with her life.
With her overcoming a major obstacle many women face, Carrie Underwood now feels like she is able to take on any challenge that is thrown her way.
"There is a thing about motherhood that makes you feel like, 'Okay, if I can do that, I can do anything,'" she says. "And I feel like I'm a little older, a little wiser. This isn't my first rodeo."
Motherhood is hard but Carrie Underwood is showing the world that if you you refuse to let challenges defeat you, then anything is possible.